Transportation Equity Pledge for 2022 Candidates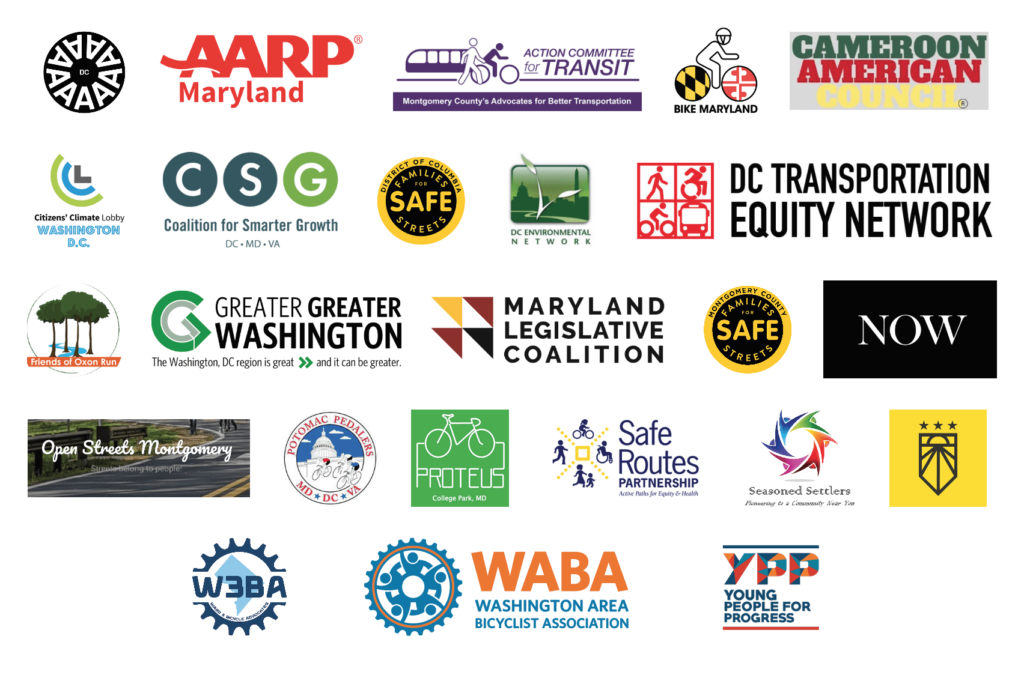 We, the undersigned organizations, ask that candidates running for the local MD, DC, VA elections make a commitment to prioritize budgetary and legislative measures that will develop an equitable transportation system that leads to the elimination of traffic deaths and serious crashes, while giving residents connected multimodal options to travel.   
We also ask all candidates to commit to developing traffic enforcement policies that limit biases, with the understanding that long-term, sustainable traffic safety comes from investing in the built environment.
In an equitable transportation system, a person's identity and experience—one's race, gender, and ability; how much money someone has, and where a family lives—don't affect whether they can use safe, comfortable multimodal transportation options. Therefore, we ask all candidates to pursue the legislative policies and budgetary items to move us towards an equitable transportation system with the utmost urgency.
With these goals in mind, we are asking candidates who are running for office to take the Transportation Equity Pledge:
As a candidate running for office, if elected or re-elected, I fully commit to:
Fully fund the completion of bus and bike networks
Fund the completion and maintenance of the National Capital Trail Network (as identified by MWCOG/TPB).
Oppose highway expansion and prioritize complete streets
Invest in building and preserving affordable housing (ex: with rent stabilization measures) units to meet the needs of a growing region, with an emphasis on policies that will allow for more transit-oriented development.
Remove Police from civil traffic enforcement while transferring the responsibility to local Departments of Transportation
Ensure all residents have equitable access to affordable and reliable public transportation
Expand MARC and VRE commuter rail service to make it frequent, reliable, and available outside of rush hour and while opposing the Maglev train construction
Reduce and eliminate the deaths, especially vulnerable road users, in traffic crashes – fully funding and implementing county and/or city vision zero plans and legislation
Follow through on the Americans with Disabilities Act and address the persistent barriers and gaps that prevent our communities and public transportation systems from being truly ADA-accessible.
Ensure all residents have access to continuous even sidewalks placed along both sides of all local streets with the purpose of developing sidewalk connectivity.
Candidates who have taken this pledge:
Not running for office yourself? Send this page to candidates running for your local and state offices and ask them to sign it!
The signatories of this letter ask that candidates pledge to demonstrate their full commitment to supporting policies and budget measures that center transportation justice for their constituents.
Too many lives are lost due to traffic violence and the status quo is not working anymore. We ask that all candidates reject the current status quo transportation policies, and decades of underinvestment that have caused transportation inequities.
Going forward, we need to transform our transportation system to make it more equitable, and we need leaders who are bold enough to step forward and make it happen.
Signed,
AARP Maryland
Arm in Arm DC
Action Committee for Transit
Bike Maryland
Black Women Bike
Cameroon American Council
Citizens' Climate Lobby – DC
Coalition for Smarter Growth
DC Environmental Network
DC Families for Safe Streets
DC Transportation Equity Network
Friends of Oxon Run Park
Greater Greater Washington
Maryland Legislative Coalition
Montgomery County Families for Safe Streets
Open Streets Montgomery
Potomac Pedalers
Proteus Bikes
Safe Routes Partnership
Sunrise Movement – DC
Seasoned Settlers
Takoma Park Mobilization
Universal Childcare Now DC Coalition
Ward 3 Bike Advocates
Ward 5 for All
Washington Area Bicyclist Association
Young People for Progress
Note: WABA and most of the other organizations on this list are 501(c)3 nonprofits, and we do not endorse candidates.