Saving Trees from Invasive Weeds
by a DC Trail Ranger
Even in winter one of the first things that struck me about the trails we would be working on was how much green space DC has, and how much of that green space was being destroyed by invasive species.
One of the best things is that for a rare change, I was put in a position where I could actually do something about it. Trees are one of our most important resources. In a world that's rapidly warming, they help absorb the carbon that's heating up our planet, but they also help keep us cool with their shade. Even in 95 degrees, Marvin Gaye Trail was cool and comfortable with the shade of large trees while we worked. But to keep them, they need our help.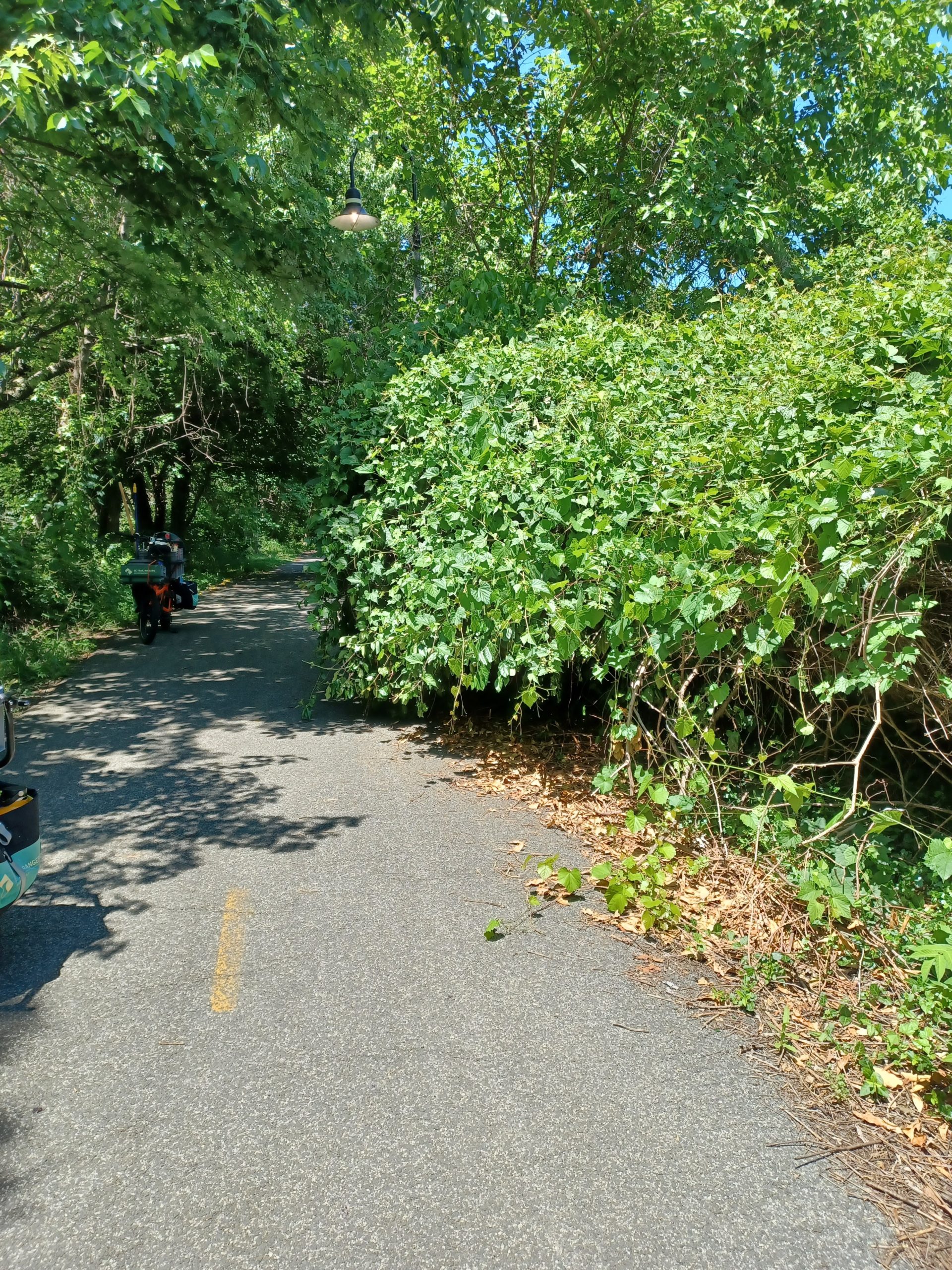 The sad part is many of these trees are dead or being ripped down by the weight of vines that were never meant to be here in the first place. River birches snapped in half by kudzu, branches of pines and sycamores being pulled down by porcelain berry or bittersweet, huge oaks covered in english ivy, and whole areas swamped by multiflora rose or bush honeysuckle crowding out everything and stealing the sunshine.
The great part is, that I get to help fix it. Five minutes of snipping vines at the base of a tree means years of growth will die off and eventually fall off the trees. Sometimes I'll find a small tree fighting for its life and with 15 minutes of careful work and it's free to breathe and grow in the sunlight. It feels pretty great to see a tree you thought was likely dead start to bud and grow leaves.

How did we get here?
One of the largest reasons for trees being overtaken by weed is due to the countries' gilded age when gardens were all the rage. The more exotic the more they inspired the vision of wealth and luxury. The upper class showed wealth largely through lavish manor homes and their large estates with beautifully curated gardens. 150 years ago they simply didn't realize that many of these plants would escape their gardens and reak havoc for the next century across the country. Many plants were spread by birds and pollinators, and many were spread by people wanting these plants in gardens of their own.

What can we do?
If you know you have an invasive plant in your yard you can remove it. Snip vines at the base and let them die off. Choose native plants for your garden and encourage your friends to do the same. Check out local programs in your area to volunteer with and encourage programs like the Trail Ranger Program to provide continuous vegetation maintenance, no one thing is a solution, but they all make a dent.
Want to learn more about the issue? Check out these additional resources.
This Man Documented 5,000 Trees Being Killed By Vines In Takoma Park : NPR
Why Do DC's Poorer Neighborhoods Have Fewer Trees? | WAMU
Bad berry or good berry? Porcelain Berry is a NO NO for our local forests | #CincyParks