Wealth of the Watershed Family Ride to the National Arboretum!
Saturday, August 20, 2022, 10:00 AM
The Fields at RFK
Ride
The Wealth of the Watershed (WoW) program series is designed to introduce young people and their families to all of the wealth the Anacostia River and its surrounding watershed communities have to offer.
Want to see what our WoW campers were up to this summer?! Join us on this free family-friendly ride to the National Arboretum where we will make a stop at the Washington Youth Garden. Since 1971 the Washington Youth Garden has been providing a space for youth to connect to food, the land, and one another. The ride will start at the Fields at RFK and will be about 7 miles of trail, residential, and street riding. This event is open to families (8 years old and up). Participants must be prepared to ride a bike continuously for 20 minutes. Registration is required. Please wear comfortable clothing and shoes and bring water.
Click here to view WABA's Code of Conduct for event participants.
Ride Details
Duration: 1.5 hour ride + stop at Washington Youth Garden
Approx. 7 miles on residential streets, city streets and the Anacostia Riverwalk Trail
Equipment: Participants are required to bring their own bicycle and helmet for this ride. We also encourage you to bring your bike lock if you have one.
Capital Bikeshare bikes are available in the park for riders ages 16+. If you would like to use one for the ride please let us know when you register.
Cost: FREE
Registration Policy: Advance registration is required for this event. Be sure to show up for the ride at least 10 minutes before departure.
Health and Safety Protocols
Due to the ongoing effects of COVID-19, all participants are expected to adhere to WABA's health and safety guidelines for in-person events.
Participants should not attend in-person events if they feel sick or show symptoms of illness. WABA will refund registration fees to individuals who cannot attend because they are sick on the day of an event. If you are sick and unable to attend an in-person event, contact WABA.
WABA family rides are mask optional. WABA does not require participants to be vaccinated in order to attend rides although we strongly encourage all participants to receive the COVID-19 vaccine. Those who have not been vaccinated are required to wear a CDC approved facemask for the duration of the ride. Anyone who has received the COVID-19 vaccine may choose to forgo masks. WABA respects anyone's decision to wear a mask and encourages all people to advocate for themselves. If you would like to wear a mask during the ride and would like to maintain social distancing we highly encourage you to do so! WABA will not tolerate any disrespect towards WABA staff or participants who choose to wear a mask for their own safety and peace of mind.
Participants will provide their contact information at event registration. Participants consent to WABA contacting them and/or releasing their contact information to necessary authorities if there is a need for contact tracing following an event to contain an outbreak of COVID-19.
Ride Location
Start and End Point : The Fields at RFK
401 Oklahoma Ave NE, Washington, DC 20002
Turn onto Oklahoma Ave NE from Benning Road. Take the second left and then follow signs for "The Fields" and "The Pavillion". We will meet in Lot 7 near the Pavillion to perform safety checks and discuss riding in groups before we head out. Ride Leaders will be wearing teal polos.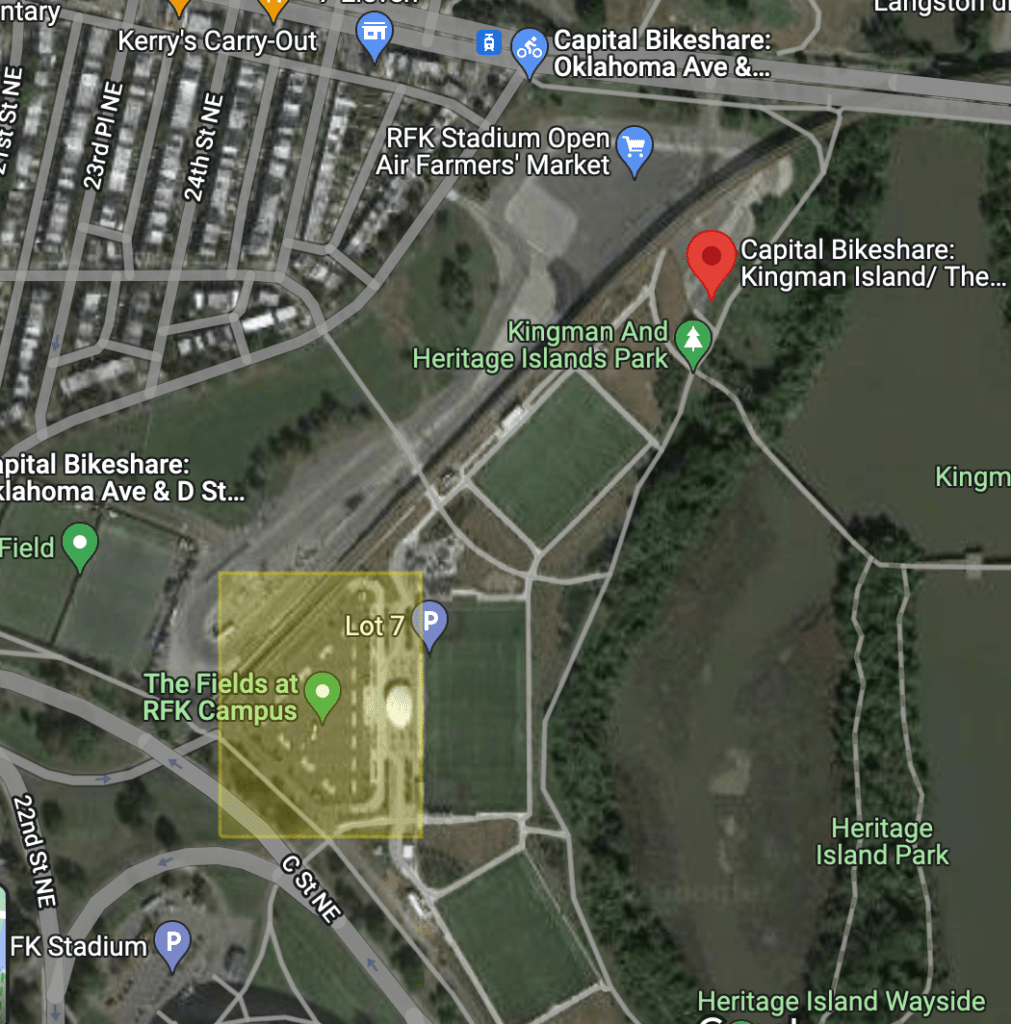 Biking/Walking
The Fields at RFK are accessible by the Anacostia Riverwalk Trail .
Driving/Parking
Parking is available at this location.

Metro
The Fields at RFK are a 10 minute walk from the Stadium-Armory Station accessible by the Blue, Orange, and Silver Lines.
Bus
This location is accessible by the X1, X3 or Streetcar to Benning Rd & 26th as well as the D6, 97 or B2 to the Stadium-Armory Metro stop.
Register