Support Protected Bike Lanes on Old Georgetown Road
This action is no longer active. Please visit our action center for current actions you can take.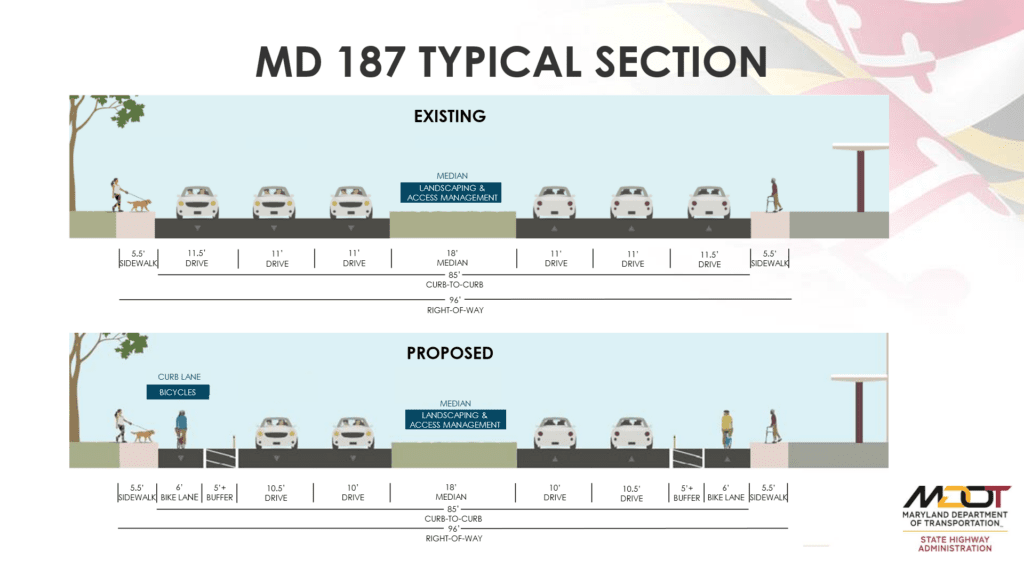 On October 17, 2022, the Maryland Department of Transportation State Highway Administration announced a plan to install 2 miles of protected bike lanes on Old Georgetown Road (MD 187) in North Bethesda between West Cedar Lane and Nicholson Road and narrow driving lanes as part of a regular repaving project. This action is a direct response to mounting calls to redesign this dangerous corridor for bicyclist and pedestrian safety after two tragic crashes killed two young people riding their bikes on the narrow, unmaintained sidewalks.
While not perfect, this is the right plan for immediate SHA action, which claims space for vulnerable people and creates opportunities for short-term improvement. This plan, being implemented now, still needs vocal support to ensure it sets a positive precedent for SHA action.. Use the form below to show the project team that you support the project, urge SHA leadership to take bold moves to prioritize people biking and walking here and across the County, and thank Delegate Marc Korman and County Councilmember Andrew Friedson for their work pushing for the new protected bike lanes. Read the Oct 17 press release here.
Old Georgetown Road has long been a high speed, overbuilt state highway that has solely prioritized the fast movement of cars through this corridor connecting North Bethesda and downtown Bethesda. Meanwhile, vulnerable road users who walk and bike along this road have been subject to extremely dangerous conditions. In fact, in the past three years, two teenagers have died bicycling in the corridor, using the narrow unbuffered sidewalks that usually have obstacles on them that resulted in knocking both Jacob Cassell in 2019 and Enzo Alvarenga this past Spring into the road and into collisions with oncoming high speed car traffic. Both young men died merely because they were using their bikes to get around.
The community responded strongly after both fatal crashes, organizing a ride with dozens of cyclists to do a Montgomery County Families for Safe Streets ghost bike memorial for Jacob Cassell, and by attending an SHA led walk-through of the road in September. WABA drafted a letter to MDOT SHA calling for protected bike lanes and other safer streets measures, getting other advocacy organizations to sign the letter sent to SHA in September 2022. Crucially, MD State Delegate Marc Korman and County Councilmember Andrew Friedson met frequently with SHA District 3 employees since Spring of 2022, urging SHA to make substantive changes to make Old Georgetown Road safer for everyone using the road.
On September 29, SHA convened a public meeting to announce that as part of its repaving project, they would put in protected bike lanes on a large portion of the MD-187 corridor, that will provide safe walking and biking from NIH to North Bethesda. See the full presentation here.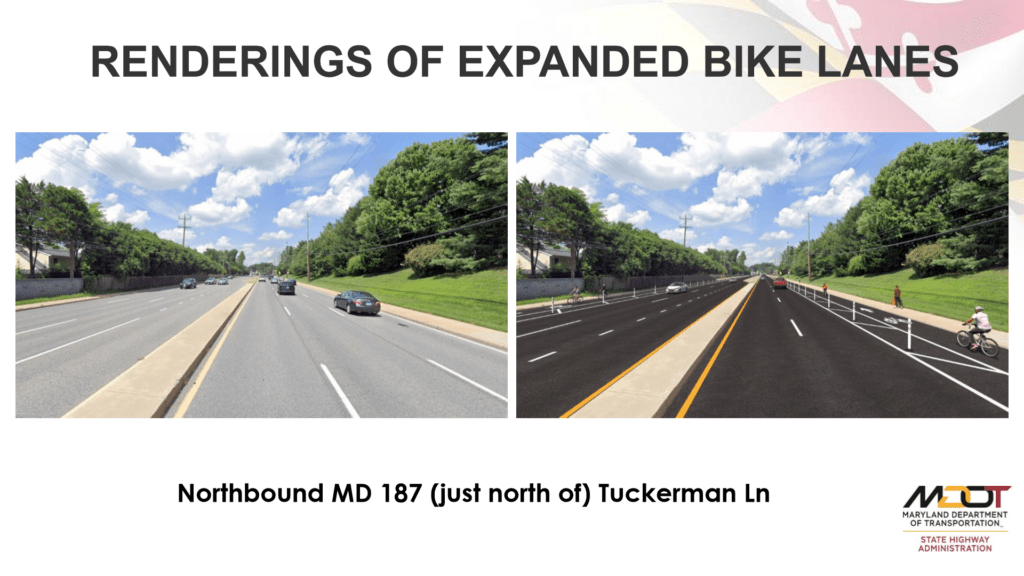 The plan announced on October 17th is a good start, but is just the start. Let's thank MDOT SHA for moving forward with this plan and thank Delegate Korman and Councilmember Friedson for fighting for improvements to Old Georgetown Road. At the same time, we should urge MDOT SHA to extend the protected bike lanes all the way to MD-410 and downtown Bethesda, while also lowering the speed limit from 35 mph to 30 mph, and providing safe crossings every .2 miles.