Meet Seth Grimes, our new Maryland Organizer!
My name is Seth Grimes, and I'm thrilled to have joined WABA's advocacy team as Maryland organizer.
My background includes decades of nonprofit, advocacy, and political campaign work. I've been a smart growth, transit, and biking advocate for years. As an example, check out my 2019 Greater Greater Washington article, Montgomery County needs more homes. Here's how it can 'densify' with little disruption.
Further evidence: In three of my years as a Takoma Park City Council member, I broke precedent by biking in our city's 4th of July Parade.  (My fourth council year, I walked the parade route.) In 2014, I opted for a Capital Bike Share bike. I'm now up to 840 Bike Share rides!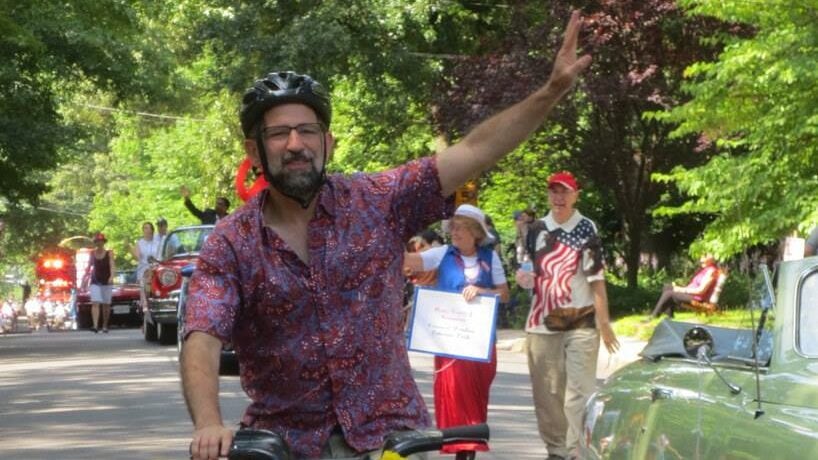 As Maryland organizer, I will work closely with Peter Gray, who will continue to lead on WABA's Montgomery County Council and community relationships, and with advocacy team members who focus on regional trails and Vision Zero work, under the direction of Advocacy Director Jeremiah Lowery. It's a great team.
My own immediate focus will be expanding and deepening WABA's Maryland state government relationships and reinvigorating our advocacy in Prince George's County. The work will be highly collaborative. We will rely on community advocates and coalitions – organizations and individuals like you who are already engaged in biking and roadway-safety advocacy – as well as the good offices of state and county elected officials and staff who have been promoting investment in safe roadways, bike lanes, and transportation equity. Please get in touch. I'm at seth.grimes@waba.org and at @seth4mc on Twitter. (I plan to ramp up presence on Twitter alternatives, but I'm still a Mastodon and Post newbie.) I'm looking forward to working with the entire WABA community and partners to advance Vision Zero bicyclist, pedestrian, and roadway safety and mobility for all.