Support the Mount Olivet Rd NE Road Diet & Protected Bike Lanes
This action is no longer active. Please visit our action center for current actions you can take.
The District Department of Transportation is in the final planning stages for a significant traffic safety upgrade and extension of DC's low-stress bike network on Mount Olivet Road in Trinidad NE. Last month, DDOT issued a Notice of Intent detailing the project and kicked off the final, formal opportunity for input. Use the form below to send a short note in support before the comment period closes on July 15. Be sure to add your personal touch
About Mount Olivet Road
Mount Olivet Road is a 0.8 mile, four lane road that connects the 9th St bridge and Brentwood Parkway near Union Market to Bladensburg Rd through Trinidad. It serves a variety of uses, including residential, auto-oriented commercial and industrial. The steep hill, multiple lanes, and long uninterrupted blocks past Gallaudet University and Mount Olivet Cemetery encourage speeding and aggressive driving. Infrequent intersections, frequent driveways entrances, and unsignalized crossings make pedestrian safety a major challenge. As a result, records show one fatal bicycle crash, 13 major injury crashes – six of which involved pedestrians or bicyclists – and dozens of injury crashes reported on Mount Olivet Rd since 2017.
For the past few years, DC Water has closed travel lanes on Mount Olivet Rd to construct its Northeast Boundary Tunnel Project. While it has created significant disruption, this project has also shown that Mount Olivet Rd can function with a single travel lane in each direction. DC Water's project is set to finish this year.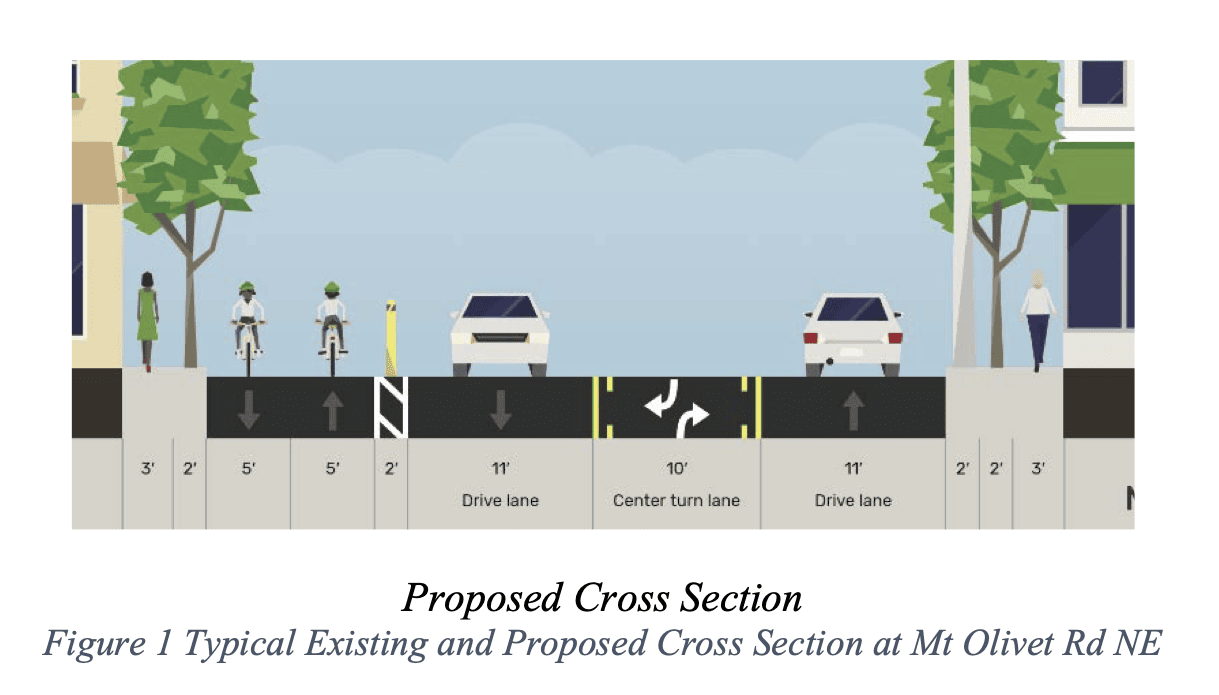 About the Project
DDOT proposes to convert Mount Olivet from four lanes to three. This allows one driving lane in each direction, a center turn lane, and a two-way continuous protected bike lane against the south curb. The two-way protected bike lane will connect to protected bike lanes on Brentwood Parkway (via a short off-street trail), West Virginia Ave NE, and Bladensburg Rd NE (planned). At some intersections, DDOT will construct pedestrian refuge islands, which provide a protected space mid-cross and encourage drivers to yield. DDOT is also investigating a dedicated pickup-dropoff area at the KIPP-DC Webb Campus.
"Road Diets" are a proven crash reduction strategy that reduce opportunities for some aggressive driving behaviors, reduce crashes by up to 47%, and improve safety for people walking and biking. Thanks to the center turn lane which allows turning drivers a space outside the flow of traffic, they can often carry as many daily vehicle trips with much better safety outcomes.
For more detail and to read the full notice of intent letter, click here. Comments due July 15th.
What's a Notice of Intent?
Under DC Law, the District Department of Transportation is required to give written notice to relevant advisory neighborhood commissions before making any changes to streets that affect traffic operations or on-street parking in their area. The Notice of intent is a formal comment period when any individual or ANC may submit written comments about a project, typically offering support, opposition, or substantive suggestions on design. Once the comment period closes, DDOT staff summarize comments and tally support and opposition. Finally, DDOT convenes an internal review panel to consider comments, determine a path forward, and provide any required responses to ANCs.
For safe streets advocates, the Notice of Intent comment period is the final opportunity to review the overall plan, show support, and suggest modifications. While thoughtful or substantive comments are most helpful, short, supportive comments can help tip the scales towards action on safety improvements that require more aggressive tradeoffs, like removing car parking.