Two Improvements to the Long Bridge Project
After another round of community engagement this spring, the new bicycle and pedestrian span that is being built as part of the Long Bridge Project took a major step towards final design. As a result of considerable input and advocacy, Virginia Passenger Rail Authority (VPRA) has made some important changes that will ensure a better experience for folks walking, biking, and rolling. Here are two exciting updates.
Removing a Pinch Point on the Anacostia River Trail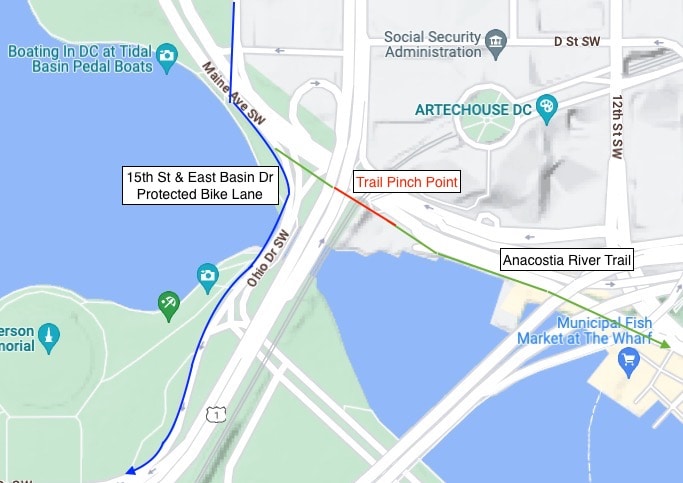 If you take a walk or bike along Maine Avenue SW from Fish Market towards the Tidal Basin, you will notice that the sidewalk narrows as it passes under two low bridges and virtually disappears where it meets an off-ramp from 14th St SW above. This nondescript sidewalk is an interim part of the Anacostia River Trail which stretches from the Tidal Basin to Bladensburg Waterfront Park in Prince George's County, Maryland, and it was very clearly not designed with crowds or bikes in mind. Even small walking groups or two bikes passing through this uncomfortable, narrow space risk spilling into the fast car traffic just inches away. And the situation will only get worse as bicycle and pedestrian volumes coming across the new span increase.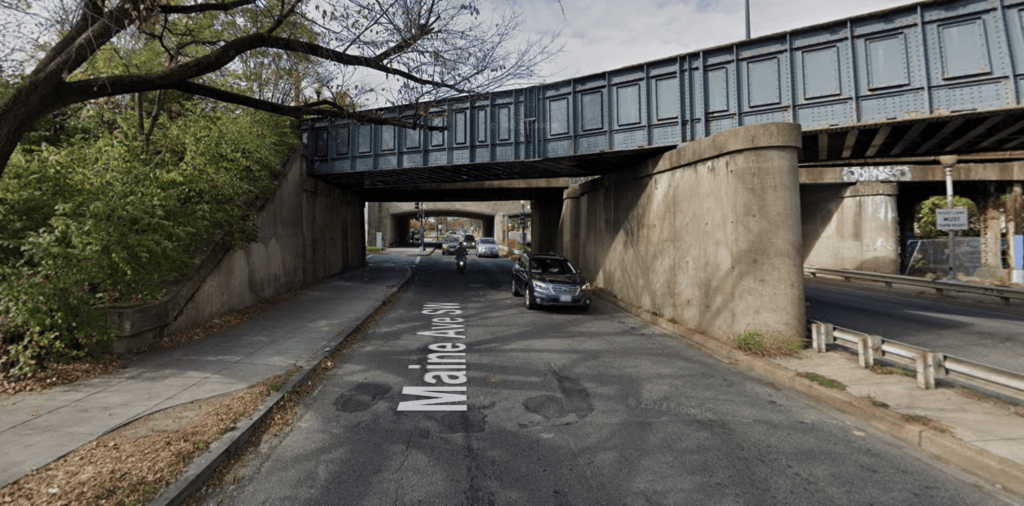 Fortunately, the rail bridge abutments that create this pinch point are being redesigned as part of the Long Bridge Project. WABA and trail advocates urged VPRA to expand the space under the bridge and we are delighted to report that VPRA agreed!
Once complete, the space beneath the new 4-track rail bridge will feature 24 feet of open space between the curb and the abutment wall. This width will eliminate the structural pinch point and improve the experience beneath the bridge, allowing trail users a larger buffer from the stress and noise of traffic. The sidewalk will also be expanded at the off-ramp intersection for better visibility, slower vehicle turns, more space to queue, and wider curb ramps. With this improvement in the works, DDOT's trail planners have a great reason to start planning permanent upgrades to the rest of this "interim" trail between the Fish Market and Tidal Basin.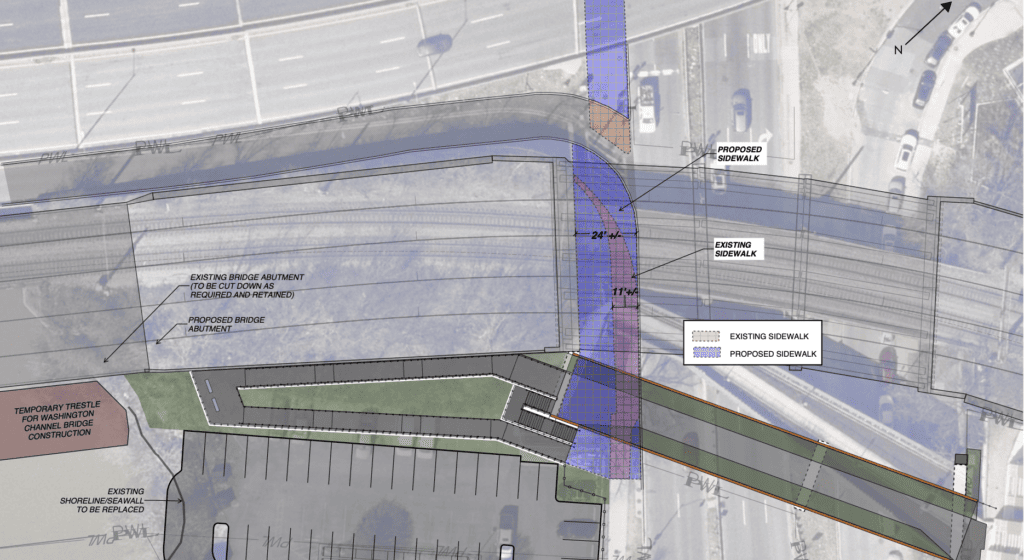 A Widened 16-Foot Span and Better Views Over the Potomac River
As part of the Long Bridge Project, VPRA is required to build a new bicycle and pedestrian trail bridge, with connections to Long Bridge Park and the Mount Vernon Trail in Arlington and Ohio Drive in East Potomac Park in DC. As the first new trail connection across the Potomac River built in decades – and the only span dedicated to folks walking, biking, and rolling – it is critical that it be built with future crowds in mind and plenty of room to spare.
VPRA's initial design called for a span only 14' wide with sidewalls nearly 6' tall, creating a decidedly caged-in environment for nearly a quarter mile. We believed this design would be deeply unpleasant and seriously insufficient to handle the future expected volume of users. You don't have to look far for recent examples of bicycle-pedestrian infrastructure reflecting a far more ambitious vision – the Frederick Douglass Memorial Bridge features TWO 18' shared-use paths while the new bridge carrying the W&OD Trail over Langston Blvd in Arlington features a 20' width.
After significant input and discussion with advocates, VPRA presented an improved design for the trail bridge featuring a width of 16′ and lower 4' railings for a more comfortable, open, and scenic experience. This new design allows more room for passing in both directions and the opportunity to pull off to the side without creating a major bottleneck. Though we still would have much preferred 18', we appreciate the work and consideration VPRA gave to this request.


While not perfect, the new Long Bridge bicycle-pedestrian bridge design now better reflects the needs and desires of the community. We will continue to advocate for a better connection between Ohio Drive SW and Maine Ave SW – outside this project's scope but critical to realizing its full potential. And we will continue to monitor for opportunities for community members to weigh in and hold stakeholders accountable.
For more details on the bridge design, see VPRA's fact sheet here.