Lemons to Lemonade: Converting I-66 from a bike-blocking canyon to a bike-boosting corridor
On May 17, 2023, the Virginia Department of Transportation (VDOT) held a ribbon-cutting for the first section of the new 66 Parallel Trail at the Vienna Metro Station in Fairfax County. The trail is a small part of the much larger $3.7 billion Transform 66 Project that added express lanes outside the beltway. While imperfect, the trail is a hugely important piece of the County's planned trail network and a priority project for the regional Capital Trails Coalition, providing a critical east-west link stitching together neighborhoods, activity centers, and two Metro Stations.
Background
Plans to reduce congestion by adding express lanes to I-66 date back more than a decade. But unlike during previous eras of highway widening, local advocates – first among them the Fairfax Alliance for Better Bicycling – and County officials were adamant that the megaproject include improvements for people on bike and on foot. And they were ultimately successful.
End of story? Not quite. What followed was a familiar, lengthy battle to hold state and local planners accountable for their commitments. To counter the watering down of bicycle and pedestrian facilities during design finalization, to encourage trail placement behind the soundwall, and to ensure continuity and interim connections to future projects. FABB and other advocates were tireless, appearing before the Virginia Commonwealth Transportation Board, meeting with project staff, commenting on environmental impact statements, writing to elected officials, speaking at the many rounds of VDOT public hearings, and developing a trail placement video about why the trail should be on the neighborhood side of the sound barriers.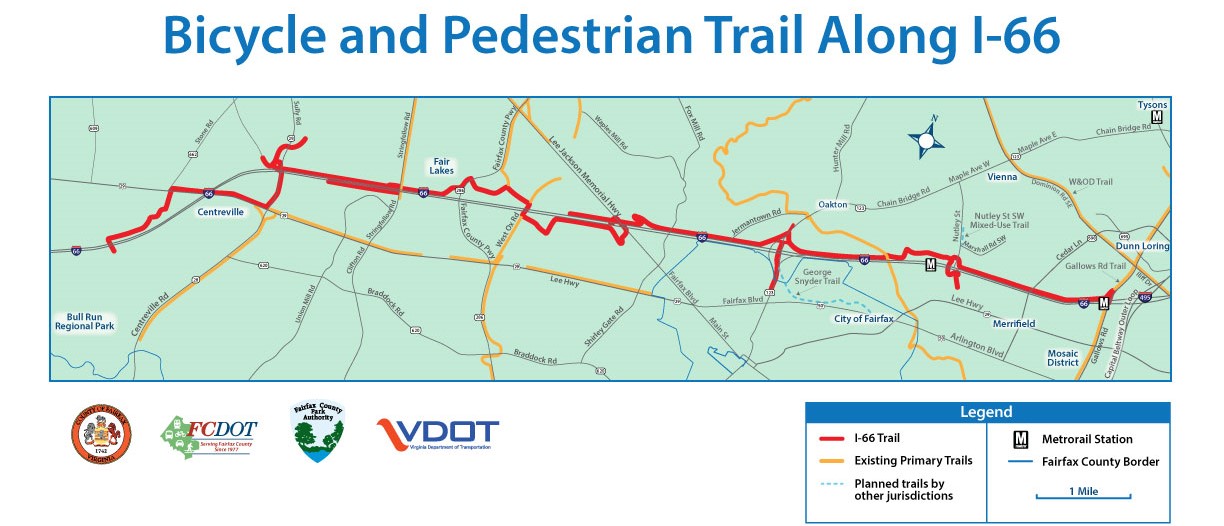 The Trail Today
Bicycle and pedestrian advocates didn't get everything we wanted but the end result is a major net positive. Media attention is rightfully on the 3 miles of trail directly abuting the noisy and noxious highway but we shouldn't overlook the other 15 miles of trail built and planned that will be properly insulated from the roadway. Creative routing via tunnels and overpasses means the trail threads through the nest of on/off-ramp cloverleafs without any dangerous at-grade crossings. These are real, meaningful improvements for the tens of thousands of residents who live beside and transit this corridor.
Most critically, this project has served to catalyze the County and regional bike network. We have first-time crossings of I-66 at Route 123, Jermantown Road, Route 50, and Route 28, as well as crossings of Route 28 at Poplar Tree Road and Braddock Road/Walney Road. Shared-use paths outside the corridor on Random Hills Road, Post Forest Drive, and Compton Road are expected in the next two years, plus protected bike lanes on Country Creek Road/Virginia Center Boulevard near Vienna Metro. The nearly complete ActiveFairfax Transportation Plan, an update and consolidation of the County's Bicycle Master Plan and Countywide Trails Plan, will be anchored by the 66 Parallel Trail and other spine routes.
Advocacy work on the 66 Parallel Trail has had positive repercussions elsewhere in the region, too. A similar VDOT express lanes project along I-495 north from Tysons that kicked off last year included a shared-use path from the outset, with VDOT preemptively designing the trail behind the soundwall without a fight. WABA – and a growing share of Americans – know that more highways are not the answer to our transportation woes. But as long as these projects continue to be built despite the clear evidence challenging their efficacy, our collective goal must be to ameliorate the impacts by seizing the opportunity to fill gaps in our transit, bicycle, and pedestrian networks. It's making lemonade from lemons, using highway megaproject dollars to try and connect communities rather than allowing these roadways to remain barriers that divide. And that's worth celebrating, full stop.
Returning to the present, work does remain on several in-corridor segments expected to open by the end of summer, plus a number of aforementioned off-corridor projects still in design stages. Trail counters need to be installed and activated, and trail access points still need to be fully opened and properly signed. For the latest trail opening information, we encourage you to check out VDOT's website here. And stay tuned for details of a celebratory ride once the corridor is fully opened this fall. A rollicking, rolling bike convoy is the best way to drown out any highway noise!