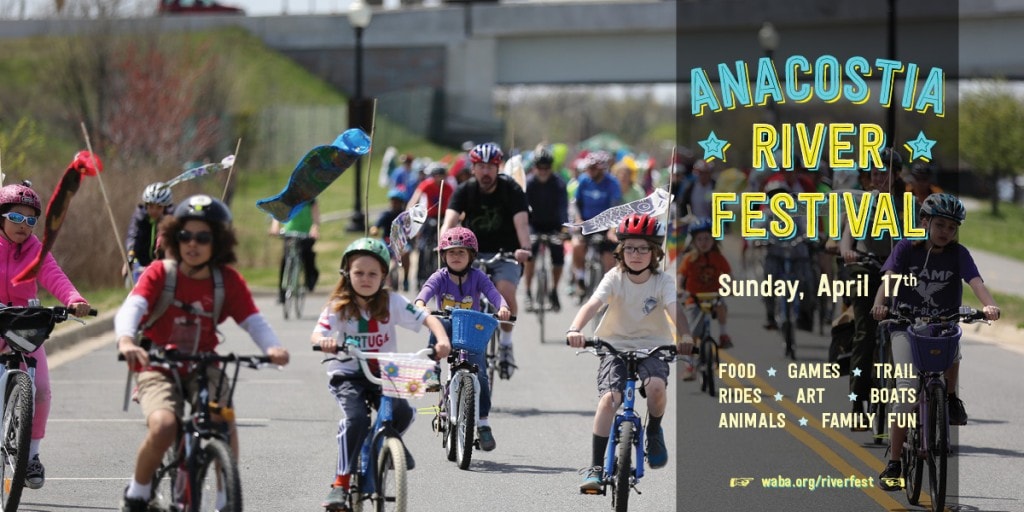 With spring in the air, now is the perfect time to spend an afternoon on the Anacostia River. On Sunday April 17th, join WABA, the National Park Service, the 11th Street Bridge Park and dozens of area organizations for the second Anacostia River Festival! This year's festival celebrates the connecting people to parks in celebration of the National Park Service's centennial. With activities on trail, on water, and around the park, there is fun for the whole family. Learn more at the event website: www.bridgepark.org/ARF
Event Details
Sunday April 17, 2016 1 – 5 pm
Anacostia Park at Good Hope Road & Anacostia Drive, Southeast DC (map)
For all those first timers and trail lovers, we are leading group trail rides with our Trail Ranger team on the beautiful Anacostia Riverwalk Trail, which runs both banks of the river in DC. Bring a bike and see the river, the trail, and the re-emerging wildlife for yourself.
For event and activity updates: click here
Ride to the Festival!
Skip the traffic and metro crowds. Head to the festival by bike and park with ease at the free bike valet! Find routes and more information at www.bridgepark.org/ARF