Future Trails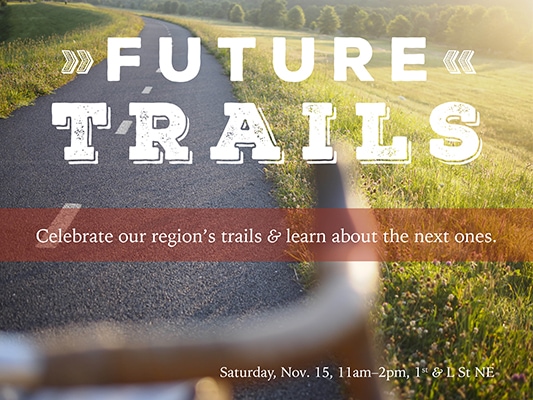 Calling all bicyclists, walkers, families, joggers, dog walkers, rollerbladers, trail users and fun-lovers:
Join the Washington Area Bicyclist Association, REI, and trail lovers from around the region for a free and fun celebration of the biking and walking trails that connect our region. The outdoor celebration will feature:
Free bike repairs by expert REI mechanics
Free cookies from Captain Cookie & the Milkman foodtruck and free coffee from the Java Cruiser
Free bike rentals, if you don't have a bicycle and wish to join us for our trail ride
Group trail tours by bike of the nearby Met Branch Trail where you can learn about the trail's history and future (Trail tours will depart at 11:15am, 12:00pm and 1:00pm, will be lead by WABA's Trail Ranger Coordinator, will last approximately 35 minutes and will be 2-3 miles long so it's family and beginner bicyclist-friendly.)
An interactive REI Signature Camp set-up where you can see and test out bike touring and camping gear, as well as ask questions about anything gear or trail related of REI reps
Raffle prizes for completing the event "Trail Map," including a spot in one of REI's C&O Canal Overnight Cycling Tour, some Rails-to-Trails socks and water bottles, and WABA swag.
A chance to learn from community groups who also love local trails, such as Rails-to-Trails and the Anacostia Watershed Society
Carnival games and prizes
A bicycle-themed photo booth
Facepainting by Arte by Charlotte
Arts and crafts for kids of all ages
Our Future Trails celebration event will take place Saturday, November 15th from 11am to 2:00pm and it's a party for the whole family. The event is rain or shine, and if the weather's gloomy, don't worry, we've got a huge covered tent to keep you warm and dry.
Future Trails Event Details
Location
:  The grassy field at First & Pierce Street NE (the NoMa neighborhood)
Date
:  Saturday, November 15
Time
: 11:00 am – 2:00 pm
Raffle
: You could win some amazing prizes, including a
free registration for REI's C&O Canal Overnight Cycling Tour
($350 value, and includes everything you need for bike touring including the bike rental, gear and food)
Cost
: Free!!
Cause for Celebration
After years of investment in our region's trail network, we've never been more connected by stress-free, car free trails for getting around and staying active. We could never have gotten to where we are today without visionary work by communities and passionate advocates, tough commitments from elected officials, and tireless work by partners in transportation and parks departments. Let's take a moment to recognize our progress and the work still left to do! Join us for a festive gathering full of fun, family-friend, bicycle themed and educational activities. Come share your experiences, your dreams, and learn about what's next.
Trails Here There & Everywhere
Present conditions may be good, but there remain so many places left out. Come learn about some of the trail projects just in their infancy. Dream big with us. Use your voice, and become an advocate. Discover trails in your own backyard that you've never experienced. WABA will release the concept plan for the Arlington Boulevard Trail outlining a vision for the next regional bike trail project in Northern Virginia.
Getting to the Event
By Bike Train:
 Join experienced riders for a ride and leave the wayfinding to someone else.  With rides leaving from Bethesda, Arlington, and Anacostia, there's a fun ride and a terrific trail experience awaiting!
By Bike:
 Just two blocks from the Metropolitan Branch Trail and mere feet from the First St. NE protected bike lane, there are easy connections from DC's trail and on street network.  You'll find two Bikeshare stations nearby too.
By Metro:
  The NoMa Metro Station (Red Line) is just two blocks away
By Car:
 Public parking garages abound in NoMa on First and M St.