Become a WABA Business Member
All over the country, businesses are celebrating the importance of bicycling in creating healthy, happy, more connected communities. Bicycling promotes physical, mental, and environmental health, supports independent businesses, reduces traffic and pollution, and provides a recreational outlet for one in three Americans. WABA Business Members are a network of local businesses who believe in WABA's vision of making bicycling safer, easier, and more accessible for everyone in the DC region.
Join WABA as a Business Member and invest in the long term health of the region, while connecting to customers, employees, and the WABA audience.
WABA Business Membership Benefits + Pricing
Beyond supporting the advocacy, education, and outreach work that makes biking safer for and more accessible to everyone in our region, WABA Business Members receive the following benefits:
Public Relations/Brand Alignment: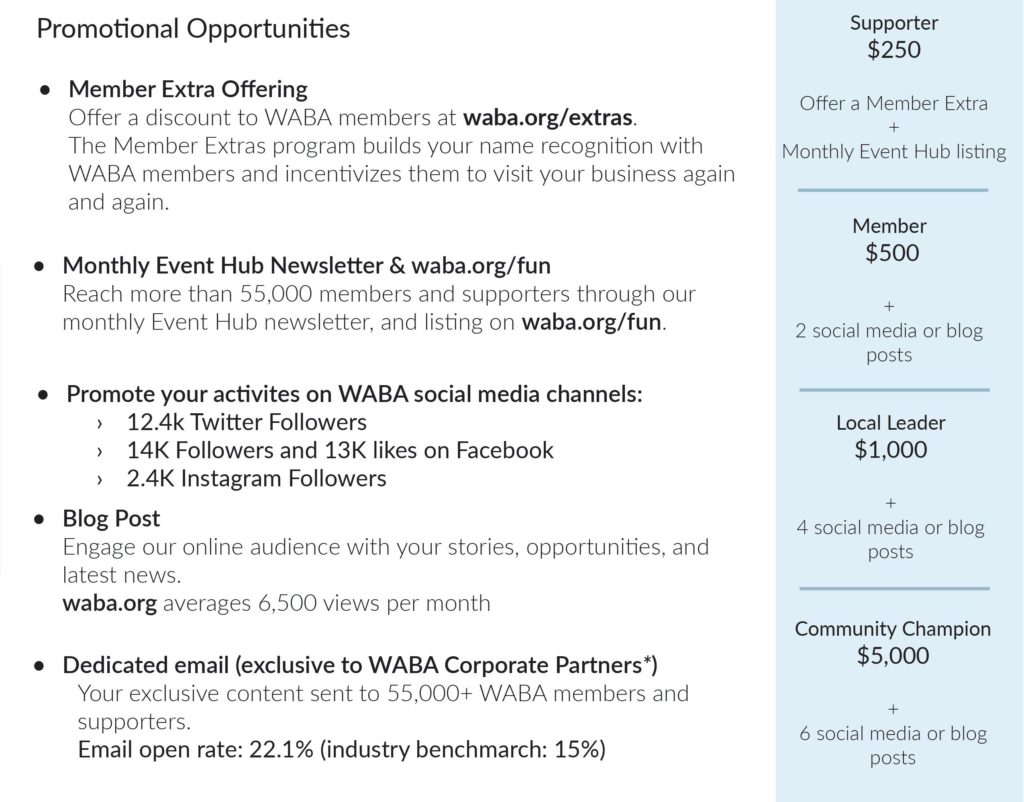 Employee Wellness and Education:
Corporate Partnership:
Learn More
Other Opportunities as a Business Member:
Build a Bike Friendly Workplace through Employee Education:
Beyond WABA business membership, you can show your employees that you value biking as part of your company culture by empowering them to ride safely and easily. A great way to achieve this is through WABA's customizable Everyday Bicycling Seminars and Commuting 101 Rides.
Learn More
As a business member, you can offer "extras" to our nearly 5,000 WABA members. All levels of WABA Business Members can connect with the WABA audience and create new customers by offering savings to WABA members.
For more information, email our Events & Partnership Coordinator, Akyra Davis.
Sponsor a WABA Event
As a WABA Business Member, you are have the opportunity to sponsor our events and educational efforts, and engage with the WABA audience.
Learn More
For more information about WABA Business Membership, building a bike friendly business, offering WABA members an extra, and event sponsorship, contact WABA's Events & Partnership Coordinator, Akyra Davis at business@waba.org or 202-970-4425 ext. 33
Thank you to our Business Members:
Community Champions
Local Leaders
Members
Supporter