Become a WABA Business Member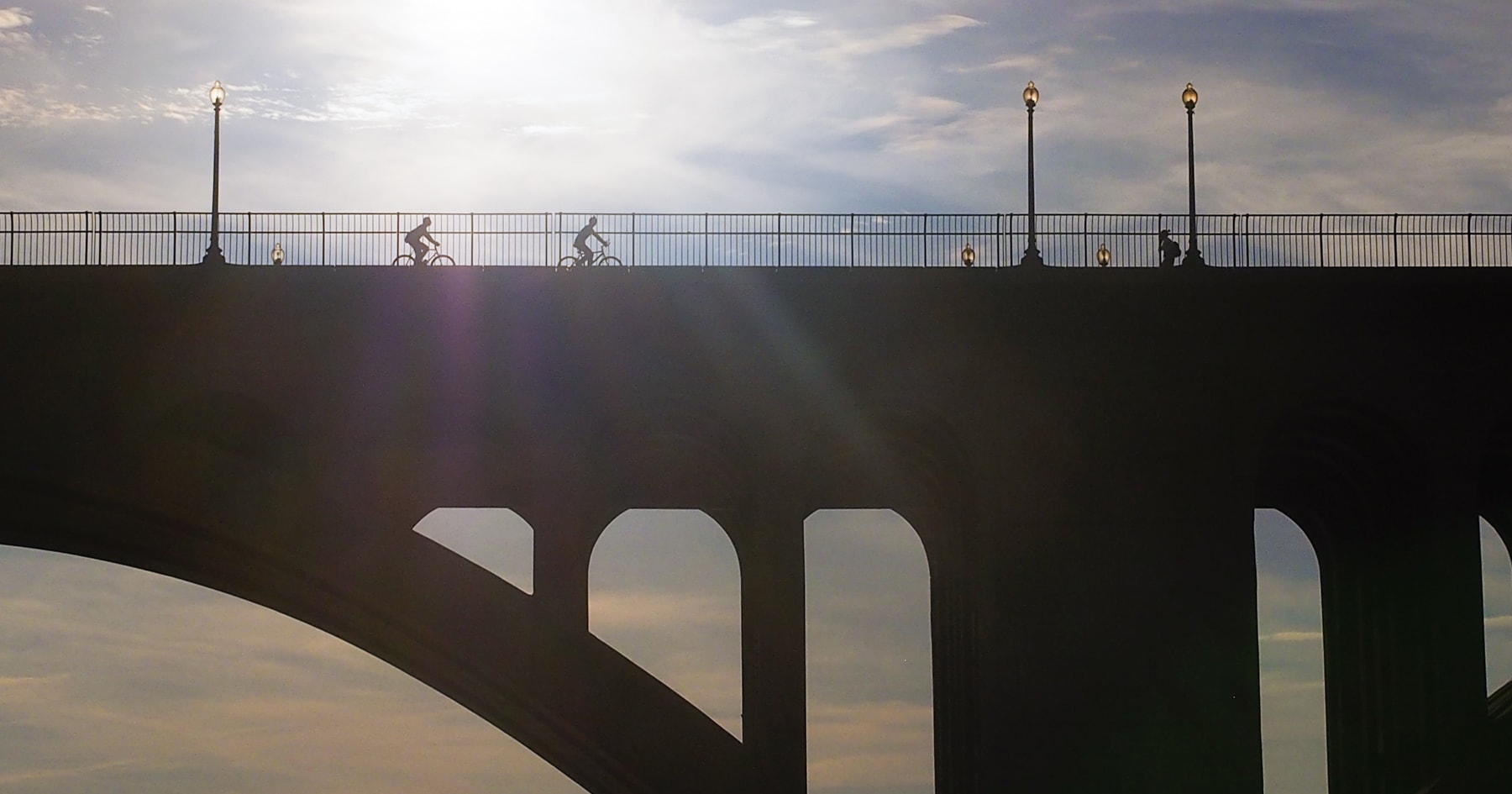 All over the country, businesses are celebrating the importance of bicycling in creating healthy, happy, more connected communities. Bicycling promotes physical, mental, and environmental health, supports independent businesses, reduces traffic and pollution, and provides a recreational outlet for one in three Americans. WABA Business Members are a network of local businesses who believe in WABA's vision of making bicycling safer, easier, and more accessible for everyone in the DC region.
Join WABA as a Business Member and invest in the long term health of the region, while connecting to customers, employees, and the WABA audience.
WABA Business Membership Benefits + Pricing
Beyond supporting the advocacy, education, and outreach work that makes biking safer for and more accessible to everyone in our region, WABA Business Members receive the following benefits: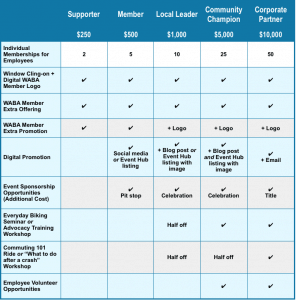 Show me!

Corporate Partner, $10,000

WABA Corporate Partners accelerate WABA's advocacy work to create a connected DC region. We work with each corporate partner to tailor your experience to your brand and audience. Check out more about WABA's Corporate Partners here.

Community Champion, $5,000

WABA Community Champions are local, national, and multi-national companies with a strong regional presence. Joining WABA connects Community Champions with their employees, their customers, and the WABA audience, while investing in our change in the region. We work with you to tailor your experience to your brand and goals.

A La Carte Opportunities: As a Community Champion, you have the opportunity to add more engagement with WABA, your employees, or your customers into your membership package! We work with each Community Champion to tailor your experience to your brand and goals.

Local Leader, $1,000

WABA Local Leader Business Members are local business owners who believe in a more connected region. Local leaders achieve their strategic marketing goals by connecting with the WABA audience. We work with each you to tailor your experience to your brand and goals.

Member, $500

WABA Member level Business Members are local business owners who believe better biking helps their bottom line. Whether it's supporting our advocacy work, connecting with new customers, or engaging employees, WABA welcomes every business' investment.

Digital Promotion
Physical Promotion
Event sponsorship

Supporter, $250

WABA Supporter level Business Members are local business owners who believe better biking helps their bottom line. Supporter level gain initial access to the benefits of WABA's business network and audience, and is a key constituency for connecting WABA's advocacy work with hyper-local initiatives.

Digital Promotion
Physical Promotion

Yes, My Business Would Like to Support Better Bicycling in the Washington Region!

Other Opportunities as a Business Member: Build a Bike Friendly Workplace through Employee Education:

Beyond WABA business membership, you can show your employees that you value biking as part of your company culture by empowering them to ride safely and easily. A great way to achieve this is through WABA's customizable Everyday Bicycling Seminars and Commuting 101 Rides.

Learn MoreLess Info

About:

The Everyday Bicycling Seminar is a one hour presentation designed to introduce the basics of how to safely and easily fit biking into your daily life.

What you get:

Customized Everyday Bicycling Seminar experience for your employees.

Tips on topics like getting the bike that's right for you, making sure your bike is in good working order, understanding safe riding principles and rules of the road and trail, and carrying the things you need to carry.

Conversations around existing office resources for bike commuting (like bike parking or organized groups).

Contextualizing your office location in relation to existing bike infrastructure.

Hyper-local resources including maps, apps, and community groups.

Duration: 60 minutes

 

45 minute presentation, 15 minutes for questions

WABA can accommodate weekday daytime and evening presentations.

Cost: $1,000 (nonprofit and government discounts available)

*The Everyday Bicycling Seminar is provided at no additional cost for Community Champion Business Members and above.

Commuting 101 Ride:

About:

The Commuting 101 rides tackle different skills that riders use to commute and get around the region. These rides are always fun, but they're also a safe space for your employees to learn and practice riding in real-world situations with expert instructors ready to answer all their questions. The ride is tailored to riders' needs and can dovetail with Everyday Bicycling Seminar content. 

What you get:

Tailored Commuting 101 Ride for your employees

Custom route based on your employee's skill level, comfort, desired outcomes, and desired start and end location.

Comprehensive route planning, cue sheet creation, test riding, and digital route creation.

Bike safety checks, best riding practices, and bike and helmet fitting.

Quality riding time with expert instructors to answer their city riding questions.

Fun and safe riding experience.

Duration: 60-90 minutes

 

WABA can accommodate weekday daytime and evening rides.

Cost: $2,500 (nonprofit and government discounts available)

WABA will help secure bikes and helmets for those who need them (with partners Capital Bikeshare and JUMP)

Best of Both:

The best way to make your employees truly jazzed about biking to work is to offer both off-bike and on-bike learning experiences. If you schedule both an Everyday Bicycling Seminar and a Commuting 101 ride, the cost is $3,000 for private employers and $1,750 for non-profits.

To learn more and customize your employee package please contact Tessla Wilson, Business Partnerships Coordinator at business@waba.org or 202-518-0524 x 211.

As a business member, you can offer "extras" to our nearly 6,000 WABA members. All levels of WABA Business Members can connect with the WABA audience and create new customers by offering savings to WABA members.

For more information, email our Business Partnership Coordinator, Tessla Wilson.

Sponsor a WABA Event

As a WABA Business Member, you are have the opportunity to sponsor our events and educational efforts, and engage with the WABA audience face to face.

Learn MoreLess Info

WABA's events are more than just bike rides. We offer both on-bike and off-bike event sponsorship opportunities to help your business reach your target audience with authentic digital and face-to-face exposure. Whether it's sponsoring our annual Vision Zero Summit or WABA in the Wild, we work with each business member to combine their year-round exposure with outstanding event sponsorship experiences. For more information, email our Business Partnership Coordinator, Tessla Wilson.

Have a great idea about other ways we could work together? So do we! Whether you're interested in sponsoring a member mixer, making your office more bike friendly, or increasing your digital exposure to the WABA audience, we work with you to achieve your company's goals.

For more information about WABA Business Membership, building a bike friendly business, offering WABA members an extra, and event sponsorship, contact WABA's  Business Partnership Coordinator, Tessla Wilson at business@waba.org or 202-518-0524 ext. 211 Thank you to our Business Members:

 

 

Community Champions

     

Local Leaders

         

   

    

 

                     

               

  

                 

 

Members

 

 

Supporters

A-1 Cycling
Herndon and Manassas, VA

AXA Advisors, LLC 
Washington DC Branch

DuBoff & Associates
Silver Spring, MD

Evo Cycle Works
Rockville, MD

National Charter Bus Washington DC
Washington, DC

The Employment Law Group, PC
Washington, DC

The Bike Lane
Reston and Springfield, VA

Huntington Beach, CA

Vienna and Fairfax, VA

Washington, DC

Washington DC Charter Bus Company

Washington, DC

Washington, DC