Join Us On The 2017 Climate Ride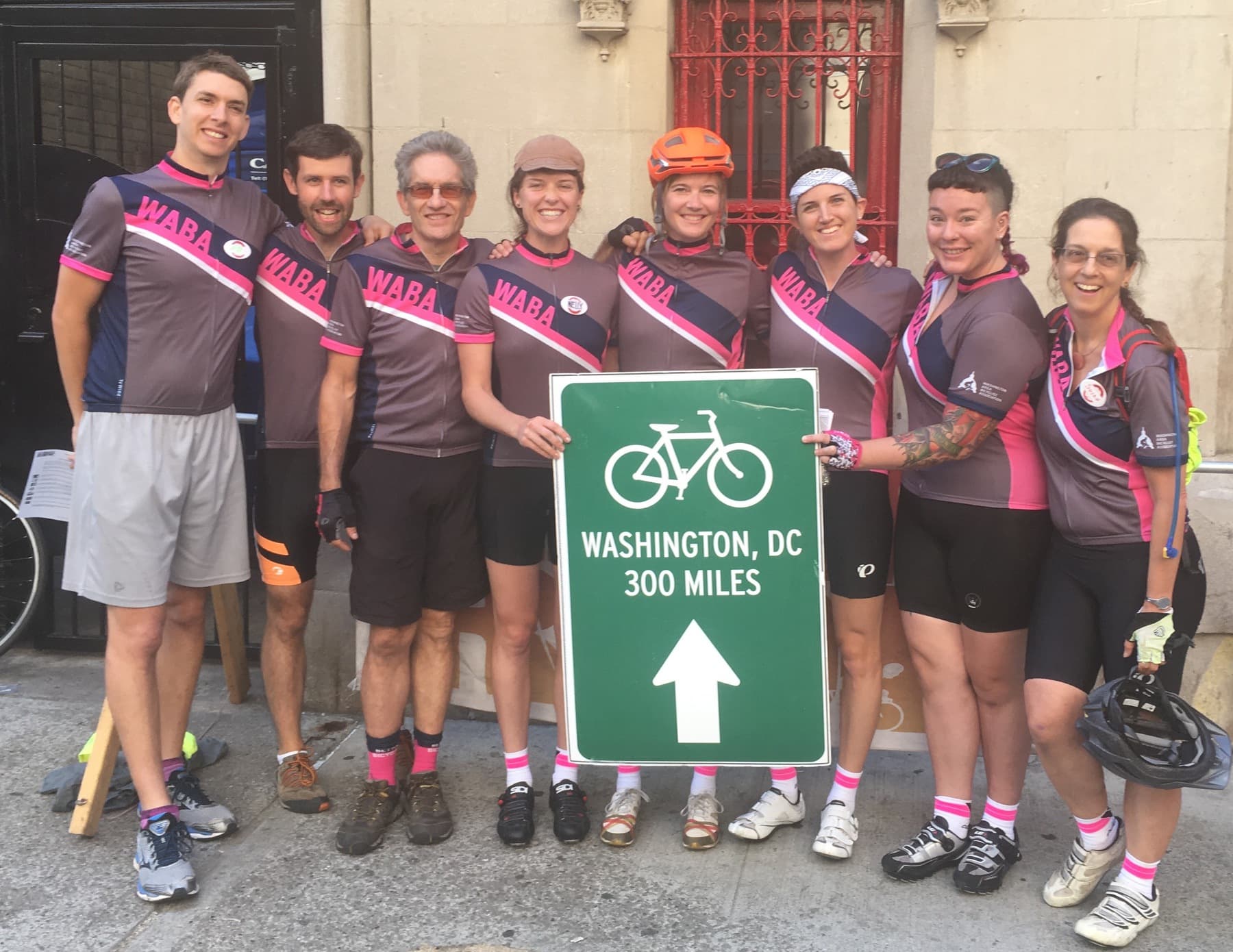 Join us, September 24 – 26th!
Ride to make our region a better place to bike! 
When you join the WABA team on the
Red White and Blue Ridge Ride
, you join a lively group of people who support you from the moment you click register, to the moment you step foot on the Capitol. We'll be your teammates in organizing, fundraising, preparing, and planning for our ride. And when you ride for WABA, your fundraising dollars directly support WABA! Your work to fundraise is work toward concrete improvements for biking in our region. You're supporting the strategy, organizing, and education for better biking, a more connected region, a more sustainable region.

Benefits of joining WABA's Climate Ride Team
Fundraising support: we'll support you in fundraising by assembling a planning night, co-organizing happy hours, advising on strategy, and getting you to your $2,000 goal!
Training support: we'll stay in constant communication and get together for training rides or pass along opportunities to get out and ride.
Packing support: we'll lead a few happy hours on logistics and prep to make sure you're ready to go.
If you select WABA as your primary beneficiary, you'll get to proudly represent a free WABA Jersey!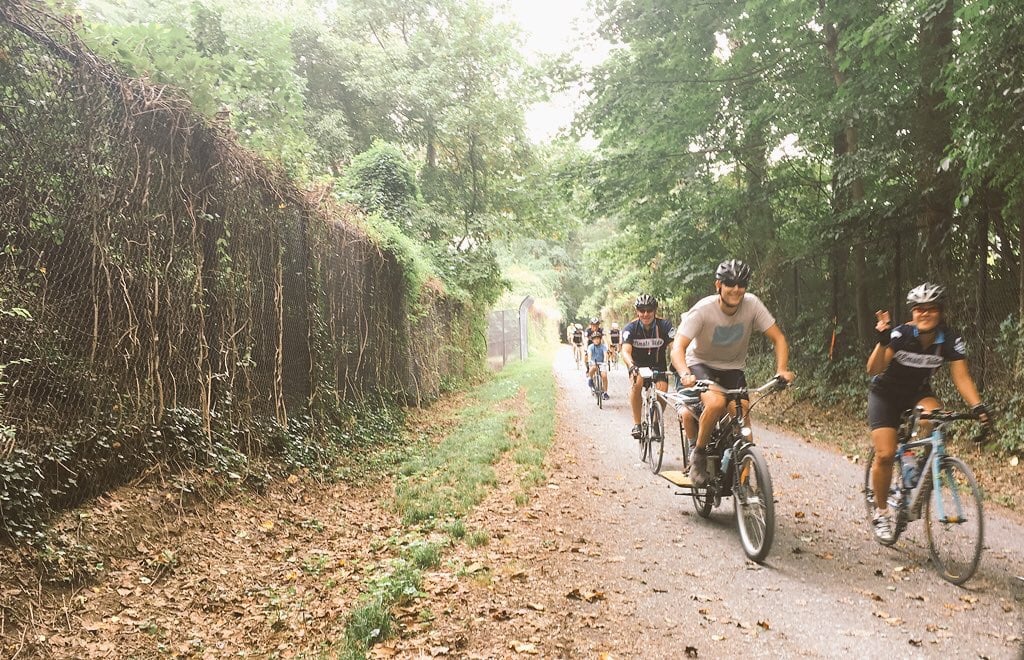 To join WABA's Climate Ride Team 
Register for the 2017 Red White And Blue Ridge Ride (use "WABA" for 25% off your registration fee)
During registration, select WABA as one of your designated beneficiaries. If WABA's your one and only beneficiary, you'll get to rock a Team WABA jersey and socks! ! If you select multiple beneciaries, great! Share the love. We'd still love to have you on Team WABA.
---

Frequently Asked Questions:
Q: Do I have to ride the Red White and Blue Ride Ride to support WABA?
A:  No, if you're looking to travel beyond our backyard, or those dates don't work for you, there are lots of other rides to choose from! To join Team WABA, you must designate us as one of your non-profit beneficiaries. If we're you're one and only beneficiary, you'll receive a Team WABA jersey! 
Q: How many miles is it from Montebello to DC?
A: 208, with multiple daily mile options.
Q: How many miles do we bike a day?
A: we'll average 69 miles a day. 
Q: What if I can't ride that many miles a day?
A: We'll support you in training before the ride. But if at any point you need to be picked up, Climate Ride takes care of van support!
Q: Where do we ride? Are the roads safe?
A: In constructing the route, Climate Ride does their best to avoid all major highways and keep us on paved, rolling, back-country roads.
Q: Where do we sleep?
A: Climate Ride takes care of all the site logistics and give you the option of camping or hotel options (at an additional charge). 
Q: How much do I need to fundraise?
A: $2,000, which covers the organizer's costs, and 50-55% is given directly to the sustainability-related non-profit beneficiary you select (In WABA's case, this means an unrestricted grant to fun our work for more bike lanes, better bike laws, responsive campaigns, and a D.C. region that supports biking for all) 
Q: How many beneficiaries can I choose for my ride?
A: You can choose up to 5 beneficiary organizations. To join Team WABA, we need to be one of your beneficiaries. To get a WABA team jersey and socks, we have to be your one and only : ) 
To get all your FAQ's answered,
visit the Climate Ride FAQ page
! If you have WABA-specific questions, please reach out to us at development@waba.org.
---

We're pleased to present our Climate Riders with our official WABA jersey thanks to our friends and official Merch Sponsors 
Primal Wear
. The colors are bold, the design stands out, and the quality endures. Based out in Denver, Colorado, Primal supports biking at all levels, from multi-day road races to advances in local bike infrastructure. Thanks to Primal's support we're able to offer WABA members 20% off jerseys, socks, and t-shirts and use the funds to support our work for better biking.