RideOn Newsletter — Winter 2015
In this issue:
Download a
PDF Version
of RideOn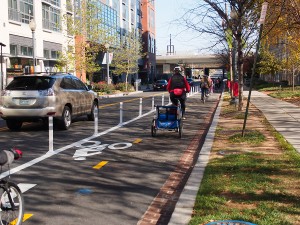 Low Stress
In urban space, it takes more than paint on pavement to make biking seem like a real option for everyone.
Bikes have a place on the road. Let's just start there. But here's the thing: riding your bike on a busy road isn't always fun. It can be stressful and noisy. It can be nerve-wracking. All it takes is one close call with an impatient or inattentive driver to turn a sunny morning ride into an adrenaline rattled experience in frustration. If you are reading this newsletter, you might be one of the folks who has overcome that frustration. Maybe you've found a supportive peer group, or a route that will get you to your most common destinations with a stress level you're comfortable with. Some combination of skill, enthusiasm, fitness and risk tolerance gets you through the busy traffic, through the blocks where the bike lanes end, and through the inevitable strained interactions with people in cars. In that sense, we're the lucky ones. For us, the joy and convenience of getting around on a bicycle outweigh the stress and perceived risk. Low stress infrastructure like trails, sidepaths, and protected bike lanes are a way to tip that balance for more potential bicyclists. And when low-stress facilities connect to each other without gaps, they become more usable and more compelling to even more people. When bicyclists and advocates talk about these protected places to ride, it's important to be clear that we're not just talking about making facilities better for those of us who already bike. We're talking about opening up this mode of transportation to more people than ever before. For WABA, well-connected, low stress bike infrastructure is an equity issue. Everyone in our region who wants to bike should be able to, no matter where they come from or where they're going. In this issue of RideOn we focus on trails in urban and suburban spaces. On page 2, there's a report on our Future Trails summit—an event which brought together decision-makers from many jurisdictions to talk about how to improve and connect our region's extensive trail network. We also introduce a concept plan for a trail corridor along Arlington Boulevard, from the National Mall to Fairfax City . This trail is an opportunity to showcase the importance of both connectivity and low-stress infrastructure. Arlington Boulevard is, for most of its length, a busy 6-lane road that few cyclists feel comfortable riding on. Several segments of the route already have excellent, low-stress bike facilities adjacent, but they are scattered and incomplete. Connecting these segments will make biking a viable transportation option for more than 100,000 people whose transportation options are currently limited. WABA is committed to making biking into a realistic transportation choice for everyone, and connected, low-stress infrastructure is the centerpiece of that effort. We hope you'll join us as we work toward this goal. Photos in this issue by: Pete Beers, Greg Billing, Colin Browne, Anrew Olesen, Nelle Pierson
---
Future Trails: An Important Meeting & A Big Party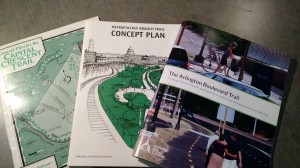 The Meeting
Our region has an excellent trail system. A combination of careful planning and coalition building in the last four decades brought us the W&OD, Capital Crescent, Mount Vernon, and Anacostia Tributary Trails, as well as progress towards completing the Metropolitan Branch Trail and the Anacostia Riverwalk Trail. Each one of these trails crosses many jursidictions, each with its own bureaucratic processes. In November, WABA convened a group of key stakeholders and decision makers from across the region to spend a day talking off-the-record about how to keep our trail network growing. The gathering was a success! The group had productive discussions about the value of a connected trail network and the obstacles to completing trail projects. Attendees agreed to use connections made at the meeting to help keep trail projects from stalling at jurisdictional boundaries. We look forward to continuing to meet with this group.
The Celebration
We also wanted to make sure the public had a chance to celebrate our trails, and see what could be next for our trail network, so WABA partnered with REI to throw a family friendly outdoor party. Even though it was chilly outside, hundreds of people came out for carnival games, tours of the Metropolitan Branch Trail, face paintng, raffles, free bike maintenance with an REI mechanic, and coffee and cookes fresh from the oven to warm up. We also announced our concept plan for the Arlington Boulevard Trail, which you can read about on here.
---
WABA & BikeArlington Launch a New PAL Ambassdor Program!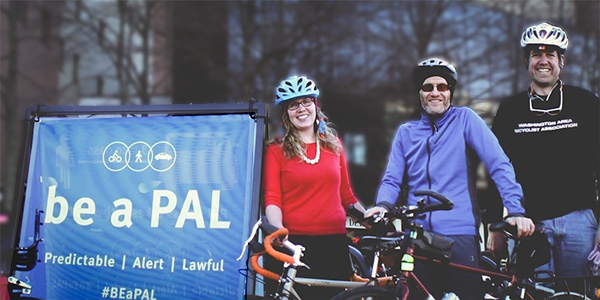 We know you love bikes. If you're like us, you've probably spent some time daydreaming about how to show that love to your community:
Maybe you've brainstormed slogans. Maybe you've imagined cheery chalk messages to write in bike lanes. Maybe you've coined a clever bumper sticker for your fender or a patch for your pannier. Maybe we've got the perfect volunteer gig for you. Would you hold a homemade sign? Would you recruit your fellow bike-lovers to brandish them? Would you stand on a streetcorner exclaiming "Hello everyone! Be a PAL! A Predictable, Alert, Lawful road-user!"? Would you consider being an awesome volunteer for an awesome new program? BikeArlington and WABA are putting volunteer PAL Ambassadors on the streets across Arlington county, and we want you!
What's a PAL Ambassador?
You! PAL Ambassadors are folks who care about their community and making our streets safer. They're folks who love biking and are passionate about making the case for bikes. In fact, PAL Ambassadors are the driving force to change the culture on our roadways. They'll be the smiling faces behind the handlebars. They'll stress the importance of being more predictable, more alert, and more lawful. And they'll lead eye-catching and interactive campaigns to improve roadway behavior, etiquette, and interactions — especially interactions between drivers and bicyclists.
Become a PAL Ambassador!
There are four ways to get involved:
 Agree to be a PAL — a more Predictable, Alert and Lawful road user.
 Come to a monthly block party! We'll select a message, get creative, and take to the streets at an Arlington intersection to promote our message, and have some fun.
 Join us at our monthly PAL Pizza Party to hang out, brainstorm, and prepare for our next event.
 Or PAL around with us! Join our coordinator for a bike ride and pull the PAL bike trailer.
Sign up to learn more and find out where and when we'll be meeting at arlingtonpals.org BikeArlington launched the PAL campaign 2 years ago with the strong sentiment that no matter who we are or how we choose to get around town, our roadways depend on a social contract that everyone is following the rules and paying attention. Whether we're walking, driving, or biking we rely on our fellow road-users to be PALs — Predictable. Alert. Lawful.
---
The Next Big Thing: The Arlington Boulevard Trail
Arlington Boulevard runs just over twelve miles from the National Mall in Washington, DC to Fairfax City, VA, crossing several jurisdictional lines and the Potomac River along the way. The thoroughfare connects more than 110,000 people living in the adjacent neighborhoods to offices, retail, parks, schools, and government services. But it lacks a consistent, high-quality bicycling route. If you attempt the trip on a bike today, you'll encounter bike facilities of varying quality, but you'll also find a number of places requiring significant detours. If you count facilities on both sides of the route separately, more than 11 miles of shared-use disconnected infrastructure already exist. Using the existing infrastructure as a springboard, we can envision an incredible new facility: the Arlington Boulevard Trail. This trail requires the just 1.3 miles of new bridges and 8.1 miles of protected bicycle lanes (or off-road shared-use paths) and would be a continuous trail, 22 miles in length, on both the north and south sides of Arlington Boulevard. A basic, interim version of this — focused on at-grade improvements and "low hanging fruit" — could be built for just $2-5M, while a top-quality path with grade-separated crossing of major obstacles would cost $20-40M as redevelopment allows for increased investment.
Why this trail?
If you live in West Falls Church, shopping at Seven Corners is only 2 miles away, a night out in Merrifield only 3 miles, and an office in Rosslyn only 8 miles. Yet without a safe route to these destination, trips that could reasonably be taken on foot or by bike will not be. A quality trail along this route would encourage active transportation along its length, increase the value of existing bicycle and pedestrian facilities by making them part of a more connected network, and improve the character of the corridor for all users. The Virginia Department of Transportation (VDOT) and the Metropolitan Washington Council of Governments (MWCOG) have identified this route as an important, yet underdeveloped, bicycle route in several planning documents—but to date, improvements have been piecemeal. WABA's Concept Plan (which you can download and read at waba.org/arlingtonblvd) shows how those inconsistent improvements could combine to form a functional trail for transportation and recreation, unlocking the potential of the corridor as a place for people, not just automobiles.
History
Since its construction in the 1930s, Arlington Boulevard has evolved with the needs and values of the people and communities it has served. Initially just a connector of the suburbs to the city, the roadway nearly became a freeway in the 1960s. Now, as communities seek alternatives to traffic congestion and show their preference and support for walkable and bikeable communities, it is time for the corridor to evolve once again in order to meet these needs. Arlington Boulevard was one of the first major roads in the region to be designed for the automobile. Also known as US Route 50, it began at Memorial Bridge and continued west to Fairfax City. It had four lanes, service roads, no overpasses, and often a grassy median. By the 1940s and 1950s, car use and the local population were booming. In the 1940s and 1950s, to keep pace with increases in automobile usage and local population growth, interchanges were added, and the road was widened to six lanes in Arlington. By the end of the 1960s, Arlington Boulevard looked almost as it does today, complete with residences and shopping centers along its length—but divided by the Capital Beltway and connected across the Potomac on the Theodore Roosevelt Bridge. With growth in the region continuing, the future of Arlington Boulevard is uncertain. Road widening, interchange construction, and speed increases could make the corridor a completely inhospitable place for pedestrians and bicyclists. Or, as Arlington County put it in a 2003 study, the future could be "to transform Arlington Boulevard into a parkway route through the County, one that is made safer for bus riders, bicyclists and pedestrians and one that serves as an appropriate gateway into the County." You can read the complete concept plan at
waba.org/arlblvd
This project was made possible by a generous grant from REI. Explore an annotated, interactive version of this map at
waba.org/arlingtonblvdmap
Thanks to Andrew Olesen, who contributed substantial research to this project.
---
RideOn has a new look! Download the PDF to see it: 
Ride On Winter 2015 for web