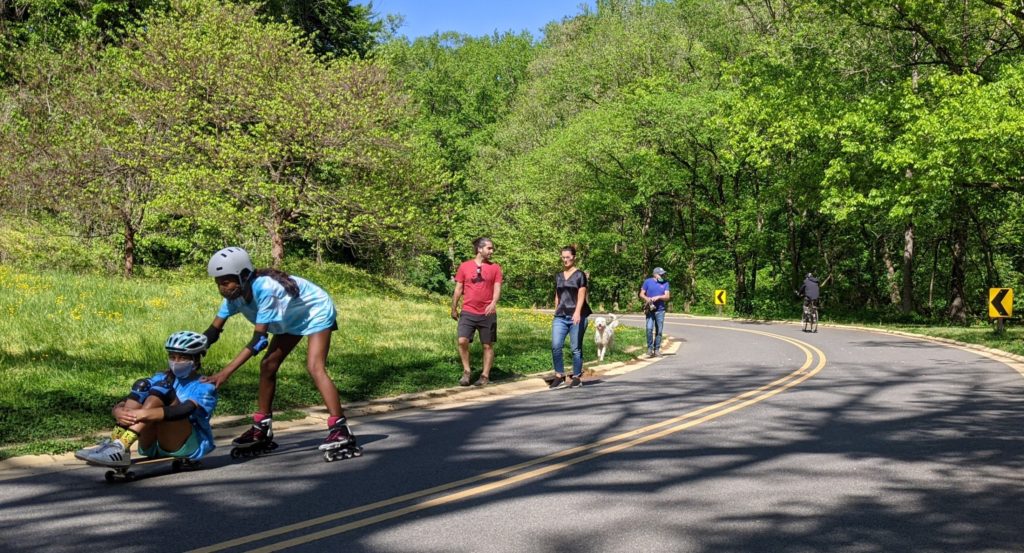 Rock Creek Park—Seven Days a Week!
In April 2020, with the encouragement of District government officials, the National Park Service set aside three sections of upper Beach Drive for the use of bicyclists and pedestrians during the coronavirus pandemic. Rather than managing upper Beach Drive as an auto thruway, NPS has been able to manage it as the center of D.C.'s largest park.
Reserving these sections for recreation has been enormously popular. Although this arrangement is temporary during the pandemic, the People's Alliance for Rock Creek (PARC), has requested that the Park Service make it permanent. We welcome your support in this important effort.
---
Petition from the People's Alliance for Rock Creek (PARC)
We, the below-signed residents of Washington, D.C. and surrounding jurisdictions, hereby acclaim the recreation, wildlife conservation and environmental benefits of upper Beach Drive in Rock Creek Park. We endorse making the current uses there permanent.
This action would continue the overwhelmingly popular traffic management scheme—in place since the pandemic began in Spring, 2020—that provides for full-time car-free recreation zones on three sections of upper Beach Drive between Broad Branch Road and the Maryland line. This is the traffic practice that has been in place on weekends since the 1980s.
Making these upper Beach Drive car-free zones permanent would maintain a safe, quiet and low-pollution greenway in the city's largest park for hundreds of thousands of families, walkers, runners, bicyclists, wheelchair users and other outdoor enthusiasts—seven days a week. It would also promote regional goals for climate mitigation, air quality improvement and wildlife conservation.
Restricting automobile traffic between the Maryland line and Broad Branch Rd. would not preclude automobile access to the Horse Center, Nature Center, Golf Course, Peirce Mill, National Zoo, Zoo Tunnel, Rock Creek Parkway, Georgetown, Downtown, the Kennedy Center or the Mall. Moreover, it would retain automobile access to all but five of approximately 130 picnic tables in the park, including all the reservable group sites along Rock Creek. Inconvenience to motorists has been slight since alternative routes and access points exist inside and around the Park.
Because Rock Creek Park is a national park in the heart of a city, we urge close cooperation between the National Park Service and the District of Columbia government in implementing this permanent scheme to prudently manage transportation, recreation and conservation of natural resources.
---
Maps
Map #1. Beach Drive Car-Free Zones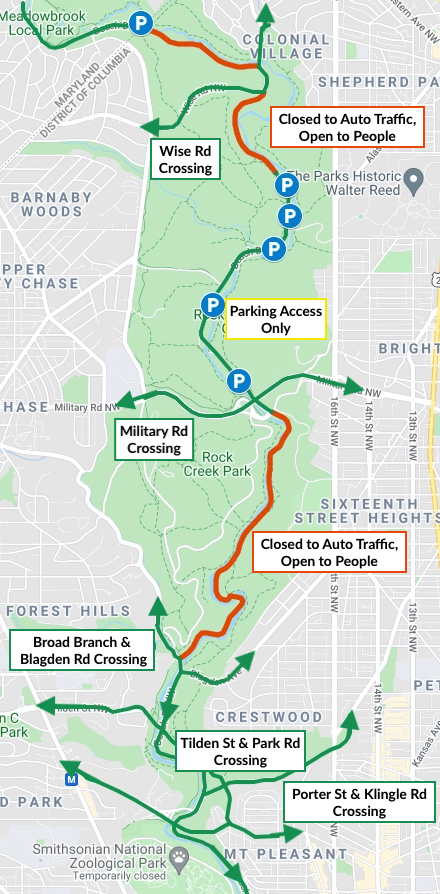 Map #2. Pre-Closure Automobile Volumes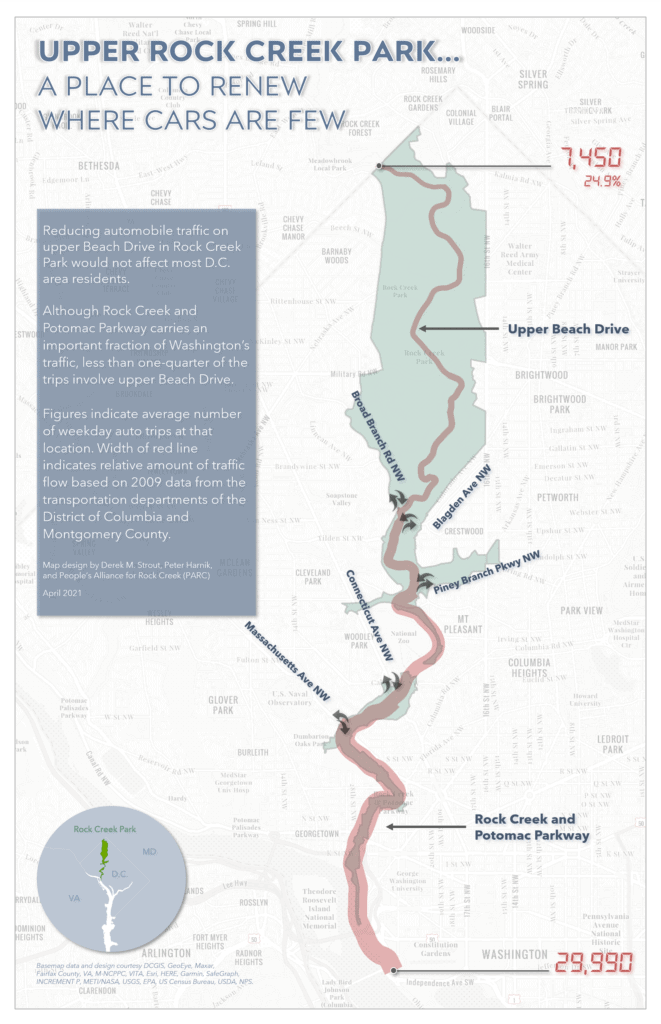 ---
People's Alliance for Rock Creek (PARC) — Frequently Asked Questions
Q: Which park road are you talking about closing to motor vehicles?
A: We are talking about upper Beach Drive, the portion between Broad Branch Road and the Maryland line. This is the same section of upper Beach Drive where three portions of the roadway have been set aside for recreation on weekends and holidays for the past 40 years.
Q: What about other roads?
A: There would be no changes to the management of Rock Creek Parkway, Military Road, Piney Branch Parkway, Park Road, Tilden Street, Wise Road, West Beach Drive, Blagden Avenue, Broad Branch Road or any other road in the park. Motorists from both east and west could still go through the zoo tunnel and drive to the zoo, Georgetown, the Kennedy Center and the Mall exactly as they do today.
Q: What about upper Beach Drive north of the Broad Branch/Blagden intersection?
A: Along upper Beach Drive, three sections of road would be closed to motor vehicles – as they have been on weekends and holidays for many years. This would greatly increase weekday recreational opportunities for walkers, runners and cyclists.
Q: What about the picnic areas along Rock Creek?
A: All of the park's group picnic areas would still be accessible by car, as they are now on weekends.
Q: Why not let walkers, bikes and cars all share upper Beach Drive?
A: The road is narrow, with no shoulders, and has numerous blind curves. There is no separate bike trail most of the way, nor is there room for one much of the way without destroying the character of the park. When open to motor vehicles prior to the covid pandemic, there were essentially no pedestrians and only a handful of cyclists using upper Beach Drive on weekdays. Even at the posted 25 mph speed limit, it was dangerous for non-motorized users. And NPS studies found that virtually all vehicles exceeded the posted limit, a majority by at least 10 mph.
Q: Has anyone counted the number of users since NPS limited vehicle traffic?
A: Yes. In August and September 2020, PARC, with the permission of the National Park Service, recruited volunteers to physically count the number of pedestrian and cyclist users. The study found 28,741 recreational users over a 56-hour period, an average of 529 users per hour. Extrapolating these numbers, we estimate that 60,000 or more people visited the three sections for recreation on weekdays during the 28-day period.
Q: Were the park users broken out by activity?
A: Yes: 62% cyclists, 18% runners, and 20% other pedestrians (including with strollers and dogs).
Q: How does the number of recreational users compare to motorists before the pandemic?
A: Traffic counts from 2017 showed 4,000 to 5,000 cars per day on upper Beach Drive, about the same number of users that we estimate were using the space for recreation based on our August-September user counts.
Q: How would PARC's proposal affect traffic outside the park?
A: The effect is extremely small. In fact, when upper Beach Drive was closed for reconstruction from 2017-2019, traffic volumes on the main alternative streets actually declined from their pre-closure level. On 16th Street, the average daily traffic count went from 34,600 in 2015 to 29,300 in 2018; on Broad Branch Road, it went from 4,400 to 3,000; traffic on Georgia Avenue and on Connecticut Avenue declined by about 1,000 cars each.
Q: Won't traffic conditions be different when the pandemic is over?
A: When the economy reopens, the general consensus is that a significant number of former commuters will have greater flexibility, including working from home. If so, traffic volumes on commuting routes might be expected to remain below their pre-pandemic peaks. On the other hand, with more flexible working conditions, demand for weekday recreational space might well increase. The pandemic has afforded us the opportunity to reimagine our future in many ways. Managing upper Beach Drive to provide safe recreation should be one of them.
Q: What is the People's Alliance for Rock Creek (PARC)?
A: PARC began in 1980 as a spin-off from the Washington Area Bicyclist Association (WABA). Ever since, PARC has led the effort that has already resulted in weekend and holiday car-free recreation zones in Rock Creek Park.
Q: Who supports PARC?
A: PARC's proposal is supported by the Sierra Club – DC and Montgomery County Chapters, Washington Parks and People, Rails to Trails Conservancy, Audubon Naturalist Society, the DC Statehood-Green Party, and WABA, among other groups.
---
Endorsements
The following organizations and groups have endorsed Rock Creek Park Seven Days a Week. Are you a member of an organization that supports this campaign? Email peterharnik1@gmail.com to join the list!
Anacostia Watershed Society
Audubon Naturalist Society
Bethesda BIKE Now
Capital Trails Coalition
Chesapeake Climate Action Network
Cleveland Park Smart Growth
Coalition for Smarter Growth
DC Environmental Network
DC Statehood-Green Party
DC Sustainable Transportation Coalition
E-Bike Lovers
Greater Greater Washington
Interfaith Power & Light DMV

Open Streets Montgomery
Potomac Pedalers
Rails to Trails Conservancy
Sierra Club – DC Chapter
Sierra Club Montgomery Co MD Group
Virginia Bicycling Federation
Ward 3 Bicycle Advocates
Ward3Vision
Washington Parks & People
Washington Area Bicyclists Association
---
Contact Us
Rock Creek Park Seven Days a Week is a campaign by the People's Alliance for Rock Creek with the support of WABA.
People's Alliance for Rock Creek (PARC)
waba.org/PARC
(202) 750-0611
peterharnik1@gmail.com