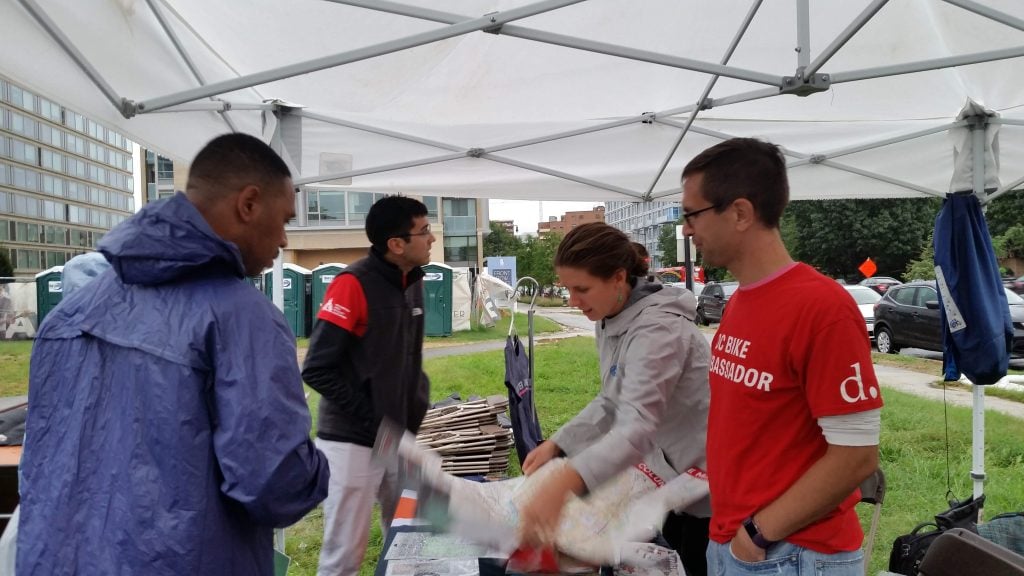 The D.C. Bike Ambassador program, funded through a partnership with the District Department of Transportation, is an outreach and encouragement program that promotes safe bicycling for fun, fitness, and transportation to everyone in D.C.
Volunteer with the DC Bike Ambassadors:
The D.C. Bike Ambassador program seeks to:
Encourage more D.C. residents and visitors to try bicycling
Educate bicyclists, drivers, and pedestrians on the safe use of roads, sidewalks, and trails
Reduce barriers that prevent people from bicycling
Provide resources to make the choice to travel by bike an easy and safe one
Model good behavior and respectful, safe road use for everyone
Bike ambassadors make these goals a reality by being visible within D.C., distributing maps, information, and encouragement at key points around the city. You can catch the bike ambassadors at community events, health fairs, near trails and major stretches of bike infrastructure, and pulling their billboard on wheels to encourage safe and responsible road use.
---
Be a Bike Ambassador!
Bike ambassadors are volunteers who are enthusiastic about spreading the word of safe cycling.
Follow WABA on Twitter and Facebook for up-to-the-minute updates on the locations of bike ambassadors. Read more about the ambassadors on the WABA blog.
Contact
Contact Trey Robinson at bikeambassador@waba.org with questions and comments about the Bike Ambassador program.
WABA's outreach programming is supported by your dollars. Join or donate to WABA today to help us continue our innovative work, like the bike ambassador program, to get more people in the D.C. area to ride bikes.