The Cider Ride
Saturday, November 2, 2019, 8:30 AM — Dance Place, 3225 8th St NE
The 2019 Cider Ride is over! Thank you to everyone who came out to support WABA. Our next event is the 2019 Holiday Party on December 18th at Franklin Hall- save the date!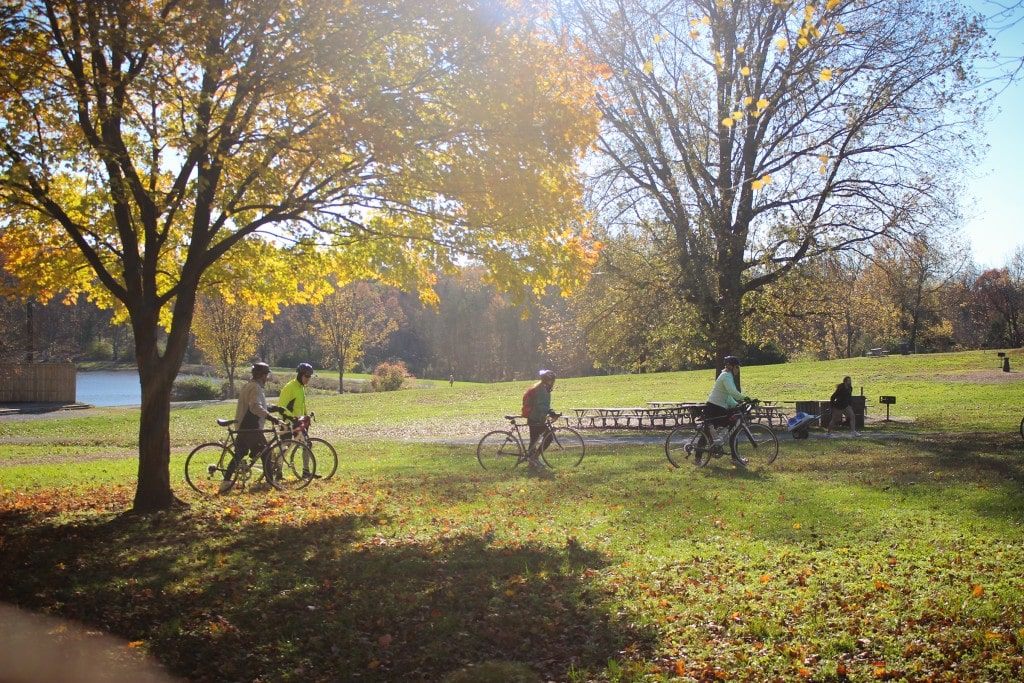 Rediscover our region as it's been transformed by autumn at the 2019 Cider Ride!
Register
This ride will take you through the woods on Maryland's beautiful trails —a whole new world, accessible by bike, and right in your backyard! Three route choices mean you can ride for 10, 30, or 55 miles, enjoying fall-themed treats at pit stops along the way.
Check-in for Cider Ride is at Dance Place (3225 8th St NE, Washington, DC 20017). Check-in opens at 8:30 am, but the specific time will vary by route.
All routes end at Dew Drop Inn in Brookland (2801 8th St NE, Washington, DC 20017). Join us there for a post-ride celebration!
As one of WABA's Signature Rides, the Cider Ride helps further WABA's mission and impact. The ride embodies the spirit of community and inclusion that is core to WABA's mission of growing bicycling throughout the region. And, your registration fees support WABA's advocacy, education, and outreach work that makes bicycling more safe, fun, and accessible around the region!
Choose from one of three routes:
Honeycrisp Route (±50 miles)
McIntosh Route (±30 miles)
Candy Apple Route (±10)
---
Fine Print
The Cider Ride will take place rain or shine. There will be no refunds, exchanges or transfers for this event, even in the event of inclement weather. Helmets are required for all riders.
You must be a current dues-paying WABA member to participate in this ride. Each WABA member is allowed one non-member guest only. Children under 12 may join you at no additional cost. You can become a member with your registration below or at waba.org/join!
Do you need accommodations to make this ride accessible to you? Contact Anna McCormally at events@waba.org.
Read our FAQs below for more details!
Volunteer
---
Be a Ride Marshal or Sweep Rider
Frequently Asked Questions
Is this a supported ride?
The Cider Ride is an unsupported ride. You will need to follow a paper cue sheet and there is no SAG vehicle. If there is a medical emergency, call 911. Ride marshals will be on the ride to assist with minor repairs, and WABA staff will be on-call to respond as we're able. Ensure that you have a loaded Smartcard, cab fare, charged phone, and/or a friend or family member who can pick you up in case you cannot complete the ride.
Is there a cutoff time for riding?
Since this is an unsupported ride, we will not cut you off. However, the pit stops have closing times. If you like to take rides more slowly, we suggest showing up at the beginning of check-in so that you have the maximum amount of time to ride.
Will roads be closed to cars during the ride?
No. You will be riding on roads with other vehicles during this ride. Don't feel confident riding next to cars? Look into our City Cycling classes to increase your comfort level! (They're free for WABA members!)
Will I get a refund if it's raining?
No. The Cider Ride is a rain or shine event!
Is the Cider Ride a fundraiser?
Yes! Signature events, like the Cider Ride, are the only rides we hold for WABA members that cost money. All proceeds from this event benefit WABA and the work that we do to make bicycling safer and more fun in the region. Don't know much about our work? Read about our advocacy, education, and outreach work.
Can I apply for a scholarship for this ride?
Through our Free Ride Fund we provide free rides to community members who could otherwise not participate. This is one way that WABA is making sure that bicycling in the DC region is accessible to everyone. If you want a free ride, or, if you want to donate to the Free Ride Fund but already registered, contact Anna McCormally at events@waba.org.
Are children allowed on this ride?
Yes, as long as they are accompanied by an adult! Anyone ages 12 and under can ride for free, accompanied by an adult. The accompanying adult must be present at check-in and give the names of the youth riding with them. Children 13 and older must be registered independently.
Where are the cue sheets?
Riders will receive access to online files of the route the week leading up to the event, and a paper cue sheet at check-in.
Do I have to stop at stop signs?
Yes. We can't control what you do on the roads, but, through participating in a WABA ride, you are setting an example for bicyclists. We ask you to please ride safely, respectfully, and lawfully to maximize safety for all the ride participants and other trail users. Stop at all red lights and stop signs. Always yield to pedestrians. Use hand signals when turning. Communicate verbally with other riders. Do not ride more than two abreast, and do not take up more than one lane of travel. When riding on sidewalks, trails, or paths, be cautious when passing other trail users and slow down.
How do I ride in the city?
To get familiar with riding in the city, take a WABA City Cycling class (free for WABA members)! You can also find video tutorials on city cycling on the League of American Bicyclists' website.
Do I have to wear a helmet?
Yes. WABA's insurance requires it. This is standard for organized rides across the country. Learn how to properly fit your helmet here.
Is the route signed?
No, but we do our best to make the cue sheet clear and comprehensive. We know that some of the trails have some tricky turns, so be prepared for those. If you get lost, you can check the map, google it, or hang out for a few minutes and see if you can connect with a rider or marshal who is familiar with the area.
I already registered but want to go back and register a guest. How do I do that?
WABA members who have registered for the ride can register one non-member guest. To do so, follow these steps:
1) Go to the registration page.
2) Type your email (the one you used to sign up for the ride) into the membership lookup box.
3) Add one adult registration (this should be the price of one registration, no membership included).
4) Fill out the rest of the registration form with your guest's information. They should get the confirmation email, but you should get the payment receipt.
If you have questions about this, please email events@waba.org or call 202-518-0524 x218. Or, you could ask your guest if they want to register and purchase their own WABA membership: look at all the benefits!
Can I take shortcuts?
Of course! There are many places throughout the ride where you can skip a few miles if you're tired. Furthermore, there's no shame in bailing out early. You should do however much of the ride you feel good about—don't push yourself to ride until you're not having fun.
Can I change which route I signed up for?
Yes! Just show up at the correct start time for the route you'd like to ride. You can decide to ride any of our available routes!
Will there be marshals?
There will be ride marshals. They will be wearing vests with numbers on them. Marshals are WABA volunteers that are the first line of response in incidents that involve ride participants and be an avenue of communication between ride participants and WABA staff members. They are as new to the route as you are, so don't treat them as ride leaders: read your cue sheets! The numbers on their vests allow you to identify them: if you see a great marshal, be sure to tell us in the post-ride survey!
How many people will do the Cider Ride?
We typically sell out our rides at 700 registrants.
Do I need to register separately if I plan to ride a tandem bike with someone?
Yes. All adult individuals must be registered.
When is the next WABA signature ride?
Our next signature ride will be in Spring 2020 – more soon!
Got another question?
Send us an email at events@waba.org or give us a call at (202) 518-0524 x218.
Thank you to our sponsors!
Gold Sponsor: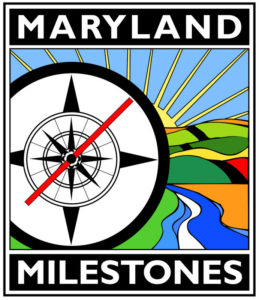 Bronze Sponsors: