We can answer them!
Our bicycling classes and education rides teach biking for transportation, fun, and fitness. We offer sessions for adults of all skill levels throughout the Washington, DC area.
Learn to Ride   Basic Skills Clinic   City Cycling   Education Rides   Everyday Bicycling Seminars
---
Learn to Ride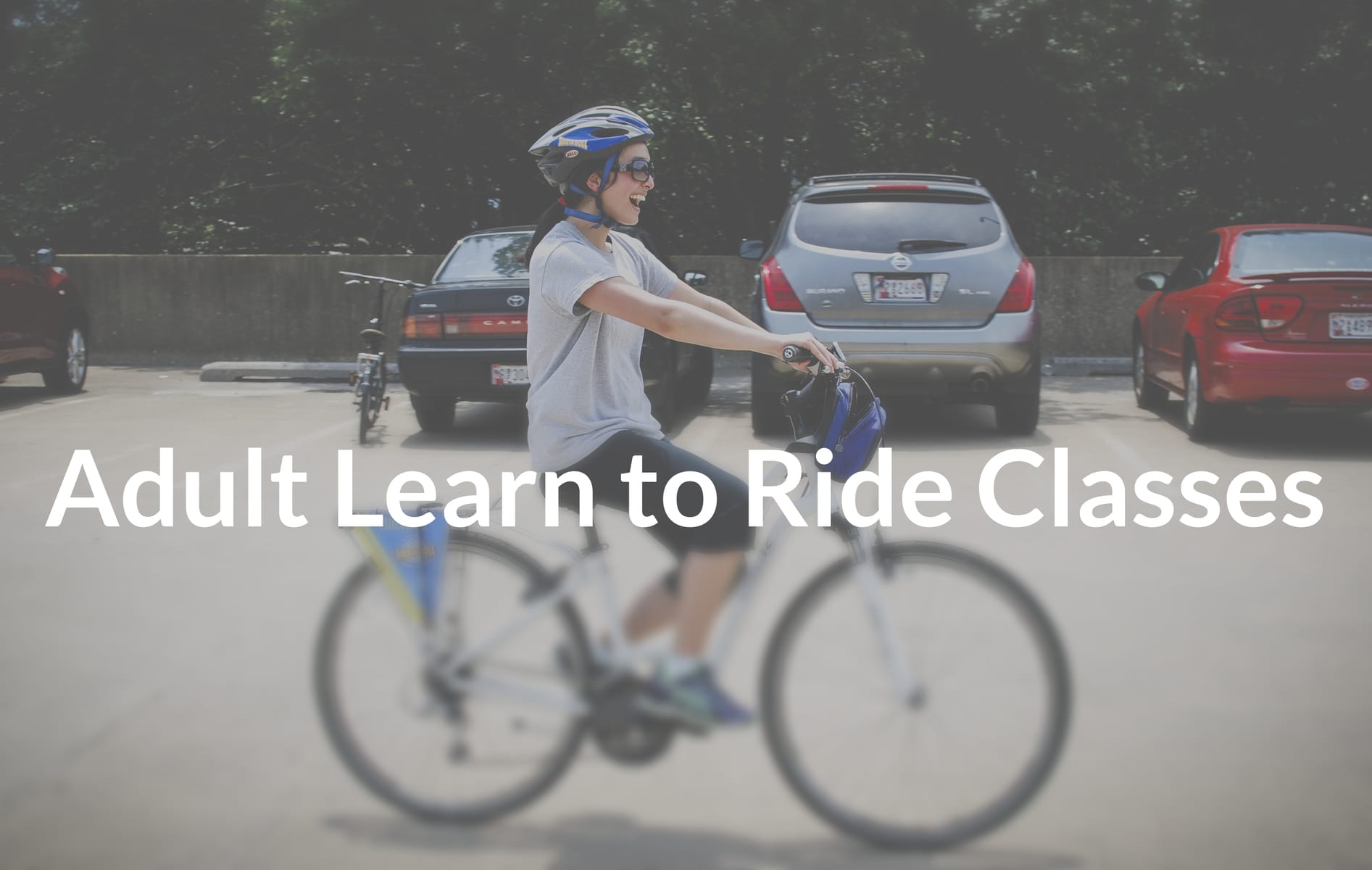 Our Learn to Ride class is fun, intuitive, and very successful! This class is for adults who have never ridden a bike before or have tried to learn and have not been successful. Our League certified instructors take students through a progressive curriculum, with the goal of riding with two pedals by the end of the session.
Class DetailsHide Details
This class is for you if:
You are at least 18 years old.
You have never tried to learn how to ride a bike, or:
You have tried to learn and have not been successful.
Our approach is fun and intuitive, but it also requires hard work. You will be riding for nearly three hours. We take breaks every hour.
Please wear comfortable clothes, and bring the following: water, snacks, and weather-appropriate outerwear.
A rental bike and helmet for the day are included with your registration. Be sure to provide your height in feet and inches so that we can provide you with a bicycle that fits you.
Only students who have reserved space in the class may attend. Unfortunately, walk-up students cannot be accommodated.
Most classes are $85. There are a limited number of scholarships available for each class. Scholarships can be requested through the registration page when you sign-up.
Please note that the demand for this class can be high. This means that:
If you would like to support a family member or friend, we welcome you to attend, but please do not register for a class.
If you do not notify us and do no show up to class, we will not let you sign up for another class this season.
If you cannot make it to a class, let us know as soon as you can so we can offer the space to a student on the waitlist.
ScheduleHide Schedule
Sorry, but our Learn to Ride classes are over for the season! We will be back with plenty more classes in April. 
---
Basic Skills Clinic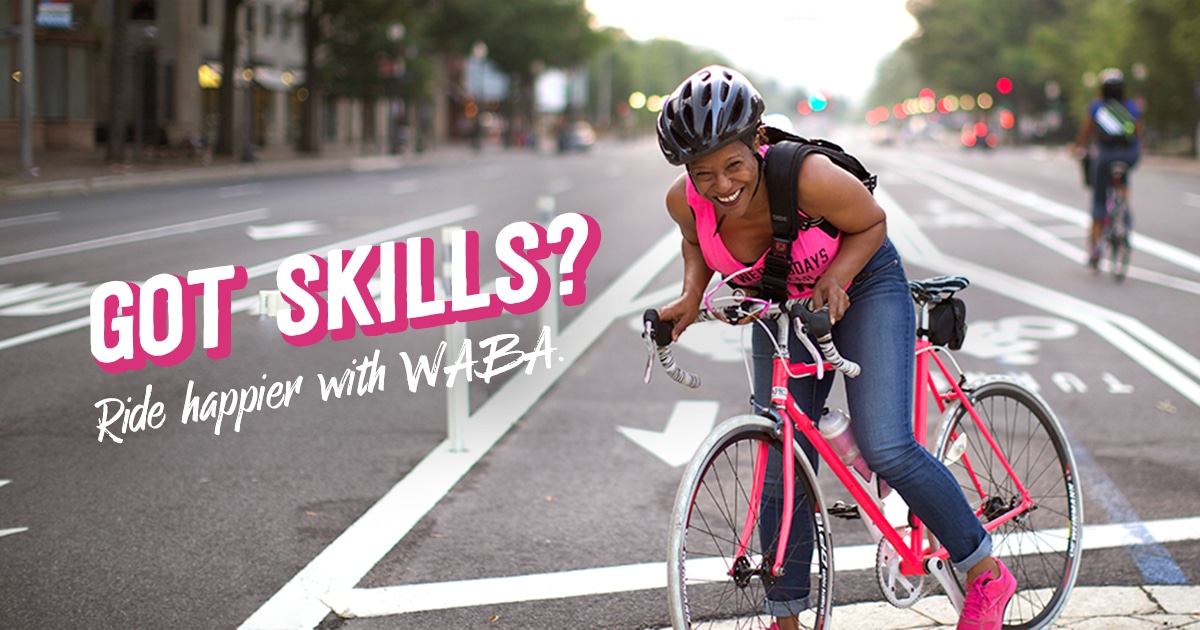 The Skills Clinic is for students who have graduated to 2-pedal riding from the Learn to Ride Class, but need or want to continue working on their learn to ride skills. Instructors will assist students with modified City Cycling drills such as starting/stopping, turning, weaving, and gradual braking. Students can sign-up on the WABA website (see the schedule below) or call 202-518-0524, x221. All students must check-in with the Lead instructor at the beginning of the session.
Class DetailsHide Details
Come join us and start working on your skills in a few easy steps:
Sign-up on the WABA website (see the schedule below) or call 202-518-0524, x221.
Take a few easy minutes to download, print, and complete/sign the Liability Waiver and Skills Clinic Questionnaire, and bring both with you to the class (speeds up check-in). You can also complete/sign one at the class, if needed.
Arrive promptly at the class start time and check-in with the Lead Instructor. Ensure your helmet and bike are in good working order. If you use a Capital Bikeshare bike, we'll reimburse your usage fees accrued during the class. If you're unable to bring your own bike, e-mail us at education@waba.org or call 202-518-0524, x221 at least 48-hours before the clinic and we'll provide a bike and helmet for you.
Be patient and wait a few minutes until after the break when the Skills Clinic portion of the class begins, then have fun practicing your skills and ask questions!
ScheduleHide Schedule
Sorry, but our Basic Skills Clinics are over for the season! We will be back with plenty more classes in April. 
---
Confident City Cycling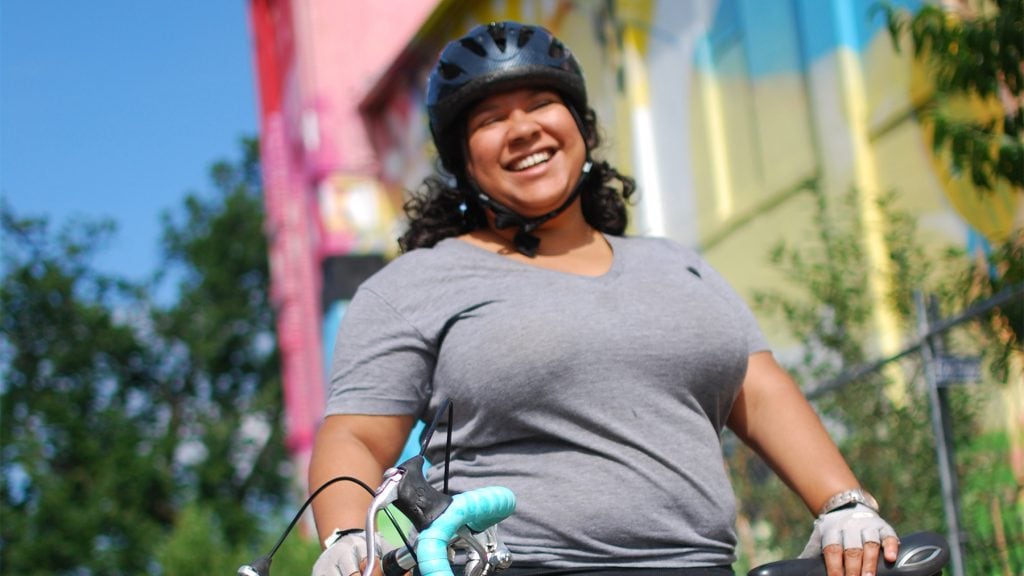 More joy. Less stress. Riding your bike doesn't have to be stressful. Join us for a morning of skills, confidence, and community building. We'll spend some time on a few specific bike handling skills, then go for a short ride and talk about strategies for riding in different road, bike lane, and trail situations. Bring questions! By the time you head home, you'll feel more confident, comfortable, and happy on your bike. Plus it's a blast.
Class DetailsHide Details
Something for everyone:
Whether you've just learned to ride or you've been bike commuting for years, we've got new things to share with you. Our experienced League Certified instructors will make sure that you're working on skills that match your level of comfort and experience on your bike.
Is this class right for you?
Do you know how to ride a bicycle?
Are you comfortable riding a bike for at least 30 minutes?
Are you comfortable starting and stopping your bicycle?
If you answered "no" to any of the three questions above, then a Learn To Ride class or a Basic Skills Clinic is best for you.
What to bring:
Questions! We love them! Do you have a particular bike situation you've always wondered about? That's what we're here for!
A bike, helmet, water and a snack.
Flat pedals. Toe clips, clipless pedals, or other gizmos that attach your feet to your pedals aren't recommended. If you don't know what this means, your pedals will work fine.
What does it cost?
Ten bucks! What a deal! But also:
The class is free for Bikeshare members. We'll also reimburse you for your usage fees if you use Bikeshare during the class. (Email or call 202-518-0524 x221 for a discount code)
The class is free for WABA members. (Email or call 202-518-0524 x221 for a discount code)
Drop-ins are free (if space is available)! Walk up to any class at least 15 minutes before we start so we can have you fill out a little bit of paperwork.
ScheduleHide Schedule
All Confident City Cycling classes are from 10:00 AM to 1:00 PM, unless noted otherwise.
Sorry, but our Confident City Cycle classes are over for the season! We will be back with plenty more classes in April. 
---
Community Education Rides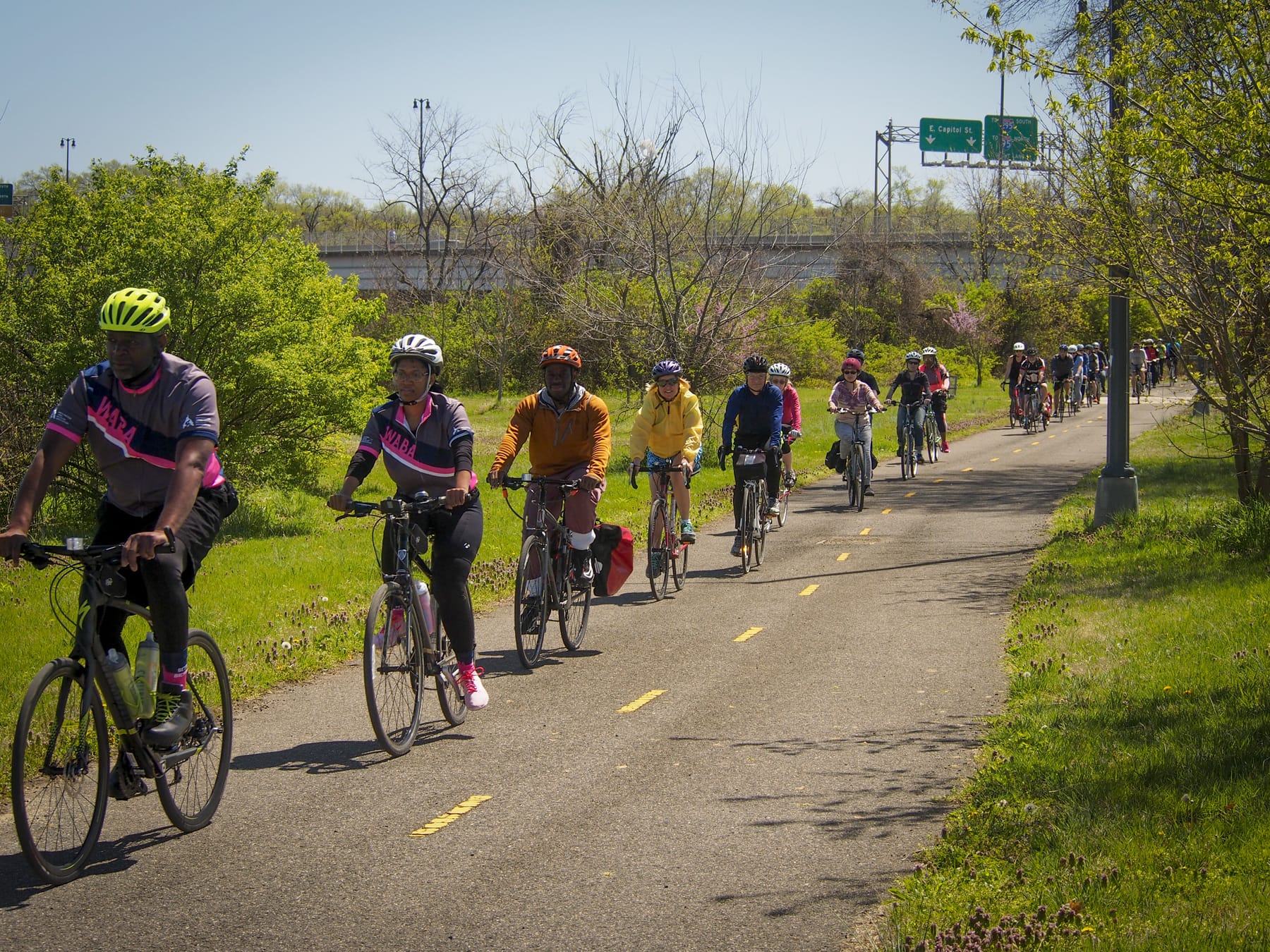 Our community education ride series is an inclusive space for riders of all levels to explore the city. We ride together on weekday nights, and each time we tackle different topics that urban riders use to get around the region. Our rides are always a good time, but they're also a safe space to ask questions and practice riding in the city. Come to tour the region, come to ride, come to ask any of your deepest, darkest, secret-est bike questions.
Ride DetailsHide Details
Community Education Ride Policies
WABA's community rides are limited to 30 riders. You must provide your own bike and helmet. Seriously — helmets are mandatory for participation, because of the way our insurance policy works. Our rides are unsupported, meaning that maintenance and transportation will not be provided. These rides have a no-drop policy, meaning that we won't leave anyone behind. Our events are designed to be inclusive, and as such we welcome people from every walk (or roll?) of the bike life to join. All riders must sign a liability waiver and photo release on-site prior to joining the ride. Riders are free to depart at any time after notifying a WABA staff member or instructor.
ScheduleHide Schedule
Sorry, but our Community Rides are over for the season! We will be back with plenty more rides in April. 
---
Everyday Bicycling Seminars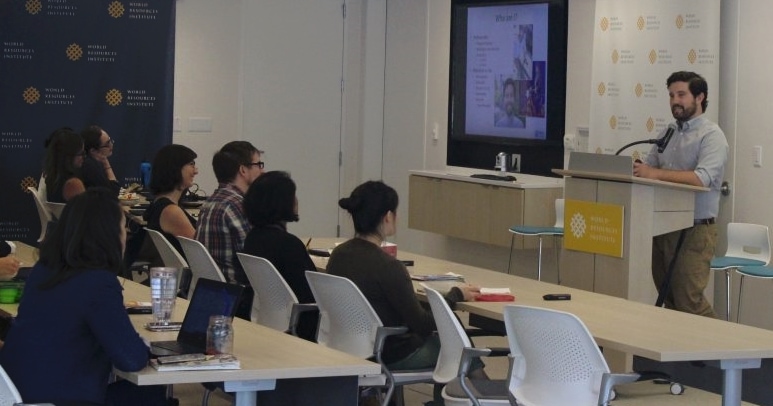 Everyday Bicycling Seminars are a great way for organizations to encourage their members and staff to ride. The seminar is a short presentation designed to introduce the basics of how to safely and easily fit biking into your daily life. It includes tips on:
Making sure your bike is in good working order
Planning a good route
Understanding safe riding principles and rules of the road and trail
Carrying the things you need to carry, and more
Seminar DetailsHide Details
After the presentation, our trained staff will answer your questions, address your concerns, and resolve that nagging issue that has kept you from biking (In our experience, everyone who isn't biking but wants to has that one nagging issue!).
The full seminar takes only an hour and we provide every participant with a Safe Cycling guide, local bike map, opportunity to take a free WABA city cycling class, and materials on upcoming bike-related events, activities, and programs.
Email business@waba.org for cost and scheduling information or Complete This Form to Schedule an Everyday Bicycling Seminar.
Seminars are free for organizations who become WABA Community Champion Business Members.
---
Contact
For questions about education programming, email education@waba.org. Join our team! Find out how to become a WABA instructor. WABA's education department is supported in part by your membership dollars. Join or donate to WABA today and help our programs reach further.