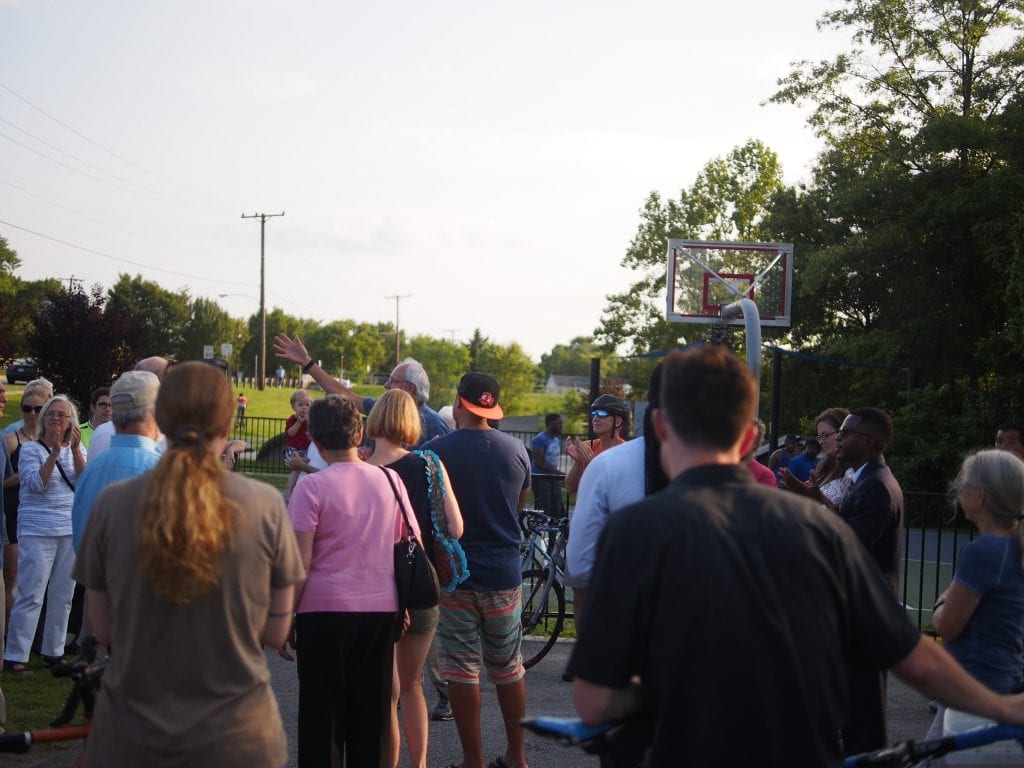 On July 13, over 50 people gathered at a city park at the corner of Rhode Island Avenue and Charles Armentrout Drive in Hyattsville, MD to learn about WABA's campaign to Finish the Trolley Trail.  Joined by numerous elected officials, community leaders, and members of WABA's Prince George's Action Committee, attendees walked north along the proposed trail alignment to see why this a half mile trail extension is so important to the regional trail network and to talk through the remaining hurdles to building the trail.
This busy road intersection is also an important crossroads for the Anacostia Tributary Trails, which extend for miles in each direction, connecting to Silver Spring, College Park, Beltsville, Bladensburg and, this fall, DC's Anacostia Waterfront. While these connections are seamless, traveling directly north into downtown Hyattsville, Riverdale Park and University park by bike requires mixing with the fast and busy auto traffic of Rhode Island Avenue.
As we walked, we discussed the many new connections the trail will enable, the challenges of building a trail between a state highway and an active railroad, the work already done, and the many, many steps and complications ahead. We heard from leaders, officials and staff who have put so much work into this extension, including State Senator Paul Pinsky, State Delegate Alonzo Washington, Aaron Marcavitch of the Anacostia Trails Heritage Area, and Fred Shaffer of the Prince George's County Planning Department. Just as important were the local leaders, mayors, councilmembers and business owners, also in attendance from University Park, Hyattsville, Edmonston, Riverdale and Brentwood. It will take many partners to see this trail to construction, and we are grateful that this campaign has so much interest and support.
Thanks to everyone who came out to walk with us. Want help make this trail a reality?
Sign our petition to voice your support
Join the Prince George's Action Committee and attend our next meeting
Register for our Advocacy 101 Training for Prince George's Advocates on August 27