Where Did You learn to Ride That Way?
Recently you started noticing some of your co-workers arriving in the morning with bicycle helmets, bike racks seemed to be magically appearing in front of all the restaurants and stores you frequent, and you started asking yourself "what's up with all those red bikes?" So one day you decided to start riding a bike again. You couldn't even remember the last time you had considered bicycling.  After all, that's kids' stuff, right? So you pulled your old bike out of storage, pumped up the tires, and took to the streets. You started thinking back to when you first learned how to ride and the advice mom and dad gave you, but then you realized that after they taught you how to ride without training wheels they didn't say too much else except for "stay on the sidewalk," and "wear a helmet." Not dwelling too long on this thought, you decided that the best way to learn was to just get out there and start riding and you were right…….well, mostly right. For whatever reason, even though you had been through drivers education and have a stellar driving record, you decided that the way you would ride your bike on the streets would be drastically different than the way you drove a car. You started getting a lot of dirty looks on the road and it wasn't just coming from automobile drivers. By this point, you have learned to ignore all the honking horns and shaking fists. What you still can't get used to is the consistent embarrassment that comes with getting in minor bike accidents when you do things like pass other cyclists on the right, ride the wrong way down a bike lane, forget to use hand signals when riding with groups of your friends, and failing to check behind you before changing lanes. It's getting to the point where saying "I'm sorry" is starting to feel a little empty.
It doesn't have to be this way
. If honking horns and shaking fists from both pedestrians and cyclists is part of your daily bike ride, then
you just might not be doing it right
. Never fear, WABA is here! We've got some upcoming classes that will not only help you get around by bike, but change the tone in peoples voices next time they say "Where did you learn to ride that way?"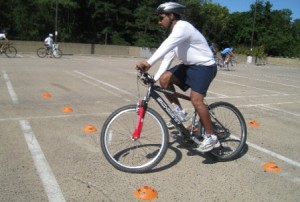 WABA's Bike Ed Classes:
Confident City Cycling 1 (CCC1):
This class is great for beginners. Still trying to figure out what size/type of bike might be best for you? We'll help you find the answer. Need some feedback on what to wear while riding a bike? No problem, WABA's instructors are great bicycle wardrobe consultants (we are not exclusively sponsored by spandex). Most importantly, you will have time to practice some very important parking lot drills like starting/stopping, scanning, and signaling. Finally, we will even show you how to fix a flat tire.
Register for our next CCC1 class in Arlington, VA on July 7, 2011>>
Confident City Cycling 2 (CCC2):
You're pretty good at this whole bike riding thing. You may even think that you don't need a class at all, but let's be real for a moment. Did you really feel prepared that last time a car failed to yield the right of way and turned in front of you? Here in the bike education world we like to call that the "left hook."  WABA can help you with that too. CCC2 is where you will truly understand the meaning of
vehicular cycling
. There's a lot of on-bike stuff happening in this class that will keep you engaged. You will master avoidance maneuvers like the rock dodge, quick turn, avoidance weave, and quick stop. There's also a short group ride at the end that will help you practice lane positioning, speed positioning, and some of the stuff you learned in CCC1 like scanning and signaling.
Register for our next CCC2 class in Alexandria, VA on July 16, 2011>>
It's never to late or to early to sign up for a class so be sure to
visit our online course calendar
for a full schedule of our summer classes.