The face of bicycling is changing in cities across the country, and nowhere is that more evident than in the nation's capital. Since 2004, Washington, D.C., has seen a 175 percent increase in cycling and a 300 percent increase in its bike lane network. Despite these incredible gains, the number of women on bikes has remained steady at 23 percent.
With a $15,000 grant from the League of American Bicyclists, the Washington Area Bicyclist Association is launching an initiative that will further elevate the D.C. region as a national leader in encouraging more women to ride.
WABA'S Women & Bicycles program will kick off on Sun., March 3, with a launch party from 8 to 11:30 p.m. at Busboys and Poets (1025 5th St. NW). Featured speakers will include Nelle Pierson, WABA's outreach coordinator, and Elly Blue, founder of Taking the Lane Media and author of Everyday Bicycling, an accessible, easy-to-read guide to cycling for transportation.
WABA's program is the result of several years of discussion and feedback, which concluded that a strong community is essential to getting more women on bikes. Women & Bicycles is encouragement-based: 10 Roll Models will be identified, then asked to tap into their personal networks to loop in women who might be hesitant to ride a bike for transportation. A series of small social gatherings hosted by Roll Models and practical-skill workshops and group rides run by WABA will engage Women & Bicycles participants and provide them with all the resources they'll need to bike confidently in the D.C. area. WABA is in the process of selecting Roll Models, and the program will be underway by late March.
"Generally speaking, women admit to being more intimidated by the perceived risk of bicycling, maintaining appearances, and the responsibilities of being a primary caretaker in the household," says Pierson. "So we're going to tackle these issues together at meetups, workshops, and group rides, and we're going to have a lot of fun in the process."
Supporting such innovative efforts is a key aspect of the League's new Women Bike initiative, the first national advocacy campaign aimed at engaging, empowering, and elevating women in all aspects of the bicycle movement.
"One of our primary goals is to seed, support, and spread new campaigns and ideas that are getting more women on bikes," say Carolyn Szczepanski, the League's director of communications and Women Bike. "WABA has been at the forefront of women's outreach for years and we're excited to partner with them on a pilot project that could be a model for communities nationwide."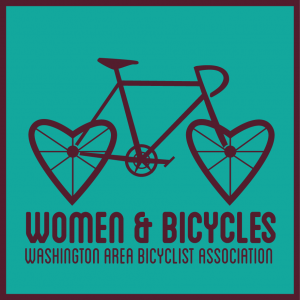 On the heels of WABA's launch party, the League will bring together hundreds of leaders from across the country at the second annual National Women's Bicycling Forum. On March 4 at the Renaissance Washington (999 9th St. NW), more than 25 diverse female leaders from bike advocacy, industry, policy and racing will present at the all-day forum. Keynote speakers will include Congresswoman Tammy Duckworth (D-Ill.), New York City Transportation Commissioner Janette Sadik-Khan, and industry trailblazer Georgena Terry.
Registration for the public is $85 and media is invited to attend. Learn more about the Women's Forum here. Learn more and get involved with WABA's Women & Bicycles campaign here.
In addition to this fantastic news, we'd like to thank our members and friends who have so generously given to Women & Bicycles. Were it not for you, we wouldn't have met and exceeded last December's match grant or continued to receive donations well into the new year. Your support continues to be critical in raising funds and raising awareness for WABA's work, and we can't wait to show you the progress of the Women & Bicycles program.