Women & Bicycles Launches—Finally!
Following a successful
match-grant fundraiser
and a
generous grant
from the League of American Bicyclists, WABA's Women & Bicycles program officially launched on Sun., March 3 at Busboys & Poets. The party followed a group ride hosted by
Black Women Bike
and preceded the League's
Women's Cycling Forum
, a kickoff to its yearly National Bike Summit. Over 150 people filled Busboys' Langston Room: Women who ride bikes in the D.C. area had the chance to hang out with attendees of the National Bike Summit and talk about what other communities are doing to get more ladies on bikes. WABA's Women & Bicycles program has been in the making for several years. A December 2011 Women's Forum hosted by WABA clarified a number of issues that have kept some area women from cycling as much as they might like to; from there, Women & Bicycles began to take shape.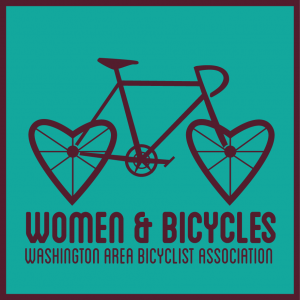 The program will run from April to October and is based on the involvement of 10 "Roll Models." Those role models, who we'll introduce here soon, have been asked to pull from their personal networks women who are hesitant to bike in D.C. and its suburbs. Through a series of private small-group events and public rides and workshops, the Roll Models and Women & Bicycles coordinator Nelle Pierson will teach the basic skills needed for cycling from point A to point B. At Sunday's kickoff, Portland, Ore.-based author and activist
Elly Blue
spoke of the importance of community and why it matters. Blue noted that when she first attended the National Bike Summit, its attendees were largely male; the increasing inclusion and presence of women at local and national levels indicates that their interests as cyclists are being taken seriously. Veronica Davis, of Black Women Bike, reiterated the necessity of inclusivity in bike advocacy. We can't wait to share with you the progression of Women & Bicycles. Its first event is on March 30. For more information, visit the
Women & Bicycles page
on our website and watch
our blog
for updates on how you can get involved. If you'd like to interact with other D.C.-area women who bike for fun and transportation, check out the Women & Bicycles
Facebook page
. See photos of the ride and the party below the jump (there's more on
Flickr
!). Did you take any photos of either event? Add them to
our Flickr pool!