Invite Women in Your Life to Pedal Professionally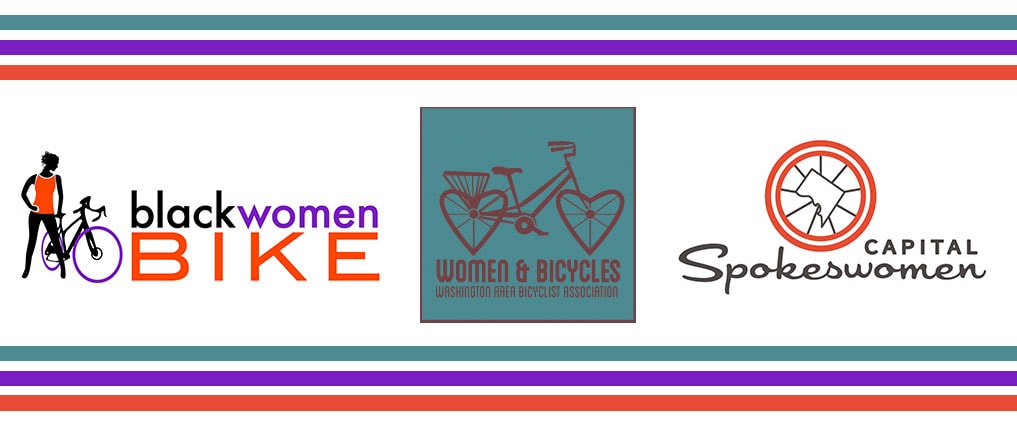 If you're reading this, there's a good chance you're a regular bike commuter. There's also a good chance it took you a while to figure out all the tips an tricks of bike commuting. WABA's Women & Bicycles Program is working with Black Women Bike DC and the Capital Spokeswomen to host
Pedaling Professionally
, a panel to share professional womens' best kept secrets on bike commuting. Please pass along this invitation to women in your life who are new to or interested in bike commuting, or join us if you're seeking an open conversation about the ins and outs of bike commuting!
Dear friend and bike-commuter-to-be, I know you've considered bicycling to work. Take the worry out of the bike-to-work experience by attending "Pedaling Professionally," a panel discussion for women on the essential necessities to bike and be work appropriate. Biking to work and maintaining a professional appearance presents challenges, particularly to women. In a recent blog post, Malaika Abernathy of the D.C. Office of Planning summed up the dilemma: "As an urban planner in the District, I wholeheartedly embrace a walkable and bikeable model of urban life. I cheer as Walk Scores for the District's emerging neighborhoods exponentially increase as bike amenities and services are introduced. I applaud our local pioneers who actually walk the talk by biking not only to work, but also to leisurely run errands and meet up with friends. I even smile with amazement when I see my boss, OP Director Harriet Tregoning, stepping into a meeting in upper NW with helmet and bike in tow (yes, I've actually witnessed her biking from our office in SW to points WAY north in the District!). So as I get amped to begin my own biking soliloquy, somehow I get stuck at the door looking for my car keys instead. I know, I'm a hypocrite… but a well meaning one. "The reality for me is far deeper than just biking itself. It's the after effects of biking that leave me perplexed. The sweating, the change of clothes and the showering at work all require a level of dedication I'm simply not interested in. For those of us who remotely care about maintaining a business professional appearance during the day, I ask you, how do you do it?" The Pedaling Professionally panel is comprised of women who successfully commute by bike while managing to look suitable for the boardroom. The event will be an interactive discussion in a fun and encouraging atmosphere in which our panelists will share practical solutions for women-specific issues including – but not limited to – attire, gear, hygiene, and logistics. We'll open with a mix-and-mingle and a display of bike-commuting gear before diving into our panel and discussion. If you're a woman who has already figured out bike commuting, or if you are a woman who is looking for tips on making it work, we invite you to join us! Space is limited. Click here to learn more, and register. Wednesday, June 26th 
6:30 to 8:30pm 
Petworth Library
4200 Kansas Ave NW
Washington, DC 20011
(202) 243-1188
Panelists
Malaika Abernathy
(moderator) is an urban planner with Washington, D.C.'s Office of Planning. Her post on the Office of Planning's blog,
Biking…a dilemma
,  was the inspiration for Pedaling Professionally.
Keya Chatterjee
is Senior Director for Renewable Energy and Footprint Outreach at the World Wildlife Fund. She bikes to work every day from her home in the District using Capital Bikeshare, and often bikes to meetings on the Hill and around town during the day. Her experiences biking while pregnant inspired her to write the book
The Zero Footprint Baby
, and she is thrilled that her son loves being on a bike as much as she does.
Elizabeth Brooks Lyttleton
is a mother of three who bikes with her kids to and from school as often as possible. Before becoming a full-time mom, she was the Assistant Director for East Asia and the Pacific at the Council for International Exchange of Scholars of the Institute for International Education. When she was working outside of the home full-time, she biked her kids to school before continuing on to work. She currently serves as a bicycle mentor for women (a Roll Model) in the Washington Area Bicyclist Association's Women and Bicycles program. She lives in Eckington.
Delores Simmons
is a career Law Clerk with the U.S. District Court of the District of Columbia who bikes to work from her home in Silver Spring. She is also a member of Black Women Bike DC. Delores defines her relationship to bike commuting as such: "My bikes are my therapy, a bridge to my social network, my freedom, and vehicles to growth and change!"
Harriet Tregoning
is the Director of the Washington D.C. Office of Planning, where she works to make D.C. a walkable, bikeable, eminently livable, globally competitive, and sustainable city. In addition to regularly biking from her home in D.C. to the Office of Planning's building in Southwest, she is often seen riding to meetings and events throughout the District.
About the sponsoring organizations
Black Women Bike
 aims to build community and interest in biking among black women through education, advocacy and recreation. Our vision is that black women and girls of all ages ride their bikes for fun, health, wellness and transportation. To learn more, please visit the
Black Women Bike DC webpage
.
Capital Spokeswomen
is an alliance of women who ride bikes for transportation in Washington, D.C. who aim to enhance the quality of bicycling in the D.C. area, encourage confidence in female cyclists, provide a safe space for discussion, educate each other, and build communities through social interaction. To learn more, please follow
Capital Spokeswomen on twitter
.
Women & Bicycles
is an outreach program of the Washington Area Bicyclist Association designed to get more women in the D.C. area on bikes. It is based on a series of bike rides and workshops open to the public and 10 bike meetups hosted by Roll Models selected by WABA, who reach out to women in their personal networks who don't bike to encourage and inspire them to ride for transportation. To learn more about the program, please visit the 
Women & Bicycles webpage
.