Women & Bicycles Tip: DIY Bra Boombox
This entry is part of our Women & Bicycles Bi-Weekly Tips series. Women & Bicycles is WABA's outreach and encouragement initiative to build a stronger women's bike community and get more women on bikes.  Click here to learn more and get involved.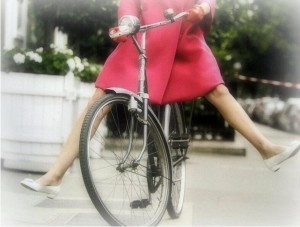 Bicyclists in the big city don't have a lot of control over our sound environment. We can't escape the roaring dump trucks, rattling jackhammers, and the constant white noise of muffled and not-so-muffled engines. If you miss the  luxury of listening to music through your car stereo or headphones, I've got a suggestion—no, not headphones. That's dangerous and against the law in Virginia and Maryland, and highly discouraged in D.C. I'm talking about your very own bra boombox (for those who are inclined toward lingerie), or the more generic pocket boombox.
Four easy steps to building your DIY bra boombox*
1) Select your tunes on your smartphone 2) Turn up volume 3) Insert smartphone into bra or pocket, speaker-side positioned at 12 o'clock** 4) Get your bike dance on *Smartphone or battery-operated sound-playing device required **Concerned about perspiration? Place your phone in a small unsealed ziplock bag.
Image courtesy of V and the Bats