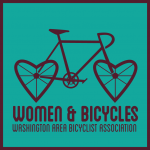 This entry is part of our Women & Bicycles Bi-Weekly Tips series. Women & Bicycles is WABA's outreach and encouragement initiative to build a stronger women's bike community and get more women on bikes. Click here to learn more and get involved.
If you're new to the area, new to bicycling, or want to get more of your friends out on bikes, here are some of the countless group rides in the D.C. metropolitan area. Group rides are an excellent opportunity to get to know a new area, new people, and your bicycle.We crowdsourced our Women & Bicycles forum for group-ride suggestions, and many members gave personal endorsements in addition to general information. Feel free to share your own suggestions!
See the full list below the jump.
What: Mount Pleasant Cruiser Ride
When:Typically at 8:30 p.m. on the third Tuesday of the month
Where: Intersection of Lamont and Mount Pleasant streets, Washington, D.C.
About: A smaller (~5-30 people) evening ride that lasts about an hour. The smaller group allows everyone to go more places at a slightly faster pace than some of the very large group rides. But it's still definitely a 'cruiser' ride–i.e. not too fast.
More information: Mount Pleasant Cruise Ride Facebook group
—
What: BicycleSpace group rides
When: Most days of the week 
Where: Meet at the shop, 1019 7th St. NW, Washington, D.C. 
About: Rides vary in size, duration, theme, and tasty treat, but you can count on a good time. BicycleSPACE is building a fun and lively community for bicyclists in the D.C. area and they do it one fun group ride at a time.
More information: BicycleSPACE's website
A Women & Bicycles member says: "For ladies just starting out, the Nice & Easy Ride with BicycleSPACE on Sat & Sun @ 10am is a good beginner ride – usually a small group doing 7-15 miles in 1-1.5hrs (depends on who is leading the ride). I like it because I always get to see new parts of the city on streets and trails & there's usually not much car traffic to compete with. The 7th Street Social with BicycleSpace Thursdays @ 8pm is a slow cruise through the city with music that can be really fun!"
—
What: City Bikes Ladies' Ride 
When: Every other Sunday at 10:30 a.m. 
Where: 2501 Champlain St. NW, Washington, D.C.
About: The ride is considered intermediate, ranging between 11MPH and 15MPH, for 20 miles or so. 
More Information:  City Bikes website
A Women & Bicycles member says: "I like this ride because i'm interested in riding longer distances and meeting other women who like to ride!"
—
What: Black Women Bike DC
When: Third Saturday of the month 
Where: Virginia, Maryland, and D.C.
About: The mission of Black Women Bike DC is to build community and interest in biking among black women through education, advocacy, and recreation. This means lots of fun group rides throughout the region! 
More Information: Black Women Bike DC website
A Women & Bicycles member says: "All of my fun bike stories begin with, 'When I was on a Black Women Bike DC Ride…'! This group is a blast, and has been a really great way to get back into bicycling. I never imagined I'd be out biking long distances, or biking around the big city, and I never imagined meeting so many fun women!"
—
What: Capitol Hill Bikes 
When: Weekly 
Where: 719 8th St. SE, Washington, D.C. 
About: Check out Capitol Hill's community group rides led by a neighborhood shop. Their weekly monument ride, around town ride, and no-drop long ride attract a good group of people and usually end with good drinks. 
More Information: Capitol Hill Bikes' website
—
What: Kidical Mass DC
When: Monthly 
Where: In and around Washington, D.C. 
About: For the last 2 years Kidical Mass DC has been a great place for families to come together and learn about and experience bicycling. Rides are a great way to try out new equipment, new routes, and get new family members out on bikes. Rides usually incorporate a fun activity like water parks, arts and crafts, or snacks! 
More Information: Kidical Mass DC's website
—
What: Kidical Mass Arlington
Where: Northern Virginia
About: These casual family bike rides are slow-paced, on calm streets and/or trails, very easy, and no drop! Everyone is welcome: adults with kids on seats, in trailers, on long tails, in box bikes, on trail-a-bikes, and/or on tandems; older kids on their own bikes; even adults on bikes by themselves. Rides are slow (around 6 MPH) short (3-4 miles) and easy (no hills above 5 percent grade if at all possible) 
More information: Kidical Mass Arlington's website
—
What: DC Bike Party
When: Monthly 
Where: Starts in Dupont Circle, ends at a local saloon 
About: The DC Bike Party is a place to ride bikes, make friends, and have a real cool time. Once a month, the group explores the city via bicycle with a new route, a new playlist and a new post-ride bar. Everyone is welcome, and the ride is free. All post ride outings are 21-plus. Ride is slow, leisurely, and anti-jerk. 
More Information: DC Bike Party's website
—
What: Bike Rack rides
When: Weekly 
Where: 1412 Q St NW, Washington, D.C. 
About: "Before the Internet, before custom bikes, and before titanium and carbon fiber, learning to ride was an apprenticeship," says Bike Rack. These rides are all about camaraderie and building up skills. 
More Information: Bike Rack's website
A Women & Bicycles member says: "If you want to push yourself, and be pushed in a fun-loving environment, this is the ride for you. The organizers have the ride down pat, and are always there to share tips and tricks, or pull up the rear. When I started training, this is the group that transformed my workout."
—
What: The Bike Lane's Women's Rides with Athleta
When: Every Saturday morning, 9 a.m. 
Where: 11943 Democracy Dr., Reston, Va.
About: The Bike Lane teamed up with Athleta to host a weekly Saturday morning ride through the rolling roads of Reston. The ride is a little more relaxed pace and has a shortened route. They ride 20 miles at an average pace of 15 mph and travel through
More Information: The Bike Lane's website
—
What: Oxon Hill Bike Club
When: Hundreds of rides, year-round
Where: Maryland, Virginia, and D.C.
About: For $15 a year, you can be a club member of the Oxon Hill Bike Club, a nonprofit club for hundreds of bicyclists throughout the region who promote bicycling by organizing group rides throughout the year, for all experience level and all interest. 
More Information: Oxon Hill Bike Club's website
A Women & Bicycles member says: "I started out and still love to ride with Oxon Hill Bike Club. You will never meet a nicer bunch of people. When they say a no drop ride they mean it, someone will always stay with you and encourage you. The nice part of the club is when they post a speed/or skill level they stay very true to the level. They have rides from AA all the way to D level rides. they post a whole months worth of rides on their web site  You should check out some of them, they will show you parts of Maryland you didn't even know existed. Also their Century ride is awesome.I totally agree. I have participated in a couple of  the C/CC level rides and my ride experiences have been absolutely wonderful! The OHBTC members are SO helpful and very friendly! They welcome guests to participate in their rides. The OHBTC rides are "no drop" rides and the ride leaders "lead from the rear" or appoint a "ride sweeper", so no cyclist is dropped or left behind. The more experienced cyclists offer advice and tips on how to improve or develop your cycling skills. This is another great group to check out if you're in the area."
—
What: Potomac Pedalers
When: Thousands of rides, year-round
Where: Maryland, Virginia, D.C. 
About: Potomac Pedalers is one of the largest bike clubs in the nation. Rides are typically between 15 miles and 75 miles, and average speeds range between 8mph to more than 20 mph. In other words, the club offers something for everyone. Individual membership is $30 per year. 
More Information: Potomac Pedalers' website
A Women & Bicycles member says: "I like the Downtown Breakaway Ride (Every Wednesday at Mitchell Park 1801 23rd St NW WDC 20008). These are intermediate and up: must be a competent & confident city rider. Two groups form on this ride. The slow group does at least 25 miles at 12-15mph; the fast group does closer to 40 miles at 18-20 mph. There are some long, tough hills.  I like these rides because it has been really challenging. I am always last but everyone has been really encouraging and supportive. Doing this ride has made me a stronger rider. The first time you try it, do not give up until you have made it through the first 10 miles… the first 8 are really the absolute hardest! There are two events listed on Wednesdays for this ride. CC/B is the slow group. BB/A is the fast group and kept updated with the latest info. If it is your first time attending, make sure to RSVP (if a member) or email the group leaders. Membership in Potomac Pedalers is not required to try the ride out."
—
What: Proteus Bicycles Shop Rides
When: Throughout the week
Where: In and around College Park, Md.
About: Proteus hosts many group rides for varying skill levels: regular beginner rides Saturday mornings, intermediate/advanced rides (22-plus miles at 14-16 MPH), beginner/intermediate rides to D.C. for food and shopping at moderate pace, and social gatherings like weekly potlucks. 
More Information: Proteus Bicycles' website
A Women & Bicycles member says: "I like these rides because I get to meet new people and eat and be challenged when I want to be!"
—
What: Washington Women Outdoors 
When: Monthly
Where: Virginia, Maryland, and D.C.
About: WWO is a local group geared to bring women together through outdoor activities. Members in the D.C. area hike, climb, cave, backpack, kayak, cross country ski, hang glide, and bike! 
More Information: Washington Women Outdoors' website
A Women & Bicycles member says: "They totally got me out riding!"
—
What: Babes on Bikes
When: Monday, Wednesday, and Friday
Where: Virginia, Maryland, and D.C.
About: Babes on Bikes is a group of women who enjoy bicycling and meet regularly and ride throughout Virginia and Maryland for varied distances and at varied speeds. Members range in age from mid-20's to mid-70's. Many of whom are stay-at-home moms, have flexible work schedules, or are retired, so they love to ride during weekdays. Weekend rides are coming soon. The group doesn't announce ride information on the website, only through the private email list. 
More Information: Babes on Bikes' website
Women & Bicycles member testimony: "This is a very fun and friendly group!"
—
What: Sassy Sister Cycling
When: Weekly 
Where: Virginia, Maryland, and D.C.
About: The goal of Sassy Sister Cycling is simple: provide the opportunity for women of all riding abilities the chance to ride with a group of fun-loving cyclists! They are not a racing focused club or a competitive club, though many members do race and provide support to anyone interested in trying it out.
More Information: Sassy Sister Cycling's website
A Women & Bicycles member says: "All skill levels represented (novice/beginner and medium level rides are posted frequently); SSC group also has after-work hills and skills training rides posted in PGC. I like these rides because they are "no drop" rides, and because of the encouragement, coaching and support that some of the more experienced cyclists offer during the rides. If you are just getting into the sport or just want to get back in the saddle again, there is no better way than to come out and join SSC for a ride or meeting."
—
What: Northern Virginia Casual Bicycling Group
When: Weekly 
Where: Virginia
About: This group of 1,000-plus locals ride with a strict "no man left behind" philosophy, so that everyone can enjoy themselves without fear of getting lost or left behind. Cyclists are encouraged to attend rides that match their experience-level. There are many ride opportunities for all experience-levels: Intro, Beginner, Medium, Advanced, and Informal. 
More Information: "All skill levels represented. Most rides are in Northern VA, but occasionally there are rides in MD and DC. (Some of the ride leaders live in MD and DC.) This is a fun, very social co-ed cycling group. Rides are posted every week, and some after-work rides are posted on occasion. The rides usually have a "theme" (e.g., "Georgetown Cupcake", "Mediterranean Grill", "Zoo Review", etc.)… they also have an annual picnic with group rides for various levels, and a holiday party at the end of the year. The NOVA-CBG "ride after the ride" is usually a fun, post-ride social gathering at a popular restaurant. This is a good group!"
—
What: Getting It In Cyclist 
When: Weekly 
Where: Brandywine, Md.
About: This is a fairly new co-ed meetup cycling group for anyone who enjoys cycling in the Brandywine area.
More information: Getting It In Cyclist's website
Women & Bicycles member testimony: "The ride organizers are extremely patient with beginners and do not mind teaching beginner riders how to ride in groups and how to improve cycling techniques. The organizers will also provide instruction on basic bike maintenance. The ride organizers will actually ride along and coach a rider up an incline or a hill if they observe a rider is having difficulty navigating the elevations. This is a great cycling group to ride with. The ride leaders/organizers are awesome! All of the rides are 'no drop' rides. Usually beginner/newbie rides are on Saturdays and the C/CC level and above level rides are on Sundays."
—
What: Rockville Bicycle Advisory Committee Rides 
When: Monthly 
Where: In and around Rockville 
About: RBAC coordinates regular community rides that bring people together to explore bike-friendly Rockville. Rides are family-friendly and welcome to all skill levels. 
More Information: Bike Rockville Facebook page