Resources: Biking Visibly
This blog post is part of a new series by our bike ambassadors. It's dedicated to presenting tips that will encourage new riders to get started. We'll link these posts on our Resources page, forming a library of tips for beginning cyclists.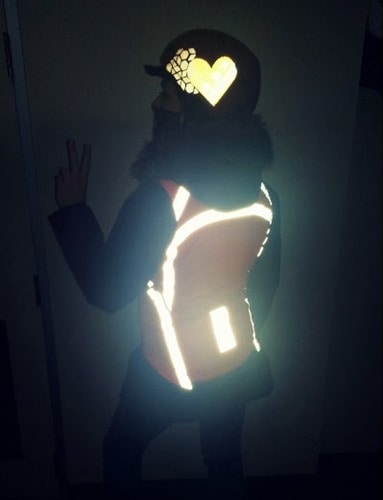 Staying visible on your bicycle is extremely important, but easy to overlook: You may not think you'll ever get caught biking in the rain, dark, or fog, but the more you ride your bike, the more likely it is to happen! In the winter in particular, if you're not lit up, you're nearly invisible. Today, we'll cover the basics on some obvious (and maybe not-so-obvious) ways to stay lit up. THE OBVIOUS
Front Light
Mount a light on your handlebar and let your light shine where your bike is heading. This should be sufficient if you're biking around town and have the added benefit of streetlights to light the way. A helmet-mounted light will shine where you're looking. Consider doubling up if you'll be out alone on a trail at night!
Rear Light
Flashing, or not flashing, put a red taillight to your rear. It's a personal preference if you wear it on your bag, jacket, or mount it to your seat post, but the higher the light, the more visible it is to drivers. Remember to only use a red light behind you. Just like a car, a red light indicates a bike's rear.
Reflectivity
At the very minimum, bicycles are required by law to come equipped with standard reflectors, front and back. If you purchased a used bicycle, or yours have fallen off over time, consider adding reflectors to your wheels, pedals, under the seat, or on your handlebars. If you want to add something more unique or stylish, there are plenty of creative options out there from
reflective stickers
,
bike wrappers
, tape, and
reflective wheel stripes
. Check out
more about reflecting on your bicycle.
Hi-Vis Clothing
Safety black is not a real thing. While your all black coat may be stylish, it camouflages you in the dark. Consider wearing bright colors, or adorning your outfit with high-vis items such as a vest, ankle straps, leg or wrist bands. Many bicycle-specific clothing companies have reflective stripes built into their clothing and bags, but you can achieve the same function much more affordably by adding reflective tape to the gear you already own. To test what you've got, have someone else ride your bicycle in your high-viz gear so you can get have a clear picture of how easily you're seen.
THE NOT-SO-OBVIOUS
Reduce Your Speed
Slow down! This is less about you being visible and more about being able to see any obstacles in front of you. Particularly on roads you are less familiar, obstacles and debris are more difficult to spot in the dark.
Lane Positioning
Where in the lane should you ride to be most visible? Hint: Don't hug the curb! Taking the lane (or riding in the center of a travel lane) is your legal right, and helps keep you visible to drivers. If no designated bicycle lane is available, riding in the center of a traffic lane not only allows you to avoid hazards near the edge of the road, but prevents oncoming vehicles from turning directly in front of you or passing too closely. And doing so keeps you out of the door zone (the area three to four feet away from parked cars).