Women & Bicycles Photo Series: Adina Forbes Crawford and Sherri Joyner
The Women & Bicycles Photo Series (#WBPhotoSeries) is a new project in the program that aims to demonstrate and promote the great and diverse group of women that make up the W&B community. As well as appearing on the group's
Facebook page
and on
Instagram
, these features – a brief quote and accompanying photograph of the woman participating – will be published in a periodic consolidation of the portraits right here on this blog! I am handing off this project to the wonderful Women & Bicycles Program Coordinator, Renée Moore, so for more information about the project, send her an email at renee.moore@waba.org.
---
Adina Forbes Crawford, Germantown, MD
"

The first big bike event I did was Bike NY, four or five years ago. Oh, and it was amazing. And going in, you know, I was wondering how I was going to do 44 miles when I hadn't even done 20. But, you know what? I put my head to the grindstone and I said yes – I'm gonna get a bike and I'm gonna train and I'm gonna do it.

And I did it

."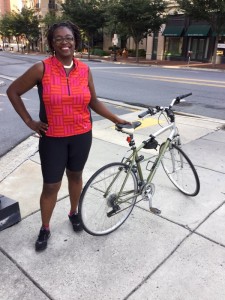 Sherri Joyner, West Hyattsville, MD
"I used to ride around all over D.C. Now, we're talking back in the 80s, you know. And it just felt so simple. I just jumped on a bike and was off riding. We, me and my riding friends, also had a penchant for riding at night. Yeah, that was great.

Then, flashing up to now, bicycling's like this major subject. It feels like there are so many more categories of riders and types of bikes and all sorts of things. And it's so true that in this group, Women & Bicycles, I see all of it; there's the serious riders, the "just having fun" riders, the cool "messenger" type, all of them. Just everything is out there, and it makes me so delighted!"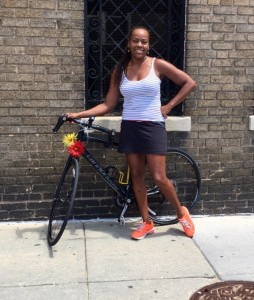 Women & Bicycles is proudly supported by The Potomac Pedalers Touring Club; hosts of the region's most robust all-level group ride calendar and bike tailgates, Chipotle our delicious dinner party sponsors, and we're supported by all our friends who donated through the Hains Point 100 ride.