More Support for a Low Stress Louisiana Ave
Support is growing quickly for a protected bike lane on Louisiana Avenue to fill a major gap in downtown DC's low stress bike lane network. Since June, the District Department of Transportation (DDOT) and the Architect of the Capitol (AOC) have received requests from DC Councilmember Charles Allen, ANC 6C, and even members of the Congressional Bike Caucus, urging swift action and support for a protected bike lane on Louisiana Avenue between existing lanes on First Street NE and Pennsylvania Ave. Following these requests, DDOT and AOC staff have already conducted a preliminary site visit to explore possibilities.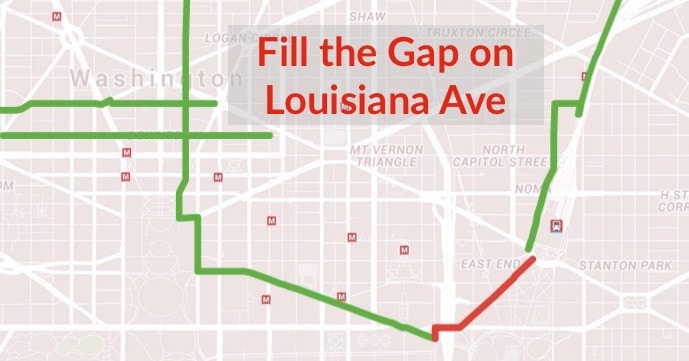 Earlier this week, Congresswoman Eleanor Holmes Norton added her support in a letter to DDOT Director Dormsjo and Architect of the Capitol Stephen Ayers.
"A protected bike lane between Union Station and the U.S. Capitol Grounds on Louisiana Avenue would improve safety and provide a vital link between already existing bike lanes in the area," she wrote. "Union Station and the U.S. Capitol are separated by multi-lane roadways with fast-moving traffic, which poses safety risks to the residents, workers, and visitors destined for Union Station, the U.S. Capitol, and points beyond. DDOT Has already constructed protected bike lanes on Pennsylvania Avenue NW and First Street NE and throughout the city. Filling in the missing link on Louisiana Avenue NE would help complete this network of bicycle lanes." Read the full letter here.
We are grateful to have the support of Congresswoman Norton for a project with benefits for countless DC's residents, workers, and visitors. More updates on this campaign as it progresses. Read more about the proposal here