Mayor Bowser Signs #FixContrib bill at WABA Happy Hour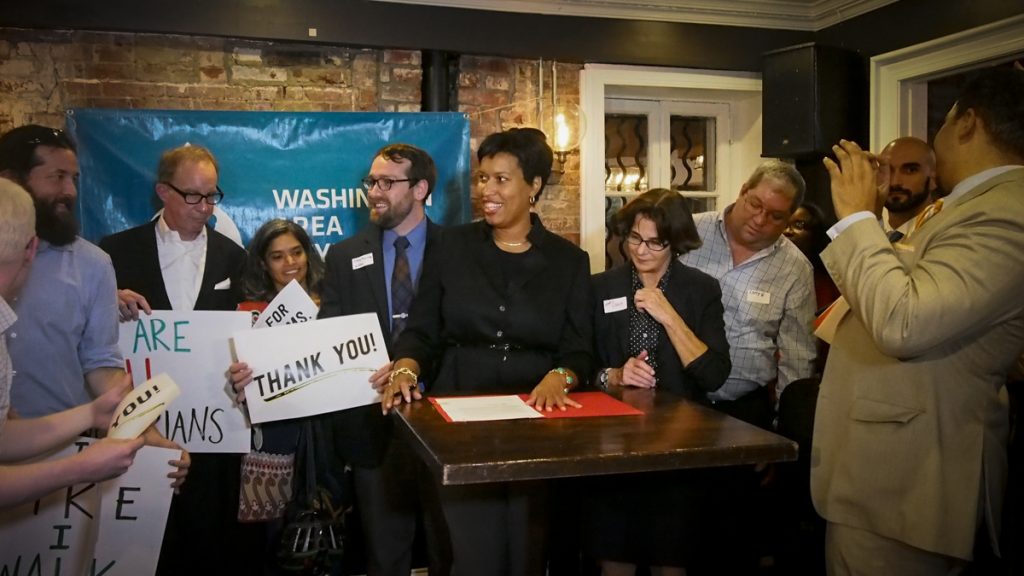 On October 13, Mayor Bowser, Councilmembers Mary Cheh, David Grosso, and Elissa Silverman, DDOT Director Leif Dormsjo, and some of our favorite WABA members joined us for a
very
special member Happy Hour—to witness and celebrate the public signing of the Motor Vehicle Collision Recovery Act.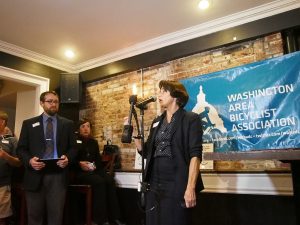 Councilmember Cheh:
"We've been trying to get a bill like this passed for a long time. We're here to celebrate the effort that was put in by everybody to make that happen. This is a bill that provides a system of fair compensation. We know that bicyclists and pedestrians are at such great risk if they are hit by a car and yet they were often shut out of any recovery, it was just unjust! 
This is and should be seen as part of the overall Vision Zero work that is going on. At the end of the day, we want the District of Columbia to be safe for all users."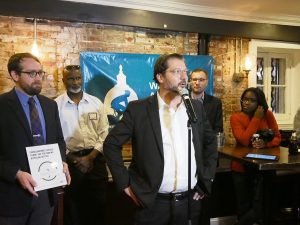 Councilmember Grosso:
"The work the WABA does is so important for the District of Columbia. Their advocacy work down at the Council is what made this bill actually happen.  And it was not easy.  It was a long haul for 2 & ½ or so years. Normally we're way ahead and people are asking us to slow down, but on this one there's only three jurisdictions that hadn't moved to this legal paradigm. I look forward to continuing to work with WABA to expand all our protected bike lanes throughout the heart of our city, around the perimeter."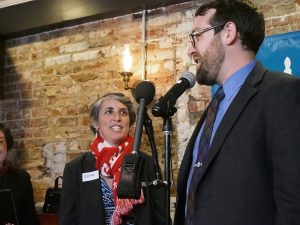 Councilmember Silverman:
"I'm here on behalf of the cycling Councilmembers. This bill provides fairness and access to the courts for cyclists and pedestrians who are in a crash. There has been a lot of effort by this administration to build bicycle infrastructure, to get people out of their cars and make this a city that truly is walkable and bikeable and safe for all.  
My WABA membership card is at my desk for every time Greg [Billing, Executive Director] comes around. I just show it to him and say, I'm with you!"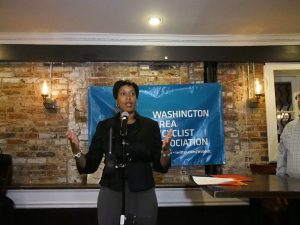 Mayor Bowser:
"We have made the case to public officials and to the public that biking is great for recreation, but it is also a viable commute option. When we think about where our city is right now, we know we can't just have have car only options, that we have to make our network support everybody and we need more people riding their bikes.
But we've picked a lot of the low-hanging fruit. The things we have  to do now to speed up and have more bicycle lanes and fix our trails, this is the tough lifting that we have to do. I'm happy to have the Council so focused on this as a partner. We're focused on this as well. We also have a challenge ahead of us.
WABA, you're the leader of the pack. We need you to keep working hard, keep challenging us with great ideas, keep advocating for more funding, keep going out to neighborhoods and educating the public. We need your help with that. Because people won't fight us if they are with us from the beginning. And you can help with that." Watch a video of the entire event and check out more photos below:
The signed Act is now under Congressional Review. Its projected law date is December 16, 2016.