Trash On Trails: More Than An Annoyance
Trail Rangers do lots of different trail projects: promote trails, answer questions, clip back vegetation, ride trails (and write the word "trails" a lot). Why do Trail Rangers spend some of their time removing trash?
We want more folks wanting to feel trails are welcoming and use trails.
People don't like walking or biking through trash – it's not fun to look at or be around. Studies have found that litter on trail decreased trail use by 20%. Trails are appealing for a number of reasons but being outside in the natural world is a common one – does this look appealing to you?
Another study found that how folks perceive safety is influenced by trash – eliminating litter from an image increased the perception of safety 30%. It's hard to encourage more folks to enjoy trails if they feel unsafe or that it's not a pleasant place to spend their time.
Trash can cause problems
. It's much easier to pick up a whole glass bottle just off the trail now before it breaks and causes flat tires. And it's no fun to fall because you hit a carryout container just right and then–whee, sideways!
We want a healthy environment.
All of our trails are part of the Anacostia River watershed, which flows into the Chesapeake Bay. Trash in the river has been so bad in recent years that the Anacostia River was declared "impaired by trash" by the Environmental Protection Agency under the Clean Water Act. Whatever we don't pick up will eventually likely go into the bay and from there into the ocean (unless it's picked up by a few trash traps or the DC Water skimmer but they only make a dent). Plastic and manmade materials are not part of the ocean ecology – let's keep them out!
So how do you help the team and encourage more folks to be on the trails?
Don't litter.
We'd rather be doing something else! Save us a step.
Request a trash can!
There are definitely places along the trails and roads that have higher incidence of litter because people expect there to be a trash can (ex: Stanton Rd and Suitland Parkway). There is a whole category in the city 311 reporting system on requesting new trash cans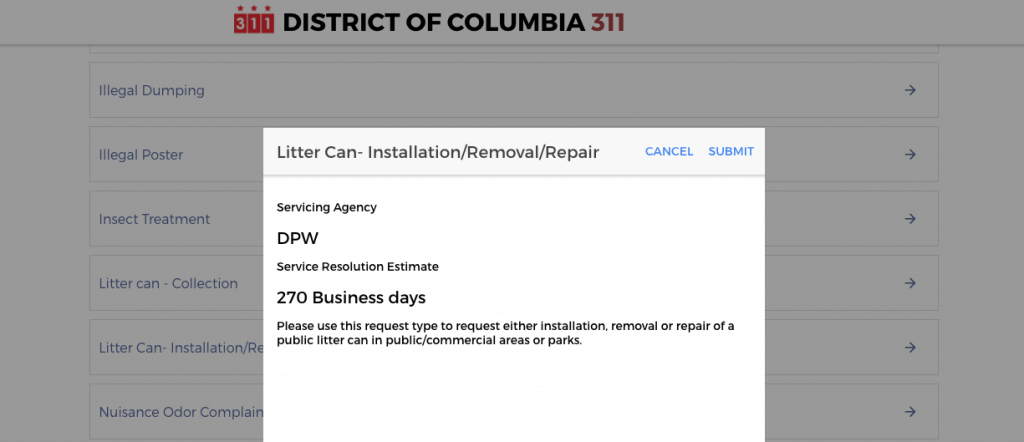 More info about effective 311 reports here.
Join the team for a cleanup!
We do public cleanups a few times a year to make a bigger impact. The next one is January 15th for Martin Luther King Jr. Day of Service on the Metropolitan Branch Trail. More details and signup here.  
Get updates for all of cleanups by joining our email list.

Yes!

Also lots of other organizations are involved in trash reduction efforts so if you're not near a Trail Ranger trail, there is probably something going on close to you!