Very Specific Thoughts on Dustpans, or How to Help Clean a Local Trail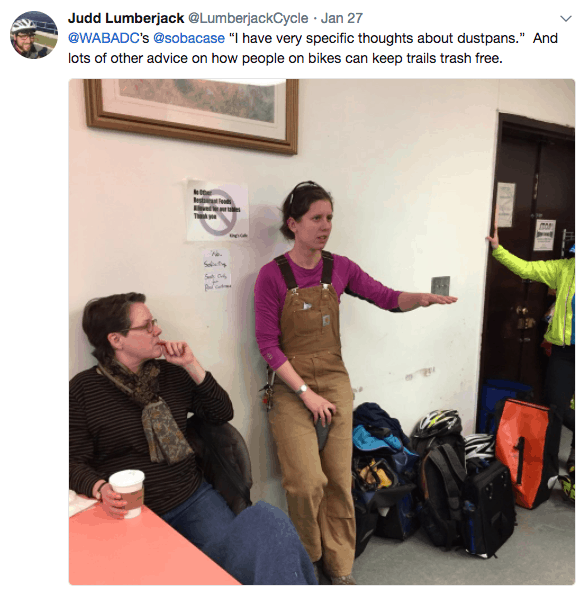 Bothered by the trash on your ride home every day? See something that should not be there? Grabbing a few items on your way home doesn't take too long, is easy to place in a nearby public trash can and does make an impact. We know there are folks throughout the region doing trash removal on trails already, it is not just you battling it all!
The DC Trail Rangers will certainly be doing more group cleanups in the spring and they have their appeal – more social! free snacks! But you don't have to wait for us to cleanup your trail.
Here are a few tips for cleanup
Start small and easy: Things do add up. You don't have to tackle what the heck to do with that car bumper that has been there for nine months.
Trash disposal: Solo cleanups are easy because you can dispose of trash in your own home garbage or a public trash can. I'll often take a random bag from sliced bread or something similar and use that as a trash bag.
Recyclables: Lots of materials on the trails
can be recycled
. But recycling must be clean so if its covered in weird grease from being outside for 10 months then it is probably best to trash.
Be careful taking gloves off: If you've been using work or disposable gloves, they're probably covered in whatever you didn't want to touch. So don't go taking them off by touching them with your bare hands! Handy dandy diagram from the CDC:
Disposable gloves: Carrying disposable plastic gloves can be helpful – not only are they handy for changing flat tires if you don't want to deal with dirty hands but also for handling potentially harmful materials. I've used my pair for tucking dead birds off-trail where dogs won't find them and removing the occasional dead fish from the Anacostia River Trail.
Be a trail trash trendsetter
Ready to take the next step in your trail cleaning adventures? Read on!
Trash grabbers: Foldable
trash grabbers
are convenient and will do wonders for your back! They are great for grabbing trash buried in vegetation, reducing your effort and strain, and they can more easily fit in a bike bag without looking like this: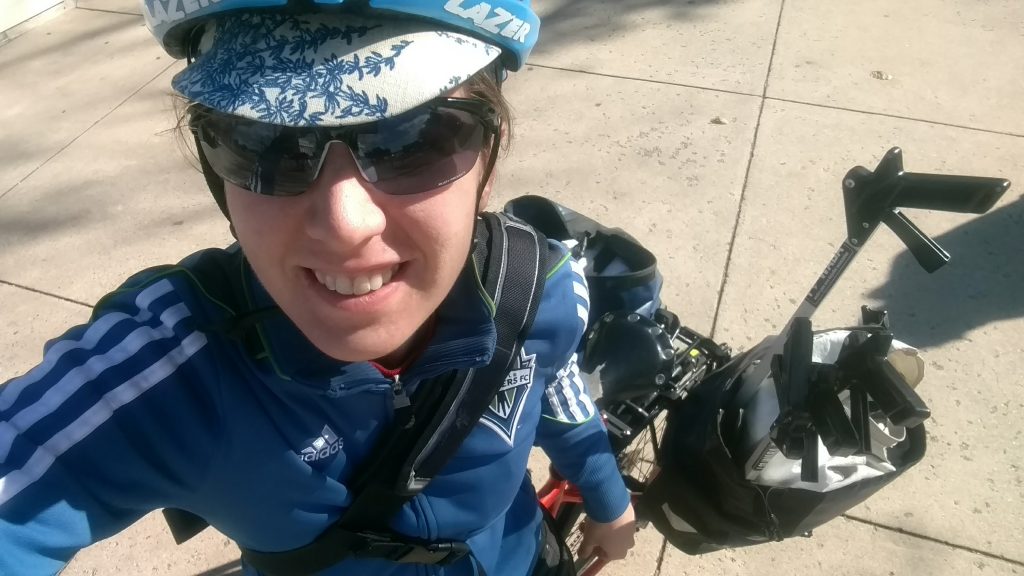 (The
trash grabber
pictured above is a little more expensive and doesn't fold, but does have a better spring which reduces the amount of forearm effort)
Removing glass: The best solution is a dustpan and a paper bag. Paper doesn't get torn as easily with cut glass, reducing the chance of a bag breaking and spilling the glass shards back on the trail after you spent so much time carefully removing it. But glass is much more inert in the environment than plastic so if you don't want to carry a dustpan, simply a handbroom will do the trick. You can often safely sweep the glass off the trail/bike lane into somewhere less likely to cause flat tires. And I know it's so tempting but picking up broken shards with your bare hands is not a great idea.
Dustpans: For heavier stuff like glass and gravel, you want a dustpan without a steep lip. The Trail Ranger team has tried a bunch of dustpans over the years and the consensus is that:
the
Rubbermaid
on left is much better than the
Laitner
 set on right (probably a perfectly adequate dustpan for dust bunnies, just not great for heavy glass and gravel).
T
rash hauling: You don't have to be your own one-person trash hauling service for bigger projects. Doing trash cleanup with a few friends? If you call two weeks in advance,
DC DPW Helping Hands program
will pick up bags from locations in DC. For large individual items like car bumpers that are dumped on trails, they can be removed by calling your local jurisdiction's 311 reporting system. For the DC 311 system, items can be reported using the "Street Cleaning" or "Illegal Dumping" category. Both categories have the same end result but the "Illegal Dumping" adds a step at the beginning to determine whether anyone can be cited.  
Special circumstances and things to watch out for
Your personal safety is more important than courting risk – if you don't feel safe dealing with something, don't! You are not obligated to put your health and safety at risk.
Medical waste (including syringes, needles + human waste): The typical trash cleanup materials of work gloves and a plastic bag doesn't cut it for safety with medical waste. If you see hypodermic needles: 
don't pick them up unless you have the
materials to properly dispose of sharps
!
BB guns: Not found too often on trails but they certainly are around. Advice from the Metropolitan Police Department is that if they do not have ammunition in them and are disassembled, they can be put directly in the trash. Both complete BB guns and actual guns are not safe to go directly in the trash. If it is safe for you, both can be given to the police.
So how do you know what you found? BB gun ID advice for cyclists: they have a CO2 cartridge in the handle (also they are lighter than real guns which may be a useful comparison for some folks but tells me nothing).
Immediate concerns: If you see something that poses an immediate danger, it is appropriate to give an government agency a call and let them handle it. I've had great success in calling Department of Energy and the Environment over a bag of asbestos that flew off a truck on Sousa Bridge and calling Department of Public Works over medical waste that was spilled.
Public and private property: The DC region has a lot of different jurisdictions and responsible agencies. Be aware of whose land you are on (DC property line map is
here
) and if you're not sure, err on the side of asking permission before you do anything. It can be a tricky balance between honoring our collective responsibility and not doing things you're not supposed to do. You should be fine so long as you're simply removing trash, but any permanent change to public property is a no-go (i.e. don't be
this guy
and install your own road signs). When in doubt, don't do anything. Call and ask questions, or email trailranger@waba.org and we can try to navigate with you.
Poison ivy: Poison ivy is native to the DC region and can be found in many greenspaces throughout the region. Oils throughout the plant, including leaves, bark and roots, can cause severe skin reactions in about 33% of people. The best way to stay safe is to not touch it! Poison ivy can be identified by its leaves and hairy vine but it can be tricky to spot sometime since it easily blends into the canopy. The Trail Ranger team wears gloves and long sleeves whenever we come near vegetation to protect ourselves and all of our work gloves are washed in hot water to wash off any potential poison ivy oils before they are used again.
Reporting issues to the jurisdictions
For maintenance problems, persistent issues, and materials that you cannot or don't want to handle, the best course of action is to report it to the jurisdiction responsible for maintenance. This is a great choice for that large couch off the side of Suitland Parkway Trail that isn't going anywhere soon and needs a large truck for removal.
DC: M
any issues can be reported through the DC 311 system.
 Report through DC's online
311 system
or by giving them a call at 311. If you are calling from outside the district, call 202-737-4404. Department of Parks and Recreation facilities are primarily maintained by Department of General Services, who operate a separate hotlineat (202) 576-7676.
Arlington County: Issues can be reported
here
.
Prince George's County: Issues can be reported
here
. Alternatively call 311 or if you are calling from outside the county, 301-883-4748
.
Montgomery County: Call 311. If you are calling from outside of Montgomery County, call 240-777-0311.
Alexandria: Issue can be reported
here
or by calling 703-746-4357.
Fairfax County: Issues can be reported
here
.
Join a community!
There are a few great resources to coordinate and ask questions about trails. Regionally the
Washington Area Bike Forum
covers a lot of trails and the
WABA Women & Bicycles group
also lots of conversations about trails. Many trails also have local listservs (check Yahoo and Google Groups) and Facebook groups.
Anacostia River Trail
Facebook group
Metropolitan Branch Trail
Facebook group
Yahoo listserv
Capital Crescent Trail
Facebook group
Mt. Vernon Trail
Entire trail Facebook group
South section Facebook group
Four Mile Run Trail
Facebook group
Washington and Old Dominion Trail
Facebook group
Hear about Trail Ranger cleanups!
Yes!
Have questions? Ask our coordinator!
In the four years of being involved with the Trail Ranger program, our coordinator Ursula Sandstrom, has well-informed thoughts on trail maintenance, tools and such. She can be reached at
ursula.sandstrom@waba.org
, (202) 518-0524 x208 or on Twitter at @wabadc.