May Advocacy Roundup
Welcome to the May Advocacy Roundup! First off, I'd like to introduce myself. My name is Robert Gardner and
I'm the new Advocacy Director
here at WABA. Having been here for the past month, I'm so excited to work with the team and with you amazing advocates around the region. But, enough about me. Without further ado, here are a few updates on our advocacy work:
---
DDOT breaking promises on C Street NE

The 60% design plan significantly rolled back provisions that would improve C Street NE for cyclists and pedestrians.
Read more
.
---
What's going on with the Louisiana Avenue protected bike lane?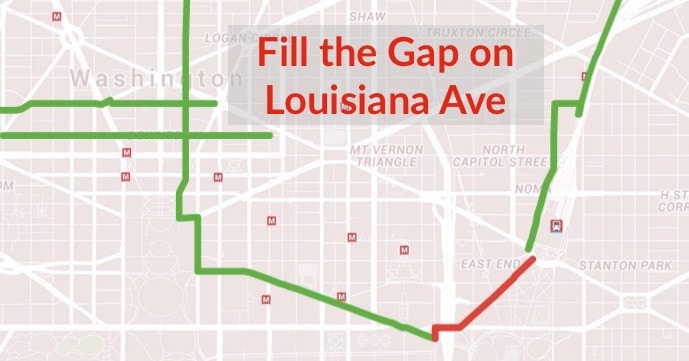 It's been radio silent on any updates – find out why and what's happened since
here
.
---
A Pop-up Surprise in Bethesda
On Bike to Work Day 2018, Bethesda got a pop-up protected bike lane! Read more about
how the lane came to be
.
---
Veirs Mills Road has Vision Zero potential
The Montgomery County Planning Department has an ambitious plan to turn Veirs Mill Road into a livable, bikeable, walkable corridor—learn more about the plan
here
.
---
Continue to speak up for better biking in the region
The region held several public meetings on key roadways in DC, MD and VA, including Connecticut Avenue NW, 20th, 21st and 22nd Streets NW.
Read more
.
---
Long Bridge improvements need to serve bicyclists
Long Bridge is the rail bridge you can see from the Yellow Line as you cross the Potomac River. It's getting a long-planned, much-needed upgrade from two tracks to four.
Read more
.
---
Upcoming Trainings and Workshops
Crosstown Protected Bike Lanes Open House
Protected bike lanes could soon be a reality in Crosstown. DDOT will develop preliminary designs for bike lanes for travelling east and westbound in D.C., closing a bicycle network gap from Columbia Heights to Brookland.
June 12, 6:00PM – 8:00PM, Raymond Recreation Center
Capital Crescent Trail Crossing and Little Falls Parkway
Montgomery Parks is having its first community meeting regarding a permanent fix to where Capital Crescent crosses Little Falls Parkway.
June 13th, 7PM, Somerset Elementary School
.
Silver Spring Social Rides
The Silver Spring Social Rides series is almost over and it's been a blast. Join us for the last two rides in June!
All rides begin at One Veterans Plaza, Silver Spring, MD, 20910.
---
Are you on your local WABA Action Committee?
All across the region great people are working to fix our streets to make biking safe and popular. They meet each month to share ideas and work together for better places to bike. Whether you're looking for a fun group, a new cause, or a wonky policy discussion, our Action Committees have it covered.
See what we're doing in your community and join us for the next meeting.
---
WABA in the News
Trail etiquette reminders from cycling group in Asburn, Va.
– WTOP, April 23, 2018
Who has a right to D.C.'s sidewalks?
– WAMU, May 14, 2018
The invasion of the scooter bros: A new tribe whizzes past the haters on DC sidewalks.
– The Washington Post, May 17, 2018
Road Biking While Female
– Outside Online, May 23, 2018
---