Putting our money where our mouth is
A message presented in partnership with our Corporate Partner, and 2018 50 States Ride title sponsor, Signal Financial:
A nonprofit is more than its work: as an employer and a participant in our region's economy, we have the power to ensure our values and vision are reflected in our business practices and in the way we steward the investments WABA members and donors make in our organization.
WABA's vision of a connected region goes beyond the protected network of trails and bike lanes we advocate for—we seek a community connected to personal and environmental health, transportation access, economic opportunity, and mobility.
That's why we're excited to announce that WABA moved its primary bank accounts from Wells Fargo and now banks exclusively with Signal Financial Federal Credit Union. Signal Financial is a member-based and volunteer-founded organization that directly invests in its community and shares a regional footprint with WABA.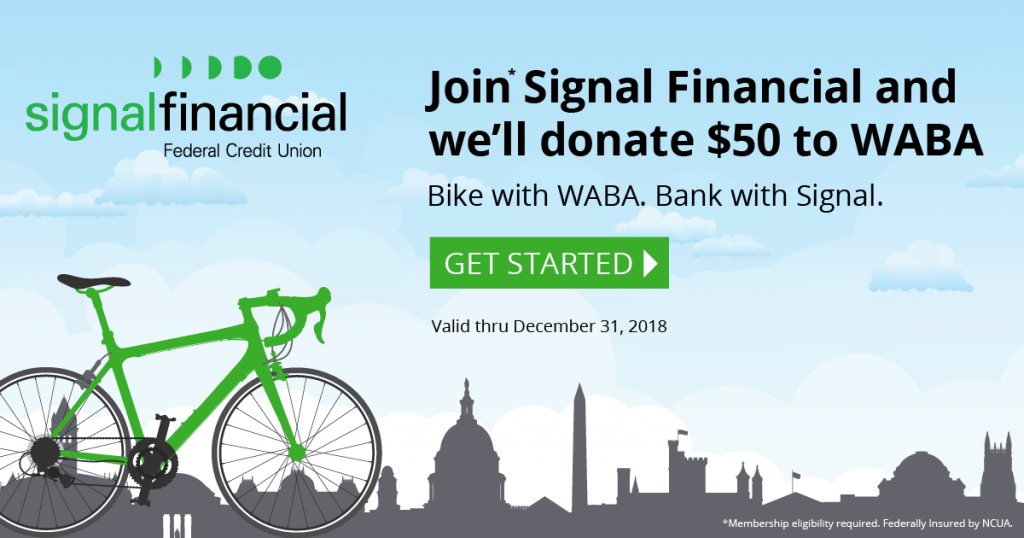 Beyond shared values and an effective partnership, Signal Financial and WABA share members. WABA members are eligible to join the credit union, and anyone interested in banking with Signal Financial will have their first year of WABA dues paid by the credit union. And to walk the walk on those shared values, Signal Financial will donate $50 to WABA for every new Signal membership opened by a WABA supporter between now and December 31st.
Here's to building community, one bicyclist and one business decision at a time.
Find the press release here
.