Advocacy Roundup: Summer 2019 Edition
It's been a long time since we wrote this round-up and it's been a very busy 2019. In writing this, I want to give my sincerest thanks to those of you who have taken action, shown up, and fought for safer streets, more trails, and better bicycling. I know that it seems like an uphill climb at times, but the effort put into this year has already shown to be powerful. Between pending legislation, refreshed infrastructure planning (DC, Arlington, and Montgomery County), and organizing momentum—we are on our way to better biking in the region. For everyone.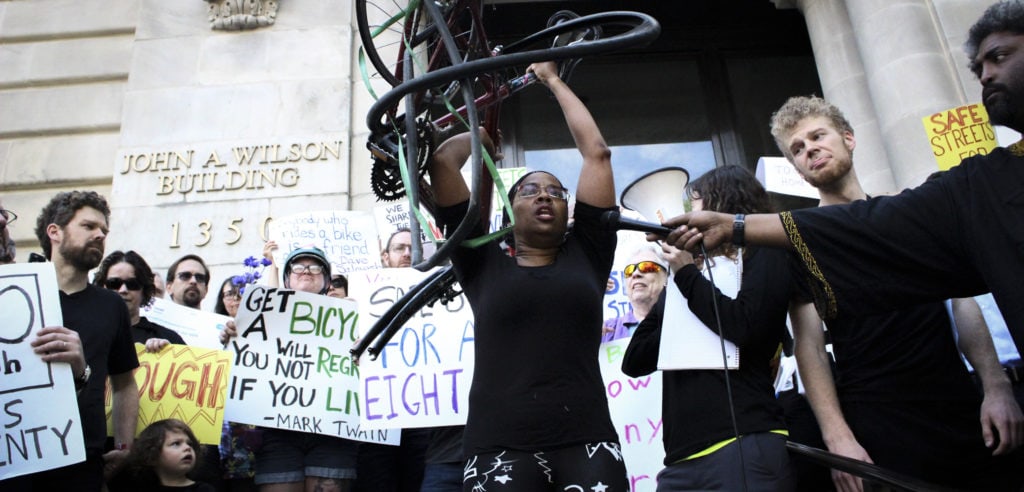 We can't wait another year for laws to make our streets safer.
If DC is serious about making streets safer, the DC Council needs to hold a hearing on the four bills presented this spring before July recess. Read more about the four bills presented by DC Councilmembers Cheh, Allen, Grosso and Todd here.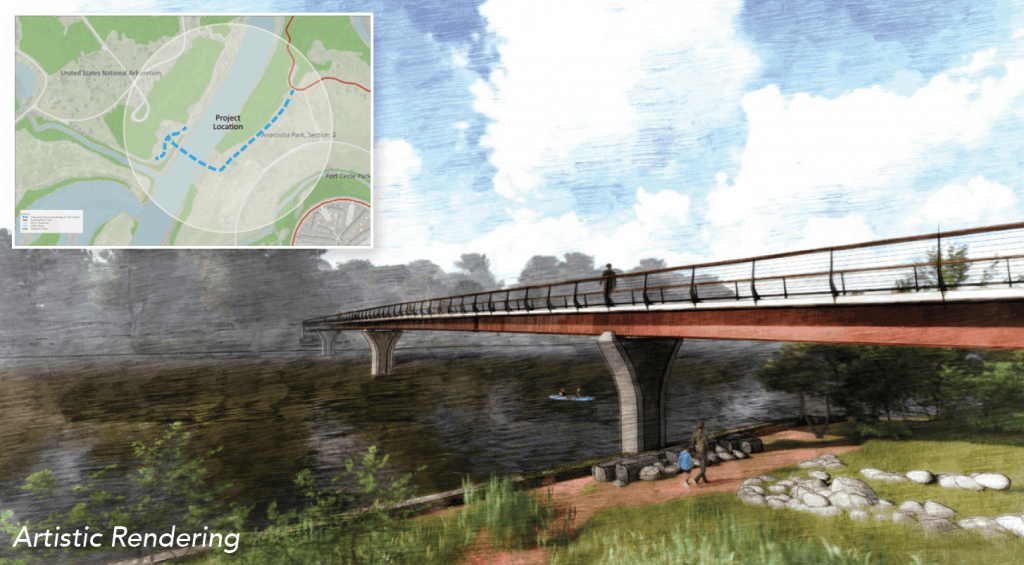 The Arboretum Bridge and Trail is a once-in-a-lifetime connection
The Arboretum Bridge and Trail will not only connect Wards 5 and 7, but it will bring the Anacostia River Trail one step closer to completion! The bridge will serve a transportation function, connecting residents to jobs, local businesses, and much more. It will also connect the Arboretum to Kenilworth Aquatic Gardens, uniting two of DC's most unique outdoor spaces. You can submit your comments on the project by July 31 here.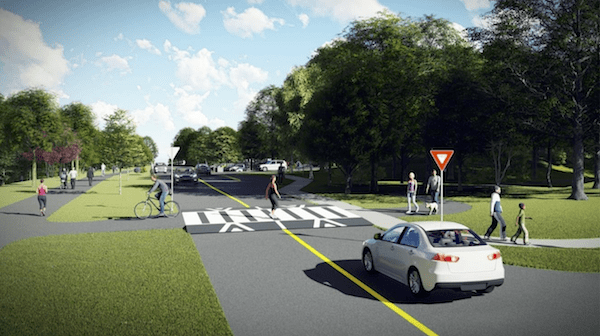 Planning Board nixes Little Falls Parkway road diet at Capital Crescent Trail
In a surprising and deeply disappointing decision, the Montgomery County Planning Board voted 4:1 to restore Little Falls Parkway to a four-lane road and detour the Capital Crescent Trail to cross at the traffic signal at Arlington Road. They rejected all three options, including the staff recommended one, which were thoroughly studied over the past 18 months. Removing the road diet contradicts county policy, best practices, staff expertise, and parks data, which showed that the road diet substantially reduced crashes and speeding. Read more about the Board's decision and our thoughts here.
It's time for a protected bike lane on Fenton Street
Fenton Street in downtown Silver Spring has almost everything it needs to be the Silver Spring's main street. It is lined by cafes, shops, entertainment and community spaces kept bustling by the tens of thousands of people who live and work nearby. But step off the curb and it's chaos—unsafe crossings, aggressive drivers and a car-centric road design. Sign the petition to let Montgomery County leaders know that Fenton needs to change, for the better.
Update: Connecticut Ave NW Protected Bike Lane meeting
At a public meeting on June 25th, the District Department of Transportation (DDOT) announced that protected bike lanes were not in the immediate future for the Connecticut Avenue Streetscape and Deckover Project. This came as a shock, as ANC 1B and 2C passed resolutions in support of the PBLs in this project. Following backlash from residents, 22 hours later, DDOT Director Jeff Marootian announced on Twitter that the protected bike lanes will be reinstated into the Connecticut Avenue NW project plans. Read a full recap of the second public meeting here.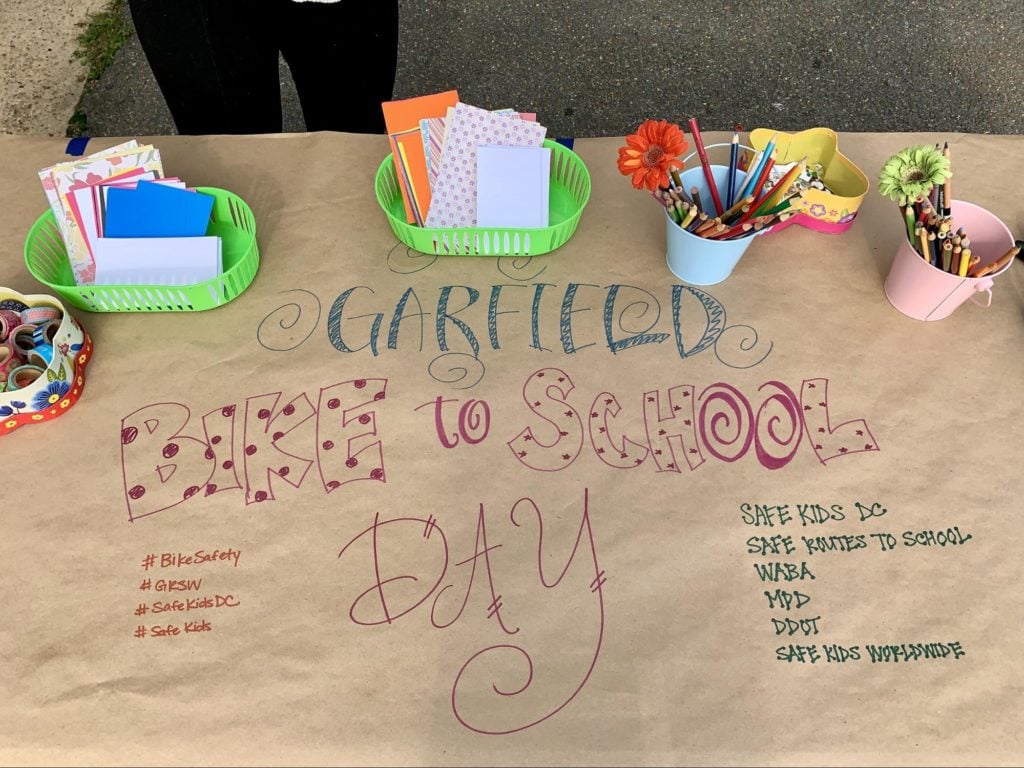 Bike to School Day events at Garfield Elementary win DDOT Trailblazer Award!
On May 8 and May 29, WABA supported Safe Kids DC's Bike to School Day Events at Garfield Preparatory Academy with Safe Routes to School National Partnership, the Metropolitan Police Department, DDOT, and Safe Kids World Wide. 301 youth riders from grades PreK to 5 rotated through three stations: a helmet fitting station, a bike obstacle safety course, and a bicycle license plate art project. Find pictures from the events and a quick recap here!
DDOT shares plans for Florida Ave NE
On Thursday, June 20, DDOT staff hosted a meeting to share their plans for immediate changes to Florida Ave NE to calm traffic, improve intersection safety, and add protected bike lanes on the corridor. Florida Ave NE has long been a dangerous corridor due to rampant speeding and outdated road design. More than 150 people attended to see the plans, ask questions, and share their stories about their ongoing experience with traffic violence.
DDOT's plan will remove one or more travel lanes from the Avenue from 2nd St. NE to 14th St. NE, narrow travel lanes, and add dedicated turn lanes at intersections. New protected bike lanes, separated by paint, rubber wheel stops, and a new, more imposing kind of bollard, will run from 3rd St. to 14th NE. Changes are also coming to intersections, with new markings and turn restrictions, and to 6th St. NE, where it will become one way north of K St NE. Review the full plans here. DDOT staff will collect comments over the next month and start work in July. Planning continues for the complete reconstruction of the corridor.
Alexandria prioritizes cars over people on Seminary Road
On Monday, June 24th, the City of Alexandria's Traffic and Parking Board voted 3 to 2 to prioritize cars over people on Seminary Road. The vote was a surprise given that 46 of 68 speakers spoke about the need for safe accommodations on Seminary Road for pedestrians, bicyclists, and people of all ages and abilities. Despite overwhelming support for slower speeds and more people-focused design, the board voted (with little discussion) to recommend that City Council maintain four lanes for cars on Seminary Road between N. Howard Street and N. Quaker Lane. City Council will make the final decision about Seminary Road after a public hearing on Saturday, September 14th.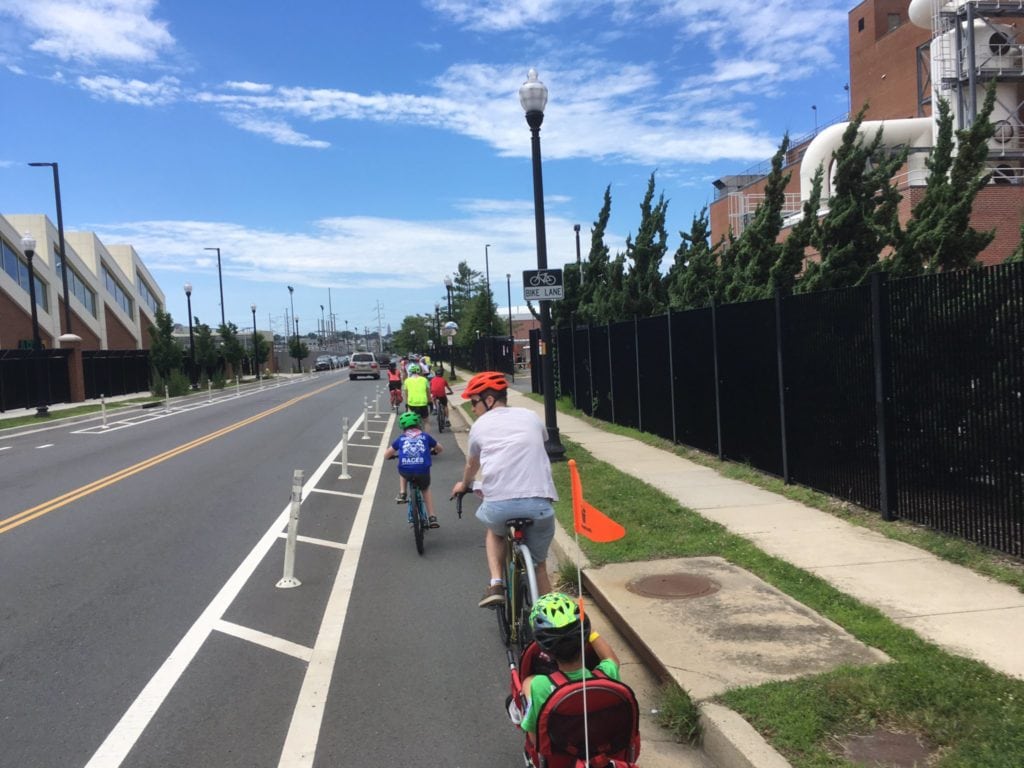 Arlington County confirms vision for inclusive, low-stress biking in master plan
In April, the Arlington County Board adopted a new bicycle element for the Master Transportation Plan to support the growth of biking in the county. After two years of hard work, outreach, stakeholder input, and revision, the new plan sets out a much more ambitious, inclusive and low-stress bicycling vision for Arlington.
Montgomery County adopted a new Bicycle Master Plan
In November 2018, Montgomery County adopted a new Bicycle Master Plan, concluding more than three years of intensive analysis, public engagement, and advocacy. By adopting this plan, the County Council endorsed a dramatic shift in the County's goals and approach to growing bicycling, committing MoCo to a convenient, inclusive, and low-stress bicycling future!
East Coast Greenways Trails Summit
In April 2019, Advocacy Team members Katie and Jonathan presented at the East Coast Greenways Mid-Atlantic Trails and Greenways Summit in a session titled, "Public Engagement in Ways That Count". Katie and Jonathan presented their unique approaches to engaging community members in their work. Watch their session presentations here!
2019 Washington Region Vision Zero Summit
The third Vision Zero Summit was March 25 at the Milken Institute of Public Health. This year's Summit had a new component: a Community Listening Session on Traffic Safety, held the evening prior to the Summit at the Anacostia Playhouse. Find the recap of this year's Summit here. And browse the hashtag #VZSummitDC on Twitter for a full look at Summit highlights.
Nonprofits Unite to Create Equitable Access for Cycling
In May, REI board of directors and leadership visited Washington, DC for a tour, where our very own Katie Harris did an amazing job representing WABA and the Capital Trails Coalition! Check out their adventures in this clip from REI.
Trainings, Workshops, and Meetings
Rock Creek Far East 1 Livability Study – Public Workshops
DDOT has hosted two of three public events for the Rock Creek East I Livability Study. WABA staff and supporters have been in attendance to share their perspective on improvements to transportation safety in the area of the study. connections to destinations for all modes. At the first public workshop, DDOT introduced the project, shared data collection, and provided opportunities for participants to share existing concerns. In the second meeting, DDOT introduced the corridors that have been identified as focus areas, but are continuing to gather community input. Interested in attending a Ward 4 Community Meeting? Email jonathan.stafford@waba.org.
Ward 8 Traffic Safety Meetings
WABA holds monthly Ward 8 Traffic Safety Meetings with community members, ANC commissioners, Safe Routes to School National Partnership, Safe Kids DC, DDOT, MPD, Mayor's Office Representatives, Capitol Bikeshare, private sector companies, and local businesses. The group discusses Ward 8 transportation trouble spots, shares ideas for how to make travelling on foot or bike safer, and advocates for safe walking and biking.
Recently, the group met with DDOT and community members for a High Crash Site Visit on South Capitol Street SW. DDOT data shows South Capitol Street to be one of the most dangerous corridors for pedestrians and bicyclists in Ward 8. The group identified safety issues including high speeds, missing signage, and crossing difficulties (to name a few). Interested in attending a Ward 8 Traffic Safety Meeting? Email hannah.neagle@waba.org.
Are you on your local WABA Action Committee?
All across the region great people are working to fix our streets to make biking safe and popular. They meet each month to share ideas and work together for better places to bike. Whether you're looking for a fun group, a new cause, or a wonky policy discussion, our Action Committees have it covered.
See what we're doing in your community and join us for the next meeting.
WABA in the News
The District's long road to building a half-mile bike lane that leads to the U.S. Capitol – The Washington Post, January 1, 2019
DC Metro to allow bikes on trains during rush hour – Washington Examiner, January 2, 2019
Metro to welcome bicycles on trains at rush hour starting Jan. 7 – WJLA, January 2, 2019
Metro lifts ban against bikes on trains during rush hour – The Washington Post, January 2, 2019
DDOT moves ahead on plans for three new protected bike lanes in Northwest – The DC Line, January 4, 2019
District is ramping up street safety measures for the new year – The Washington Post, January 5, 2019
Riders have started to bring their bikes on Metro during rush hour. So far, so good. – The Washington Post, January 15, 2019
Residents and two museums take different sides at a contentious meeting about a Dupont bike lane – Greater Greater Washington, January 18, 2019
DC wants to make clear to drivers that bike lanes aren't for parking, idling, or loading – The Washington Post, February 21, 2019
DC Quietly Banned Biking With Headphones This Year – DCist, February 19, 2019
Do bike-share programs worsen travel disparities for the poor? – The Washington Post, March 5, 2019
Five Takeaways From Washington Vision Zero Traffic Safety Summit – WAMU, March 14, 2019
The District's streets are dangerous, unjust and unsafe, by design – Greater Greater Washington, March 21, 2019
Kid-sized 'traffic parks' are D.C.'s new playgrounds with a purpose – WAMU, April 11, 2019
Locals call for enforcement of bicycling rules in DC as city plans to install protected bike lanes – WUSA9, April 17, 2019
Bicycle activist killed on bike in crash with stolen van in the District – The Washington Post, April 19, 2019
Bicyclist fatally struck by vehicle on Florida Avenue – WJLA, April 19, 2019
Driver fatally strikes beloved bike advocate in Northeast, marking first 2019 D.C. cyclist death – Curbed DC, April 19, 2019
Police: Driver of stolen van hit, killed biking advocate in DC – WTOP, April 19, 2019
DC plans to step up enforcement of bike lane regulations – The Washington Post, April 20, 2019
Dave Salovesh, 1965 – 2019 – Washington City Paper, April 20, 2019
Cycle of bike thefts ends with officers on bicycles arresting a suspect – The Washington Post, April 21, 2019
'It's Frankly, Personal': DC's Cycling Community Ramps Up Activism After Longtime Advocate's Death – DCist, April 22, 2019
After cyclist is hit by police car turning right on red, police charge cyclist – The Washington Post, April 24, 2019
Cyclist collides with police car, riders debate right on red rule – WUSA9, April 25, 2019
'Die in' held to protest death of DC cyclist killed by speeding driver – WUSA9, April 26, 2019
Shifting Gears for Your Commute – Alexandria Living Magazine, April 26, 2019
DC Residents Remember Those Who Died in Traffic Accidents – The Afro-American, May 2, 2019
Why do reporters still unquestioningly quote AAA on speed cameras? – Greater Greater Washington, May 16, 2019
Are D.C.'s parking woes so bad that the situation needs citizen enforcers? – The Washington Post, May 19, 2019
Ghost bike memorial gets hit, destroyed by SUV – WTOP, May 20, 2019
E-Bikes and Scooters Will Be Allowed on Some Montgomery County Trails – WAMU, May 20, 2019
A Bridge Connecting The National Arboretum And Kenilworth Park Is Slated for 2021 – May 22, 2019
Local sector plan gains residents' input for new options on development – Montgomery County Sentinel, June 6, 2019
A Brief Summary of the State of D.C.'s Scooter Scene, Summer 2019 – Washington City Paper, June 10, 2019
DC councilmember questions the need for bike lanes in his ward – Curbed DC, June 14, 2019
A bridge would connect the Arboretum and Kenilworth Park, but how will it impact the Anacostia River? – Greater Greater Washington, June 19, 2019
Road safety events planned in Ward 8, the D.C. ward with the most 2019 traffic deaths – Curbed DC, June 21, 2019
Thanks for reading!
P.S. Like what we're doing for better bicycling in the region? Our advocacy work is directly funded by your membership dollars—donate today.