Win: Vision Zero Omnibus bill passes DC Council.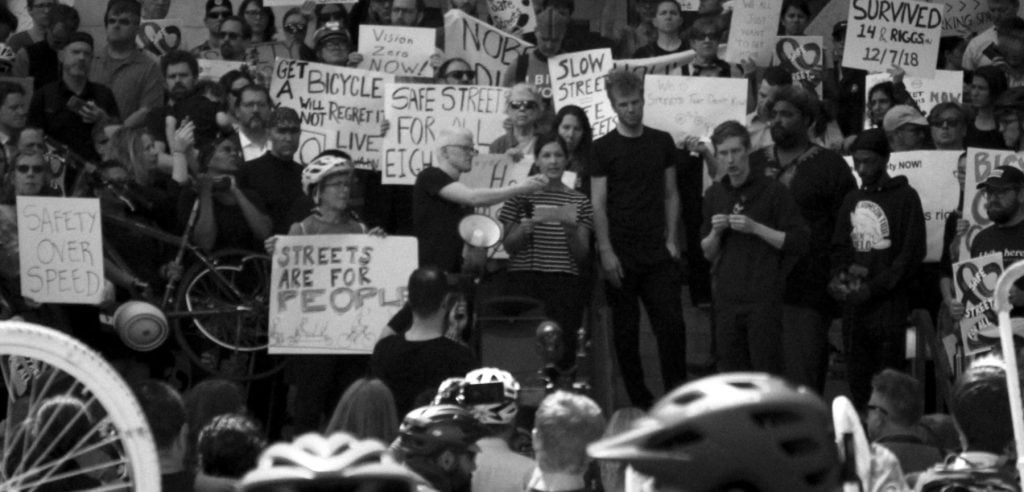 Two weeks ago, the DC Council voted unanimously to pass the Vision Zero Enhancement Omnibus Amendment Act of 2019. 
This win will fundamentally change the way we use our streets. It will make District agencies accountable to Council. That means DDOT will have to evaluate the most dangerous corridors in the District, report out on them, and then actually fix them.
This win means lower speed limits and no right turns on red. It means automated traffic enforcement at intersections and in bus lanes, and it means better investment in the communities with less access to transit and fewer safe places to bike and walk.
This bill comes at a devastating cost — the lives of our neighbors, friends, and community members. Since Mayor Bowser committed to Vision Zero, traffic deaths have increased every year. And now, as the bill goes to the Mayor to become law, we'll be fighting hard to ensure it gets funded in next year's budget and fully implemented so that we have real, meaningful tools to make this city a safer place to move through.
Can you help us keep District leaders accountable every single day with a monthly donation of?
This isn't even the only big news about Vision Zero this month. On September 24, WABA hosted our 4th annual regional Vision Zero Summit where we learned so much from our keynote speaker, Charles T Brown. He spoke about arrested mobility — the way enforcement and so many systemic factors inhibit Black people's basic mobility. We carried that theme through the day, with conversations about Vision Zero and racism at the intersection of climate change, the pandemic, trail access, community engagement, and much more.
The conversations we had this past month are building power for safer streets, and we are so grateful for your support every step of the way. Thank you for helping us fight for safer streets. Progress sometimes feels slow, but together, we're doing transformational work in the region.
Want to keep the momentum going?