Fall-Winter Maryland Advocacy Roundup
As we continue to virtually organize from our homes, the WABA advocacy team has made it a priority this year to remain engaged in the push to achieve Vision Zero and complete our bike and trail networks in Maryland. Our strategies in Maryland this year include:
Regional Coordination: We have been hosting quarterly meetings with Prince George's and Montgomery County bike and transportation advocates to collaborate and amplify advocates who are on the ground making Maryland a safer place to walk and bike.
Showing up: Attending and participating in Prince George's and Montgomery County vision zero meetings to influence regional vision zero action plans.
Collaborating: Working within existing state-wide advocacy coalitions to pass legislation and budgetary measures that help achieve local bike and pedestrian safety goals.
Making Space to Focus: We've created a Prince George's and Montgomery County working group within the Capital Trails Coalition. The working groups are charged with coming up with the strategy to complete our trail network in each County.
We are excited to collaborate with our partners on the ground in Prince George's and Montgomery County and look forward to the work ahead! Check out some of the additional updates and ways to take action below!
Actions to take:
Send a message to support an equitable solution to traffic enforcement!
Delegate Stewart is pushing forward a bill that would allow Montgomery County to move their traffic camera enforcement from the police to the Montgomery County Department of Transportation (MCDOT). The Montgomery County Council voted to support this measure and now Delegate Stewart needs the voices of MD residents to show their support.
If you live in Montgomery Council, send a message to your delegate letting them know you support this bill. You can look-up your delegate here.
The messages can be brief, personal 1 paragraph messages indicating why you support the bill. Here are two talking points you could include in your message:
Moving automated enforcement to MCDOT is very much in line with the County's Vision Zero mission, which is already managed by MCDOT. To have it separated is ultimately inefficient to accomplishing Vision Zero goals.
According to analysis from Montgomery County Data, Black and Brown residents are disproportionately more affected by policing issues, including citations.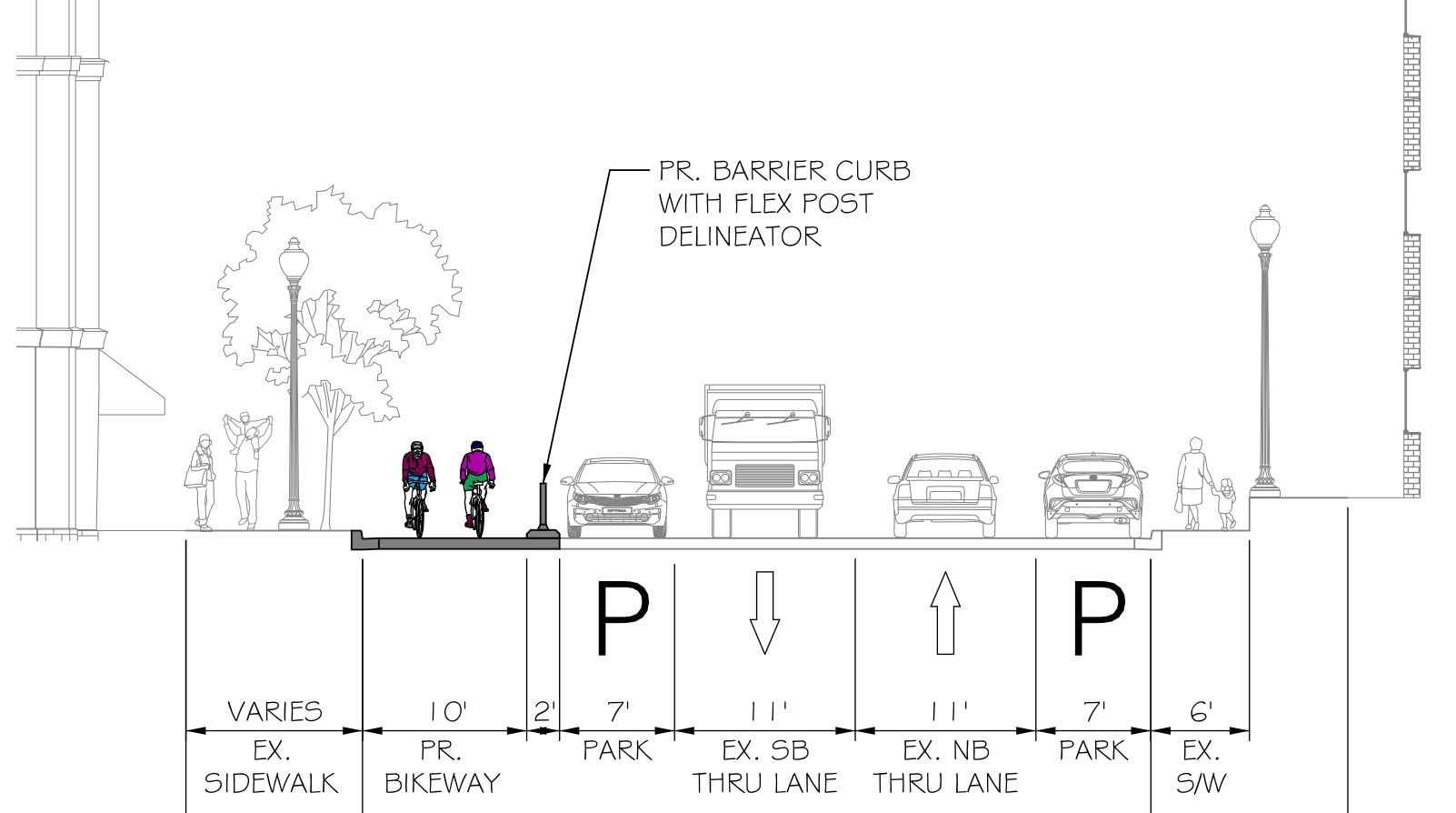 Speak up for a Fenton St. Protected Bike Lane
Since early 2019, WABA, elected leaders, and advocates like you have been urging the Montgomery County Department of Transportation (MCDOT) to build the last major piece of the Silver Spring protected bike lane network on Fenton Street from Cameron to King. At a recent meeting, we and about 100 attendees finally got to see what it will look like.
The good news, every possible design includes a continuous protected bike lane. You can see the options here and send in comments urging MCDOT to build the safest possible facility to protect people who bike and walk. Comments can be emailed to Matt.johnson@montgomerycountymd.gov by December 4th, 2020. Email advocacy@waba.org if you need support with crafting your comment.
Other updates
MD General Assembly Update
WABA has been participating in meetings with Bike Maryland advocates from around the State (in Prince Georges, Howard, Frederick and Anne Arundel Counties, plus Baltimore City) to strategize around passage of a Vulnerable Road User bill that will ensure that drivers who are involved in a crash causing serious harm to people who bike or walk must appear before a court and can be assessed more significant civil consequences than a mere traffic ticket. The same advocates are pushing for increased spending on bike networks and lowering speed limits on Montgomery County roads.
Stay tuned for additional information for both of these campaigns!
Montgomery County Vision Zero Meeting
The Pedestrian, Bicycle, and Traffic Safety Advisory Committee will be meeting monthly from September 2020 to January 2021 to advise the County Government on developing the 10-year Vision Zero Strategic Plan and FY22-23 Action Plan.
The next meeting will take place Thursday, December 17th, 7 – 8:30PM.
Please email Wade Holland at visionzero@montgomerycountymd.gov to receive a link and call-information to the meeting and to request accessibility accommodations.
Adelphi Road-UMGC/UMD Purple Line Station Area Sector Plan Meeting
Join the Prince George's County Planning department for the kickoff event for the new Sector Plan for the Adelphi Road- University of Maryland Global Campus (UMGC)/University of Maryland, College Park (UMD) Purple Line Station Area.
Staff will be providing an overview of the project and answering questions from the community members during this event.
This is a good opportunity to tell the planning committee to include protected bike lanes that improve access to the purple line stations.
The meeting will take place December 9th, 7-8:30pm. RSVP HERE.
And, Check Out: