Protected Bike Lanes for Connecticut Ave – The Clear Choice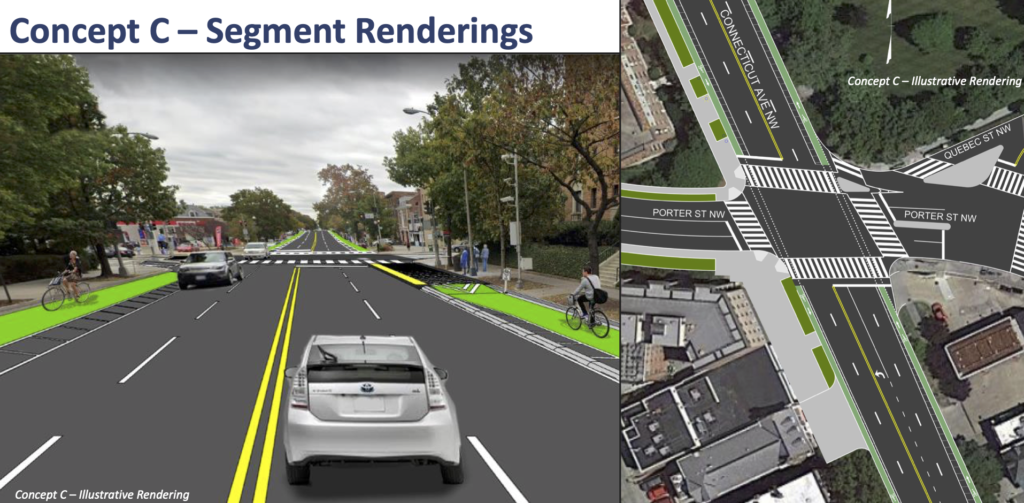 For the past 18 months, the District Department of Transportation has been collecting data, gathering input, and doing analysis on options to remove the dangerous reversible lane and make Connecticut Ave safer, more accessible, and livable north of Calvert St. NW. Last month, they presented two plans: add protected bike lanes, substantial safety upgrades and all-hours loading zones or remove the reversible lane, but keep it devoted to cars.
DDOT's comment period closes in just a few days on Saturday May 1 and they need to hear your support. All four adjacent Advisory Neighborhood Commissions debated the plan and passed resolutions in support of Concept C with protected bike lanes this month, showing a clear consensus and vision for a livable, walkable, and more bikeable corridor. 
Help us put this debate to rest. Use the form below to tell DDOT that Concept C with high-quality protected bike lanes is the only choice for DC's future.
For a reminder of what concepts B and C look like, see this review in the Forest Hills Connection.
For more detail on the project, including a recording of the recent presentation, design concepts, extensive traffic modeling and more, see DDOT's project page.