2021 Vision Zero Recap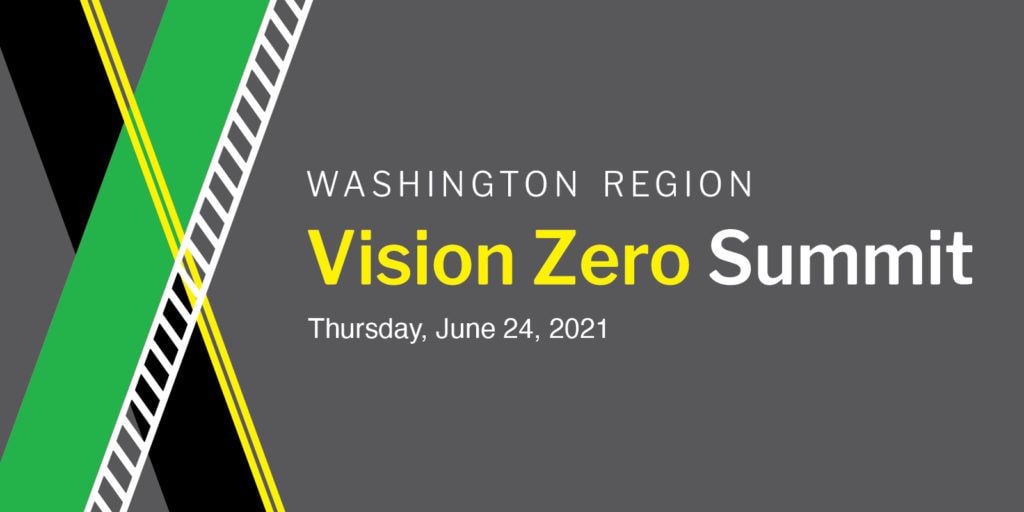 On Thursday, June 24th WABA hosted the 5th annual Washington Region Vision Zero Summit virtually.
Dara Baldwin, MPA Director of National Policy, Center for Disability Rights, Inc. (CDR), Co-chair of the Transportation Equity Caucus delivered the keynote address highlighting the institutional racism around which our transportation systems are structured, (including the Vision Zero framework) and the historic to present day negative impacts the system has on Black and brown people.
The event featured a number of panels (You can find the full agenda here!) and three plenary sessions.
In the first plenary session, moderator Jeremiah Lowery, Advocacy Director, WABA, and speakers Priya Sarathy Jones, National Policy Campaigns Director, Fines & Fees Justice Center and Jay Beeber, Executive Director, Safer Streets L.A. took a deep dive into the topic of Fines, Fees, and Automated Traffic Enforcement (ATE). We heard how disproportionately damaging fines and fees can be to individuals with low income. Then we heard about some of the shortcomings and damage caused by automated traffic enforcement. Neither fines and fees nor ATE have shown significant impact on behavior change, and both negatively impact BIPOC and low income folks. So, we're left with a tough question: why do we use methods that hurt some people and do not create safer roads?
In the third plenary session, Traffic out of Law Enforcement, panelists Regan F. Patterson, Ph.D., Transportation Equity Research Fellow, Congressional Black Caucus Foundation; Dara Baldwin, MPA Director of National Policy, Center for Disability Rights, Inc. (CDR), Co-chair of the Transportation Equity Caucus; and Joe Reinhard, Activist, Young People for Progress (YPP) in Montgomery County laid out their visions of what it means for people of color to feel safe walking, biking, and using public transit, in addition to outlining how important it is to think about traffic safety and Vision Zero wholly. In this timely and critical conversation, moderated by WABA Advocacy Director Jeremiah Lowery, panelists discussed the case for taking law enforcement out of traffic, how to decrease reliance upon policing and increase our investments in alternative solutions.
The Closing Plenary capped off the day with a multidisciplinary conversation centered on the idea We're All In This Together. Jonathan Stafford, WABA's Culture and Engagement Manager led the conversation, which highlighted the necessity of collaborating across sectors to move Vision Zero forward equitably.
Panelists included At-Large Councilmember Hans Riemer, Montgomery County, Maryland; Kori Johnson, Program Support Manager, Safe Routes Partnership; and Christine Sherman Baker, AICP, Principal Planner/Vision Zero Program Coordinator, Arlington County. Each panelist spoke on the institutional or systemic challenges they've had in creating an equitable transportation network but they also touched on the ways we can work across sectors to repair it. To view the speaking sessions for yourself, check out the 2021 Washington Region Vision Zero Summit page, which has recordings of all the sessions.
---
Thank you to our Planning Committee!
Sonya Breehey, Heather Foote, Les Henderson, Chenille Holloman, Blake Herbold, Kori Johnson, Regan Patterson, Kyle Reeder, Ron Thompson and Leah Walton
---
Thank you to our sponsors: