Honoring the Victims and Families Impacted by Traffic Violence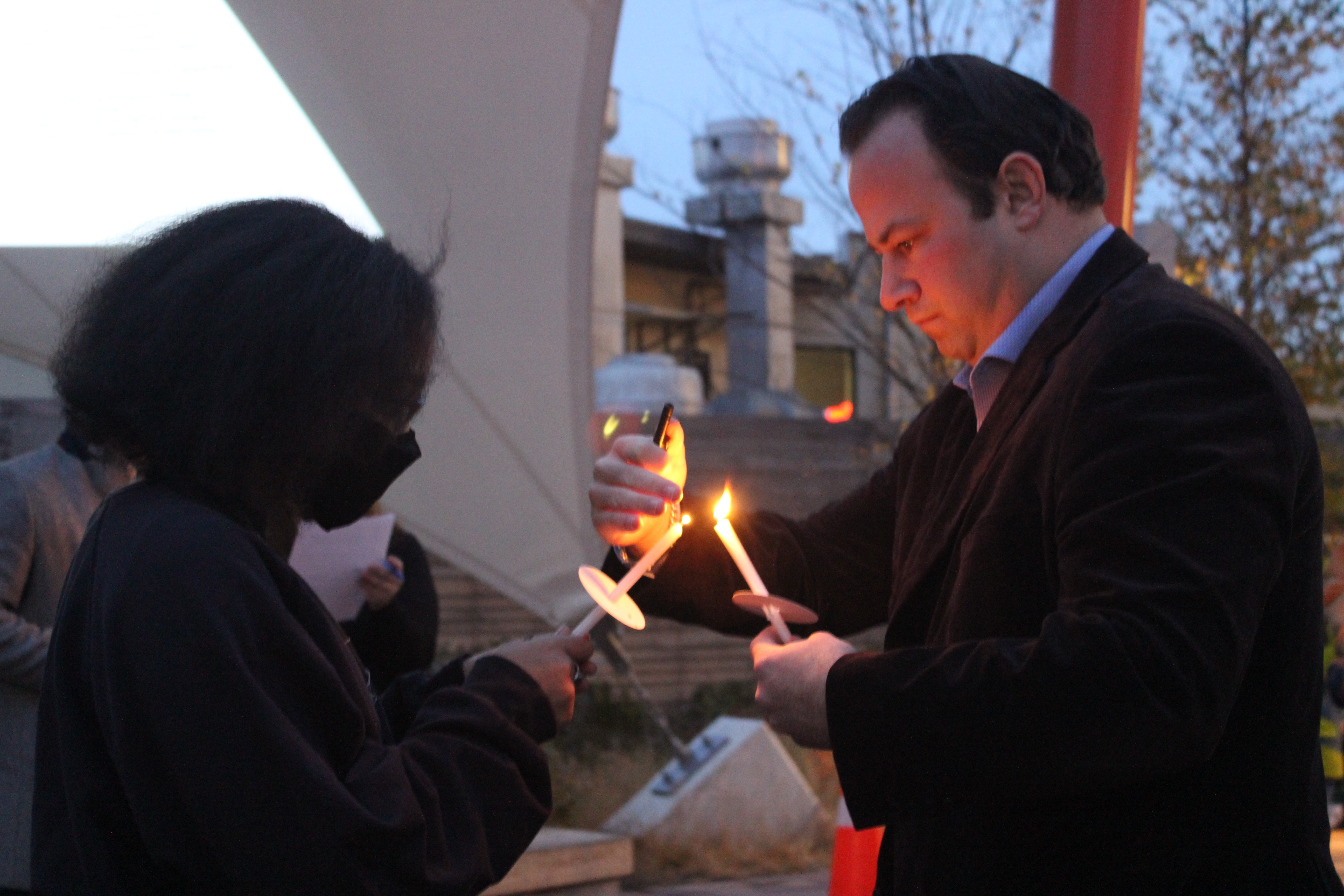 On Sunday November 21, over 60 people assembled at the Marian Fryer Plaza in downtown Wheaton, MD to observe World Day of Remembrance for Road Traffic Victims.
The gathering began with a welcome from Leah Walton, the Co-Chair of Montgomery County Families For Safe Streets (MoCo FSS). Leah spoke on the group's goal of bearing witness to the suffering and pain caused by traffic violence while also advocating for the life-saving changes necessary to end it. Families for Safe Streets works so that other families don't suffer the loss or life altering injuries that often bring people to the organization. Next, the crowd heard from Jennifer Homendy, Chair of the National Transportation Safety Board (NTSB).
After these introductory remarks, the event focused on testimonies from four people who, within the past two years, lost family members to crashes related to traffic violence. These family members—parents, children, siblings—spoke openly and emotionally about the ways these acts of violence have impacted their lives. Each person ended with an impassioned call to everyone in attendance, and perhaps even those not: advocate for road-changes that will make them safer for all users, especially those who walk, bike, and use transit.
Attendees lit candles after hearing from the family members, as a Councilmember read the names of the 85 people killed in traffic crashes in Montgomery County since 2020. These included 26 pedestrians, a skateboarder, two people on bikes, and numerous drivers.
WTOP covered the gathering.
World Day of Remembrance is an international event started in 2005, honoring the 1.35 million people killed and millions more injured on the world's roads each year. In addition to remembrance, the day urges the implementation of proven strategies to prevent more tragedies. This year's World Day of Remembrance took on extra urgency as the number of people dying and severely injured in preventable traffic crashes in the U.S. is rising at an alarming rate:
Preliminary data from the federal government revealed that more than 20,160 people died on U.S. roads in the first half of 2021—the largest number of estimated fatalities in that time period since 2006.
Data from MWCOG notes that 314 individuals have been killed and many more injured in the Greater Washington Region in 2020.
Washington, DC experienced its 37th traffic fatality of 2021 on the Saturday leading up to the event—the same total number of fatalities as 2020, and the largest since 2008.
Global leaders seized the opportunity to marshal the resources, willpower, and partnerships needed to sustain commitments required for positive change. U.S. Transportation Secretary Pete Buttigieg acknowledged the urgency of this issue as the number of people dying and severely injured in preventable traffic crashes on our roadways continues to rise. "A single preventable death is a tragedy," Secretary Buttigieg said in his recorded remarks. "Tens of thousands of them a year is a national crisis—one that demands not just our remembrance but our urgent action. So on this World Day of Remembrance, let's renew our commitment to protect every member of the traveling public."
Visit the Montgomery County Families for Safe Streets website to learn more or get involved.