Life in the Anacostia Neighborhood, circa 1945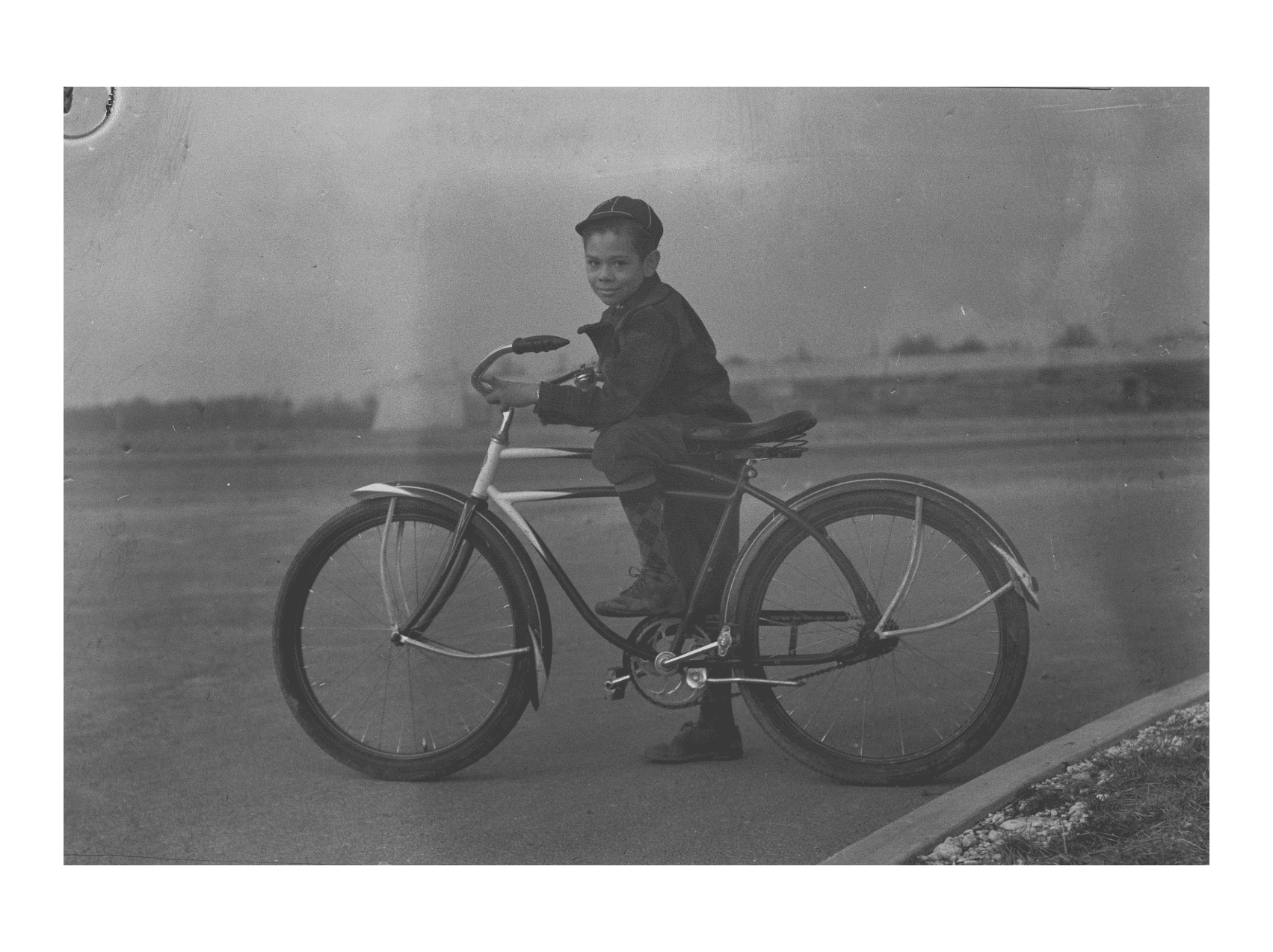 These photos were snapped by Frank R. Jackson, a photographer who documented Black life in and around the Anacostia Neighborhood his family called home during the 1940s. In each of them, his son Jack "Jackie" Jackson poses with his bike, gazing at the camera with a confident smile. In the final photo, Jackie poses with a friend the museum's notes identify as Earl Stroud. Some cursory sleuthing brought me to an obituary for a local Earl Stroud, who passed away last year.
Going through these archives, encountering this obituary, thinking about the history behind these images, causes me to wonder about connections. The possible connection between the young Earl in the photo and the man who recently passed. The black and white photos make history like this feel far away, but it is still around us—in people who lived it, and its impact on our city and our lives today.
The Anacostia Community Museum has dozens of boxes containing Jackson's photographs, which are historical artifacts that can give us a sense of what daily life was like for Black folks in the 1940s. Sometimes our collective imagination struggles to comprehend Black experiences in terms unrelated to civil rights. This fact is broadly true of fever pitch moments in history, such as the 1940s. However, life encompasses more than the historical events we append to these dates. These photos, which show kids being themselves, are a reminder.
---
Jackson, Frank R. Jack on his bike, circa 1945. Photograph. Washington, DC: from the Anacostia Community Museum Archives, Frank R. Jackson Papers. https://sova.si.edu/details/ACMA.06-068#ref838
Jackson, Frank R. Jack on his bike, circa 1945. Photograph. Washington, DC: from the Anacostia Community Museum Archives, Frank R. Jackson Papers. https://sova.si.edu/details/ACMA.06-068#ref839
Jackson, Frank R. Jack and Earl Stroud with their bikes, circa 1945. Photograph. Washington, DC: from the Anacostia Community Museum Archives, Frank R. Jackson Papers. https://sova.si.edu/details/ACMA.06-068#ref836