Virginia Update: Early voting, e-bike showcase, ribbon cuttings, and more
May is National Bike Month but it's also election season here in Northern Virginia! Early voting kicks off this Saturday, May 5th across the region ahead of the Democratic Primary Election on Tuesday, June 20th.
Democratic candidates for State Senate and the House of Delegates will vie to compete in the General Election on Tuesday, November 6th. Closer to home, Arlington voters will choose Democratic nominees for two County Board seats while Fairfax voters will do the same for the Board of Supervisors.
Note that Virginia Republicans utilize a convention format rather than a Primary Election to select nominees to run in the November General Election.
More info on the voting process and timeline in Arlington and Fairfax.
We had a chance to hear from Arlington County Board candidates last week at Bronson Bierhall. All six candidates presented their transportation vision for the County and had the opportunity to mingle with and answer questions from advocates and community members.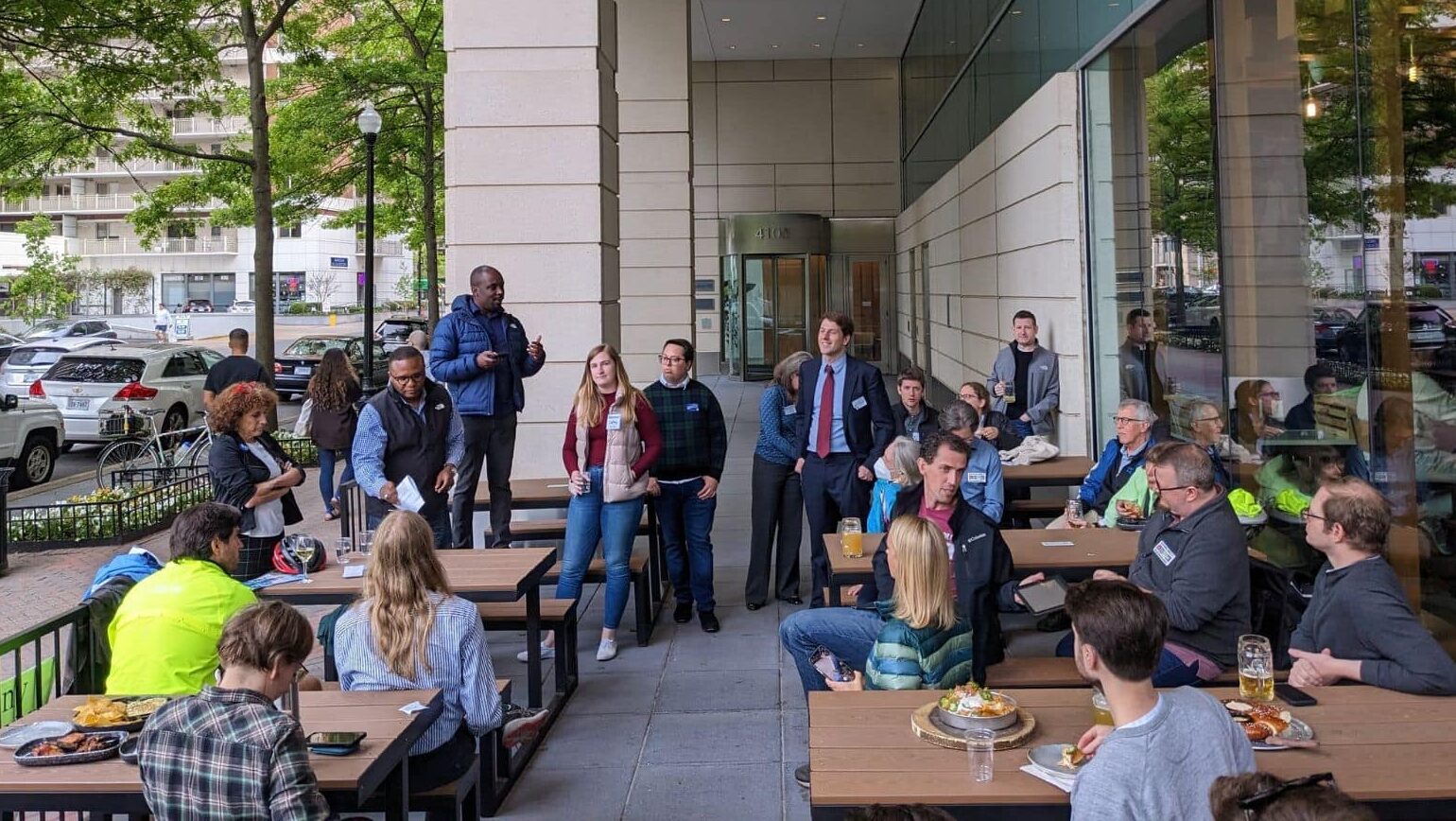 WABA's Jeremiah Lowery speaking at the Arlington candidate forum
In Fairfax County, we worked with our partners in the Fairfax Healthy Communities network to develop a joint priorities platform focused on four key areas: Housing for All; Sustainable Transportation; Climate Mitigation, Resilience, and Green Spaces; and Food Security. You can check out the platform here.
We then used that platform to inform a comprehensive Board of Supervisors candidate questionnaire and we are excited to share with you the responses to the Sustainable Transportation questions, in both English and Spanish. As of this writing, 11 of 12 candidates competing in the June Primary Election have responded, and we will continue to update our candidate questionnaire page as we receive additional responses. For the complete responses, visit Fairfax Healthy Communities' page.
No matter your politics, we hope you will exercise that most precious right to vote during this and every election!
Please note that the Washington Area Bicyclist Association is a 501(c)(3) organization; by law, our organization is strictly prohibited from endorsing, participating in, or intervening in (including the publishing or distribution of statements) any political campaign on behalf of or in opposition to any candidate for public office. Our candidate questionnaire is strictly educational and has been shared with all candidates and the public.
Events Calendar
After voting, join us at one or more of the following events in May!
Mount Vernon Memorial Highway Trail Ribbon Cutting. Fairfax County will celebrate the opening of the new Mount Vernon Memorial Highway (or Grist Mill) Trail on Friday, May 12th at George Washington's Distillery and Gristmill. This fills a critical trail gap in southern Fairfax County…and has us dreaming about a now-possible 70-mile loop ride through Northern Virginia!
I-66 Trail Ribbon Cutting. On Wednesday, May 17th, we'll be joining our friends from FABB, VDOT officials, FCDOT staff, and advocates like you for the grand opening of the I-66 Trail from Dunn Loring to Centreville. The ribbon cutting will take place at Vienna Metro Station followed by a short 1.5-mile out-and-back along the trail. Let us know you're coming.
Alexandria E-Bike Showcase. Following up on a successful pilot event last fall, WABA will be back at Jones Point Park on Saturday, May 20th with local bike shops, e-mobility vendors, transit agencies, and fellow advocacy groups to chat about (and ride) the latest e-bikes. Mark your calendar today.
Bike To Work Day. While many of us might consider every day to be Bike To Work Day, it's also nice to celebrate. Stop by one of over 120(!) pit stops on Friday, May 19th for free snacks, giveaways, and to grab the latest iteration of the iconic BTWD tee shirt. Bike Month wouldn't be complete without it – register here today.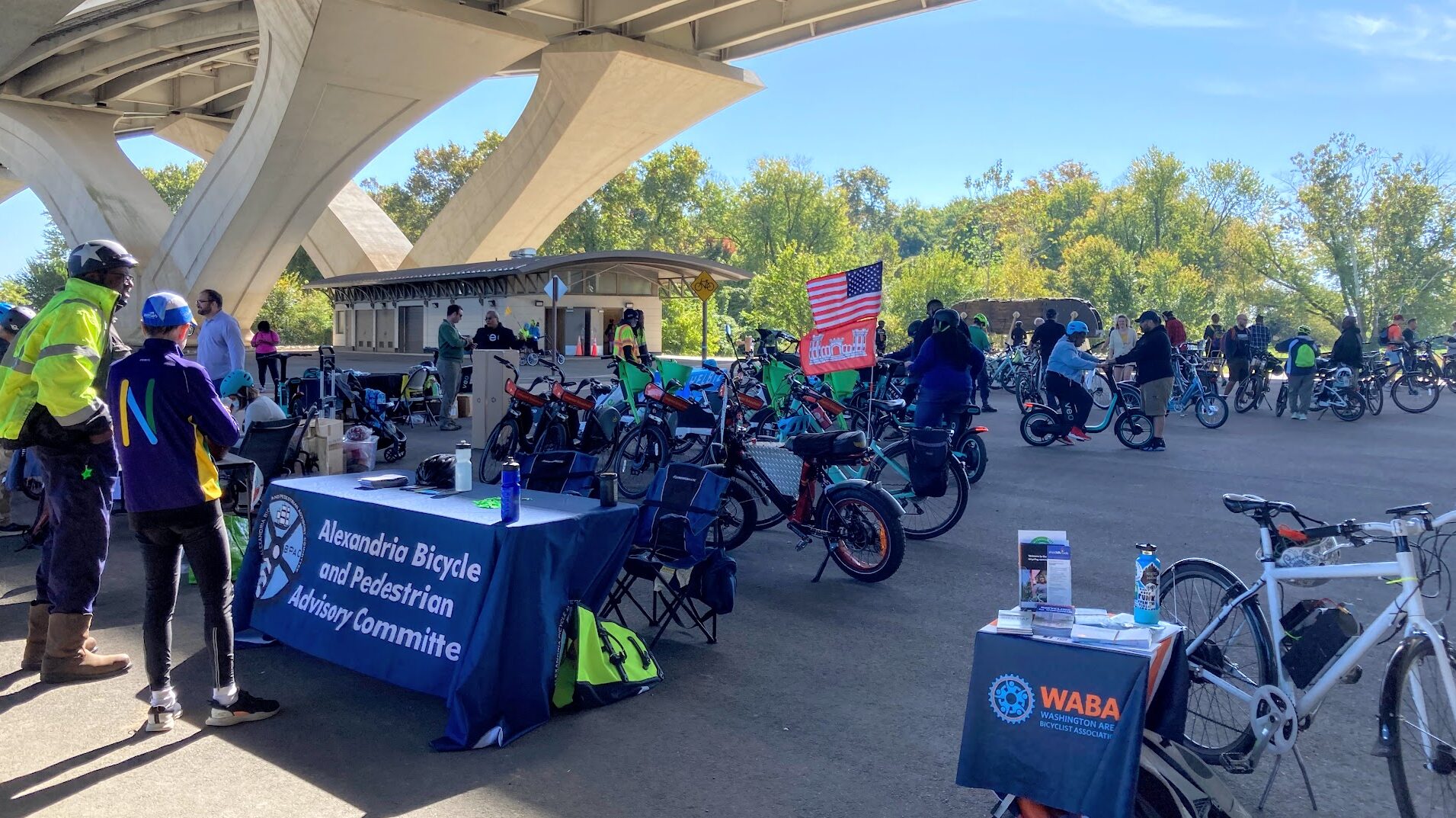 E-bike vendors and advocates will be back at Jones Point Park in May!
As always, you can reach Kevin O'Brien, WABA's Virginia Organizer by email or sign up for a slot during his weekly office hours.