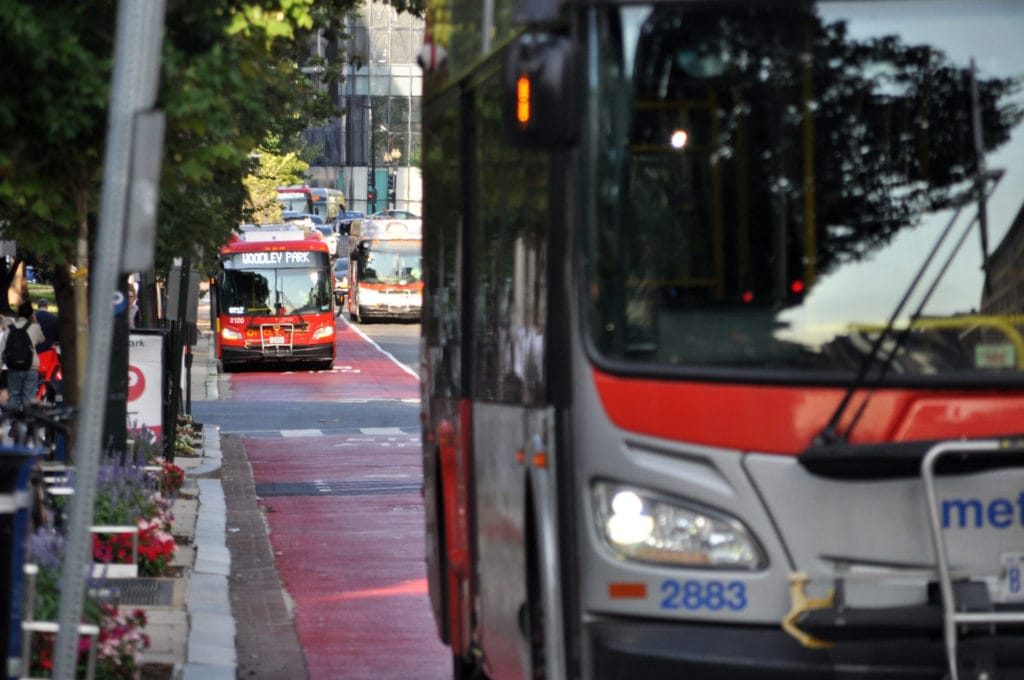 Join a community discussion on the proposed 7th St. Car Free Zone in Chinatown. Tuesday, August 25th at 6:30PM.
voted 6-4

to

stall the installation

of a planned northbound climbing lane and southbound bike lane on New Mexico Avenue NW. We

mobilized supporters of the lanes

to attend a regularly scheduled ANC 3D meeting in July, where support for the lane was up for vote. This was the fourth public hearing addressing the configuration for New Mexico Avenue, two of which were held specifically to discuss the lanes. DDOT had worked extensively with ANC 3D to draw up a suitable plan, and developed something that would not affect parking or travel lanes. In July, the ANC voted 5-4 to support the bike lanes. We

declared it a success

, and DDOT

began installation

of the climbing lane and sharrow. This past Wednesday, we heard

the day of the meeting

that it was likely that the ANC would attempt to force a vote to stall the lanes, though no such item was on the agenda. Though we

alerted supporters

to the potential of a vote the day prior to ANC 3D's meeting, the commission voted to stall the installation by

requiring a DDOT traffic study

. Councilmember Mary Cheh has indicated her support of the lanes to us in an email, writing, "I fully support the proposed bike lane and have written to the DDOT Director that I will vigorously oppose any rear guard action that upsets something approved by both DDOT and the ANC."

At its regularly scheduled monthly meeting on Wed., Oct. 2, ANC 3D commissioners
ANC Meeting Details

Wed., July 10th, 2013 7-10 p.m. (vote is scheduled for 8:30 p.m.) American University, School of International Service, Founders Room Google Bicycle Directions – 

http://bit.ly/14XZJhR View the agenda here

If you cannot attend Wednesday night's meeting, please consider contacting the commissioners to express your support of the bike lanes. You can find all of the ANC commissioners' contact information online here: 

http://anc3d.org/commissioners.html

. We will send an update after Wednesday night's meeting and vote. Let's not wait another three years for safe bicycling conditions in Ward 3!

In 2011, Ward 3 residents lost the opportunity to have safe and convenient bike lanes on New Mexico Ave NW in 2011 because ANC 3D voted unanimously against them. You have been given a second chance. DDOT has been working with commissioners and residents from ANC 3D for the past two months on one mile of proposed bike lanes on New Mexico Ave NW and Tunlaw Rd NW. The bike lanes would extend from Nebraska Avenue NW to 39th Street NW. Throughout the process, DDOT has been very helpful and accommodated the concerns of citizens, changing the design to address many of the issues expressed. The current design reflects a careful balance that recognizes the needs of ALL roadway users. For the steepest (and narrowest) section of New Mexico Avenue, only an uphill "climbing lane" will be delineated; sharrows (shared-lane markings) will mark the downhill travel lane. The climbing lane will help car traffic flow smoothly around slow-moving bicyclists as they climb the hill. The bike lane will provide a comfortable place for bicyclists to ride on the road, rather than the sidewalks, providing a better and safer pedestrian experience. Local commissioners from ANC 3D will vote on the New Mexico Avenue NW bike lane at this month's meeting on Wed., July 10th. That's tomorrow! Your attendance and voice of support is needed!