The Last Vasa Ride FAQs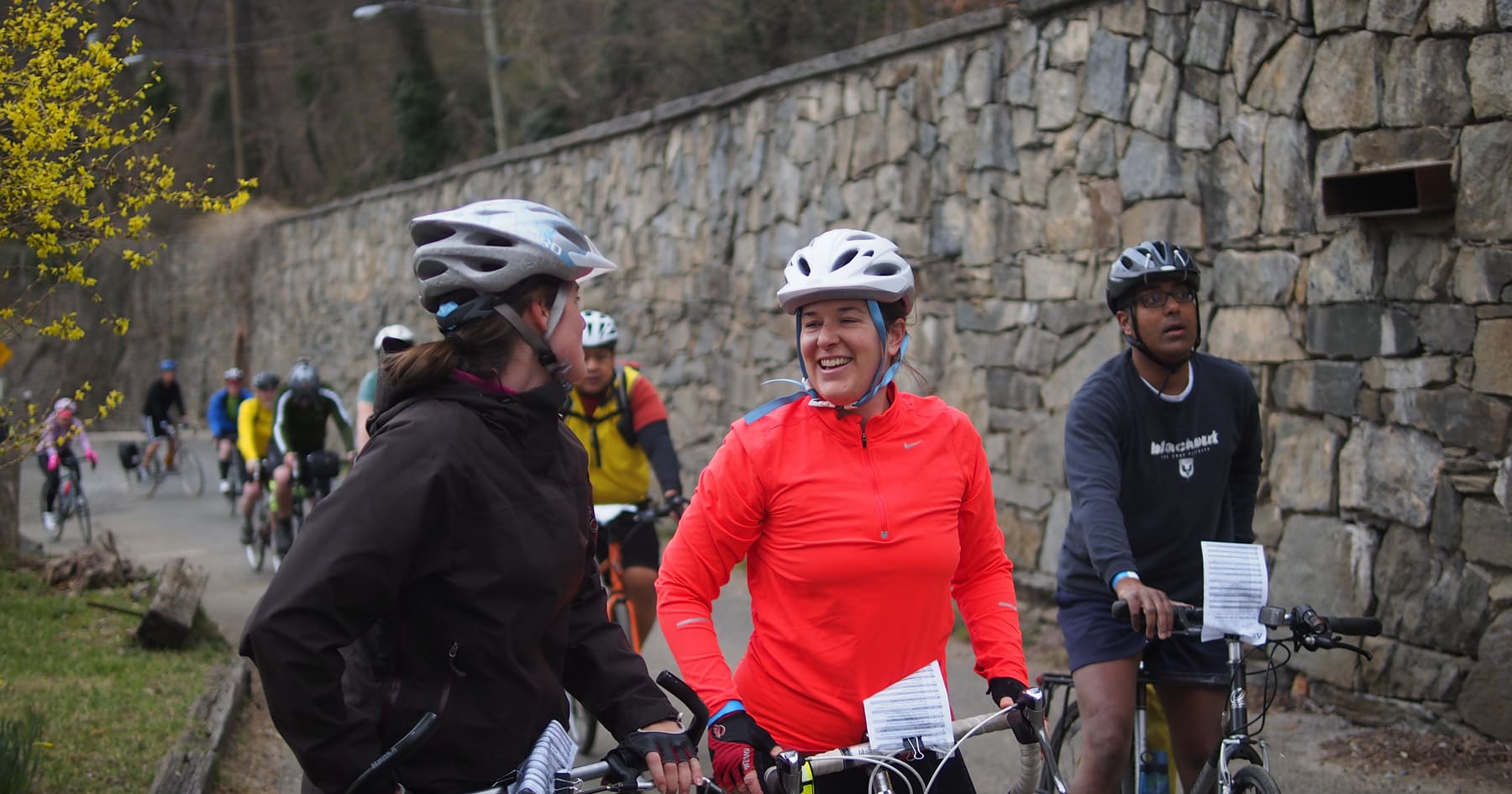 Welcome to the Last Vasa Ride Frequently Asked Questions page. If you're looking to register for the ride,
click here
.
What's this pay-what-you-can thing?
Let's start with this: WABA's signature rides are major fundraisers for our organization. We use a portion of your registration fee to execute the ride, and the rest supports the advocacy and programs that make bicycling safer, more accessible, and more enjoyable in the region. This work is hard and costs a lot of money, but we are really good at it. In 2017, the District of Columbia had the second-highest rate of bicycle commuting in the country, and we are seeing increasing rates of bicycling (not just commuting!) in all of our jurisdictions in the Washington region. But we know WABA signature rides can be prohibitively expensive for some people. Not only do you need to have a working bicycle, helmet, etc., but you also have to pay to ride. Since we're on a mission to make bicycling accessible for everyone in the region, we recognize it as a limitation. We want to make these events more inclusive, so we're providing the option to pay-what-you-can for this ride only. Think of it as a sliding scale. If you want to support WABA and $20 feels right, go for it. Likewise, if you support WABA and $500 feels right, that's fantastic! This is something we're trying out for the Last Vasa Ride, and we hope that it's a win-win!
Am I registered for the Last Vasa Ride?
All registrants receive a confirmation email after they complete registration online, but guests of registrants do not. If you personally registered but have not received a confirmation, please email
events@waba.org
to confirm your registration. If you are someone's guest, please ask them to forward you the confirmation email, and all subsequent communications, as it contains important information.
Is this a supported ride?
Vasa Ride is an
unsupported ride
. You will need to follow a cue sheet and there is no SAG vehicle. If there is a medical emergency, call 9-1-1. Ride marshals will be on the ride to assist with minor repairs, and WABA staff will be on-call to respond as we're able. Ensure that you have a loaded Smartcard, cab fare, and/or a friend or family member who can pick you in case you cannot complete the ride.
Is there a cutoff time for riding?
Since this is an unsupported ride, we will not cut you off. However,
the pit stop in Potomac closes at 11:30am
. If you like to take rides more slowly, we suggest showing up at the beginning of check-in so that you have the maximum amount of time to ride.
How long do I have to ride to reach a pit stop?
On Vasaloppet (±60mi) and Halvvasan (±30mi) routes, you will have to ride about about 15-20 miles before reaching the pit stop. The other routes do not have a pit stop.
Will roads be closed to cars during the ride?
No. You will be riding on roads with other vehicles during this ride. Don't feel confident riding next to cars? Look into our
City Cycling classes
to increase your comfort level!
Will I get a refund if it's raining?
No. The Last Vasa Ride is a rain or shine event!
Is the Last Vasa Ride a fundraiser?
Yes! Signature events, like the Last Vasa Ride, are the only ride events we hold for WABA members that cost money. All proceeds from this event benefit WABA and the work that we do to make bicycling safer and more fun in the region. Don't know much about our work? Read about our
advocacy
,
education
, and
outreach
work.
Are youth allowed on this ride?
Yes, as long as they are accompanied by an adult! All youth ages 12 and under can ride for free, accompanied by an adult. The accompanying adult must be present at check-in and give the names of the youth riding with them.
Will you feed me?
Vasaloppet
and
Halvvasan
riders will receive snacks and water at the pit stop in Potomac, and
all riders
will receive blueberry soup after the ride. If you want additional snacks, healthier options, or lunch, please plan to pack or buy them along the route or in the neighborhood around REI.
Please note: we do not provide bottled water. You must provide your own water bottle.
Where are the cue sheets?
Riders will receive access to files of the route the week leading up to the event, and a cue sheet upon check-in. Part of the fun and appeal of WABA rides are that the routes are not released in advance. It's an adventure!
Do I have to stop at stop signs?
Yes. We can't control what you do on the roads, but, through participating in a WABA ride, you are setting an example for bicyclists. We ask you to please ride safely, respectfully, and lawfully to maximize safety for all the ride participants (including children!). Stop at all red lights and stop signs. Always yield to pedestrians. Use hand signals when turning. Communicate verbally with other riders. Do not ride more than two abreast, and do not take up more than one lane of travel. When riding on sidewalks, trails or paths, be cautious when passing other trail users and slow down.
Do I have to wear a helmet?
Yes. WABA's insurance requires it. This is standard for organized rides across the country.
Is the route signed?
No, but we do our best to make the cue sheet clear and comprehensive. If you get lost, you can check the map, Google it, or hang out for a few minutes and see if you can connect with a rider or marshal who knows the way.
I already registered but want to go back and register a guest. How do I do that?
This requires us to cancel your registration and for you to re-register with a guest. Please email events@waba.org or call 202-518-0524 x218. Or, you could ask your guest if they want to register and purchase their own WABA membership:
look at all the benefits
!
Can I take shortcuts?
Yes. There are several places throughout the ride where you can skip a few miles if you're tired.
Can I change which route I signed up for?
Yes! Just show up at the correct start time for the route you'd like to ride. You can decide to ride any of our available routes!
Will there be marshals?
There will be ride marshals. They will be wearing vests with numbers on them. Marshals are WABA volunteers who are the first line of response in incidents that involve ride participants. They are an avenue of communication between ride participants and WABA staff members. They are as new to the route as you are, so don't treat them as ride leaders: read your cue sheets! The numbers on their vests allow you to identify them: if you see a great marshal, be sure to tell us in the post-ride survey!
Should I bring a lock?
Yes. You may want to stop for more food along the ride, or spend time eating blueberry soup once you get back to REI, so you should plan to lock your bike up. (You can leave your lock with us when you check in, too, if you don't want to ride with it.) Don't know the best ways to lock up? Check out this
handy guide on preventing bicycle theft
!
How do I get there?
The start location, REI, is accessible by bicycle on the Metropolitan Branch Trail. If arriving by public transit, the closest metro station is NoMa-Gallaudet, on the Red Line. There are also several
bus lines
that go along North Capitol Street and Florida Avenue in NoMa, including a Washington, DC
Circulator
bus, all of which have bike racks on the front. If arriving by car, there is limited paid parking available in the NoMa neighborhood (
find out more
).
How many people will do the Last Vasa Ride?
We typically sell out our rides at 700 registrants.
Do I need to register separately if I plan to ride a tandem bike with someone?
Yes. All adult individuals must be registered.
When is the next WABA signature ride?
The next ride is the 50 States & 13 Colonies Ride in September, though you may be interested in joining our WABA in the Wild multi-day tour in June—
find out more
!
Got another question?
Send us an email at events@waba.org or give us a call at (202) 518-0524 x218.