Newsletter: Connectivity & Complexity
I took a ride out to Largo last week—I have family moving to the area, and I wanted to find a route to visit them by bike. I was pleasantly surprised to learn that I can spend more than half of the trip on trails and another good chunk on bike lanes. The remainder, alas, was on bumpy sidewalks next to six lane roads. Not great, but manageable. What really got me though was the complexity of the route. In a car, this trip has maybe eight turns, door to door, but the cue sheet for my bike ride was fully four pages long. It was a textbook example of this classic illustration: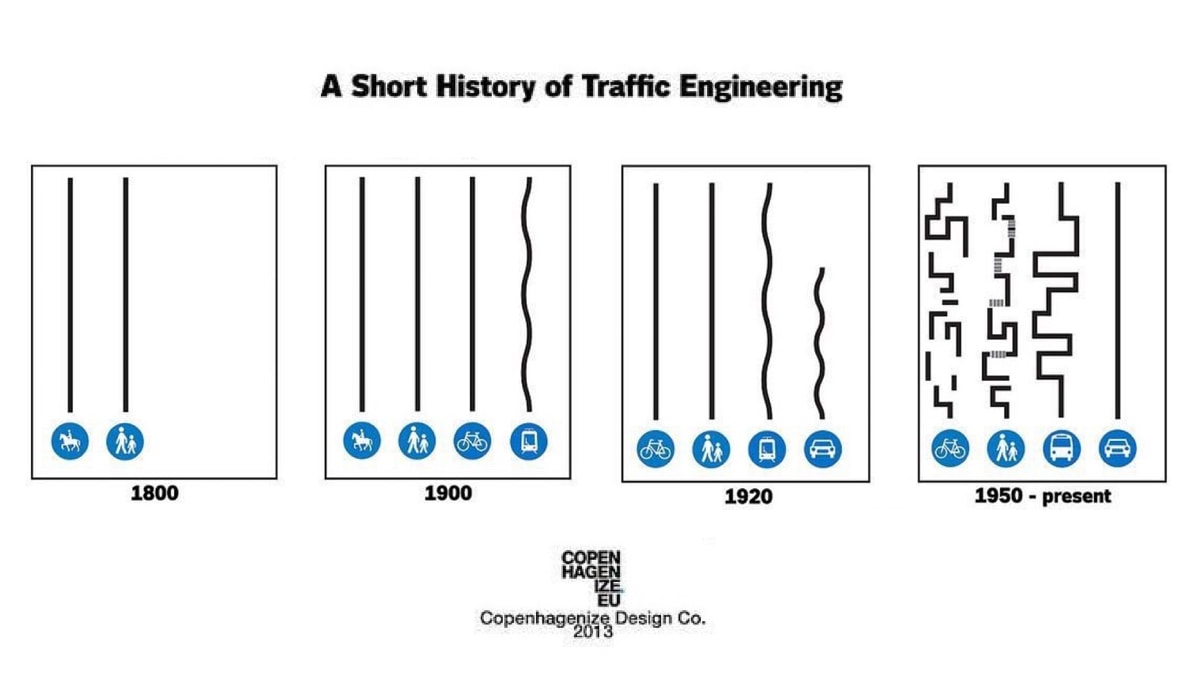 We talk a lot about connectivity in our advocacy work—trails and bike lanes are most effective as part of a connected network—but complexity is another barrier to access for new riders. You know, this feeling: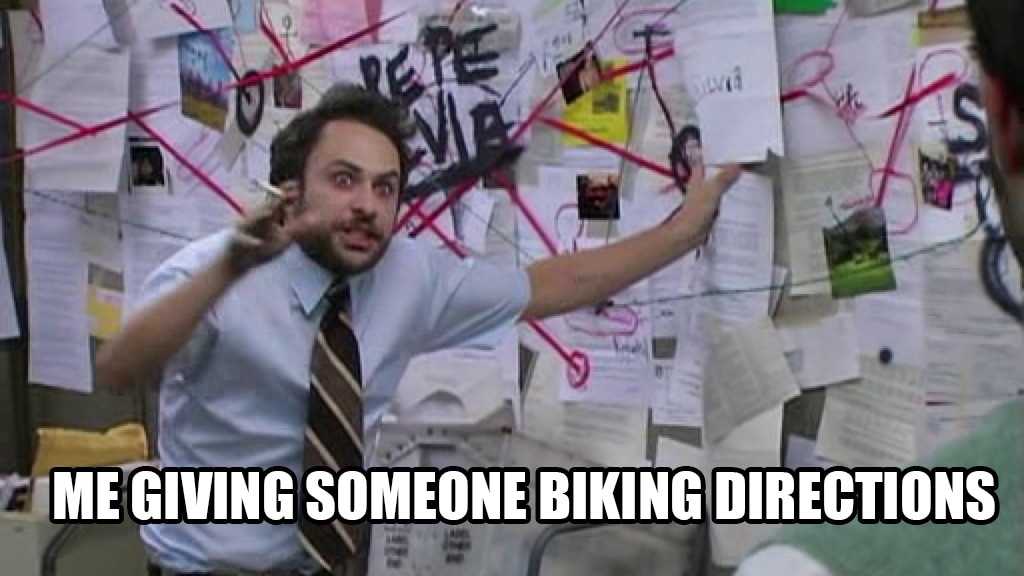 Do you have any unnecessarily squiggly bike routes that are a regular part of your life? Tell me about them! 
Want this in your inbox every week?
What happened this week
On Monday, the Virginia Passenger Rail Authority hosted a stakeholder engagement meeting on Monday and presented an updated design of the Potomac River Bicycle-Pedestrian Bridge, a key part of the Long Bridge rail expansion project. The proposed width is now 16' (up from 14') but we think there is still room to go bigger. Stay tuned for details on a series of pop-up events VPRA will be hosting throughout the region in March to learn more and share your thoughts on this once-in-a-generation project.
On Wednesday, Montgomery Parks held a meeting to discuss the proposed creation of a linear park along Little Falls Parkway, repurposing some of the existing road space to include a trail. The presentation included traffic studies conducted along Little Falls Parkway and an extensive comments and questions session. Next steps are a March 23 Planning Board public hearing followed by a March 30 work session to confirm how to proceed with parkway configuration.
Also on Wednesday, the Montgomery County DOT held a meeting on the Tuckerman Lane Road Diet Pilot, a proposed one-year pilot lane reduction that would shorten the pedestrian/bicycle crossing at the Bethesda Trolley Trail. Many of the 300 attendees opposed the pilot, suggesting alternatives such as new traffic signaling, but proponents were also represented. The proposed plan for the road diet does not include adding bike facilities.
And, also on Wednesday, DDOT hosted a public meeting to discuss the future of the Suitland Parkway Trail, a 1.7-mile paved trail that runs along Suitland Parkway from Pomeroy Road SE to Southern Avenue, that is currently in rough shape. The proposed improvements include rehabilitating the trail, adding new community connections, rerouting the trail to include a buffer from the parkway or to add a crash barrier, and installing trail and street lights. We'll keep you posted when more opportunities arise to support the project.
Things to do:
Meet Seth Grimes, our new Maryland Organizer!
Meet Ken Reichmann, our new Development and Membership Manager!
Got young people in your life who attend a DC Charter School? DC Public Schools now teach every second grader to ride a bike, but DC Charter Schools don't have the same universal curriculum. But WABA can help—we have a contract with the District to provide bike and pedestrian safety education to students in grades 2 through 8 at no cost to any DC Public Charter Schools! Send this link to your administrators or teachers, or have them get in touch with us at youth@waba.org
Saturday 2/18 : Scavenger Hunt on the Oxon Run Trail
Saturday 2/18 : Bikeshare ribbon cutting in Palisades
Sunday 2/19: Community Trail Cleanup at the Hayes Street protected bike lane
Tuesday 2/21: Advocate Training Webinar on Working with DC's ANCs
Wednesday 2/22 : Wheaton Transportation Townhall
Wednesday 2/22 : Poplar Point Listening Session
Wednesday 2/22 : Speak up for a trail and better sidewalks at Chain Bridge Road and Eaton Place
A fun route idea for the weekend:
The crocuses are starting to bloom, so take MacArthur Blvd and River Road out to Great Falls, then ride back into the city on the C&O towpath and take in all the green shoots emerging from the forest floor.
Have a great weekend,