This is a guest post from Megan Jones, co-founder of Hains Point 100 and a Women & Bicycles supporter!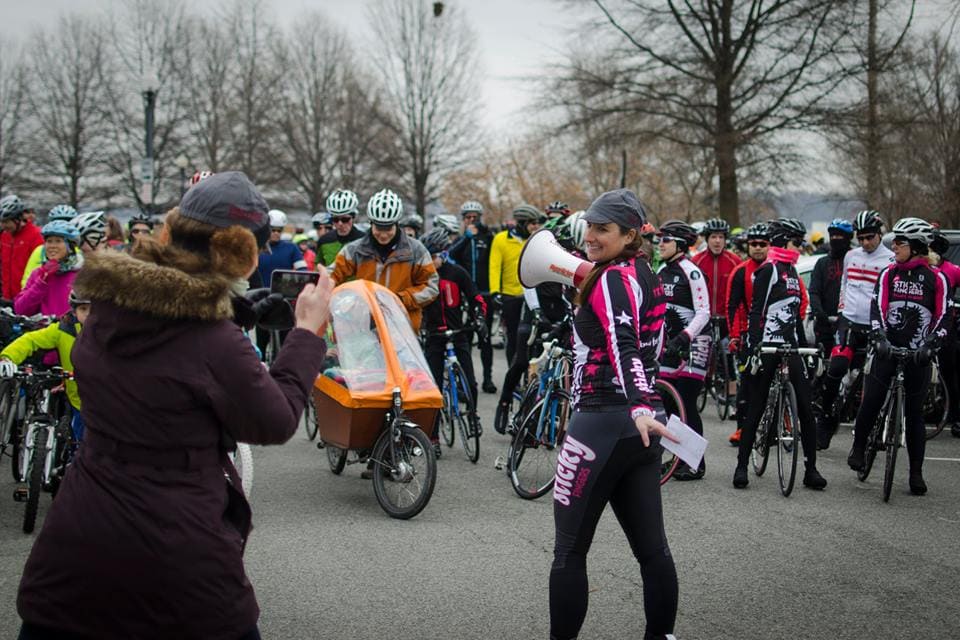 Hi. I'm Megan. And, in 2012 I started a thing. Something that I had no idea that would catch on like it did.
What if I rode a bunch of laps around Hains Point and asked people to join me? Well, that's what became the Hains Point 100 which has now become the premier December outside bike event filled with fun (and absurdity) for everyone!
Come join us on December 22nd. We already have a huge line-up of supporters that have donated some amazing door prizes and more! Follow us on Facebook and Twitter for all the updates of what we'll have.
As always, this is not a formal event – we're just getting together on a chilly Sunday to ride our bikes in a circle and have some fun! And we are raising awareness for WABA's Women & Bicycles program. All levels of riders are welcome – we can't wait to see you there!
Please let us know you're coming by mushing on the big button below!
Hains Point 100
When: Sunday, December 22, 2019
Where: Hains Point, Washington DC
---
Permit me a moment for a quick flashback. I was sitting in an Arlington Bicycle Advisory Committee meeting in the county building letting my thoughts wander and heard a few people talking about how they rode around Hains Point continuously for 100 miles. "Are they serious?" thought I. "Who would do such a thing?" As my mind continued to wander, I thought about how I'd been putting a lot of miles on my bike that year and still wanted to do more. At that moment I thought, "Wait, I'm that bananas, why not!?!" Then my mouth said, "Hey, I'm going to ride 100 miles around Hains Point." And, those people heard me and my idea so I couldn't back out. That's like, a rule.
Continue reading